How to make a cannabinoid analysis
How to make a thin-layer chromatography
Probably, many of you wonder what kind of test is performed to determine if a marijuana strain has significant rates of the main cannabinoids, as well as the method used to know the percentage (more or less accurate, as we will see) of each cannabinoid contained in the tested sample. In this post, we will explain step by step how to do a thin-layer chromatography (TLC), an analysis that will show us the approximate percentages of the main cannabinoids detected in each sample. To do this, we used eight different samples of the marijuana strain Fruity Jack / Jack el Frutero from Philosopher Seeds, with the simple purpose, in this case, to know which of the analyzed phenotypes have high amounts of the cannabinoid CBD.
The medical use of marijuana is constantly gaining ground in the past few years, as well as the interest from breeders and consumers to know the exact amounts of cannabinoids present in their favourite cannabis strains. That's why expressions such as "thin-layer chromatography" or "gas chromatography" are becoming more and more familiar for the cannabis community. To learn more about these analysis systems, we met with a good friend and collaborator who explained us a system based on the thin-layer chromatography with which we get reliable results quickly and safely for our health.
Needed Materials
We will need the following materials for the analysis process of the samples:
Plates for thin-layer chromatography, which can be made of aluminium, glass or plastic, always coated with a solid and adsorbent material (silica gel or alumina)
Solvent, we used Hexane for this post
Laboratory Micro-Pipettes
Distilled water
Reagent, in this case, "Fast Blue B"
Eluent. We used Chloroform in this analysis
Blotting Paper, Eppendorf tubes, glass jar, Pyrex tray, Pasteur pipette, graphite pencil
Sample preparation
Before starting, we should be aware of the basic security measures in laboratories when using chemicals, and of course, follow them. Also, this goes for any kind of experiment, you should try to do it in place as clean and sterile as possible, thus avoiding contamination that could alter or distort the results of the test.
For the preparation, you should mix 1ml of solvent (Hexane) for each 0.1 gr of cannabis sample in an Eppendorf tube. Shake for 20 seconds and let it rest a minimum of 3 minutes before continuing. During the whole process, our partner warns us of the importance of correct and cautious labelling of each sample, because otherwise, it's easy to get confused and mix up results in case you want to make several analyses. Once the sample is prepared, collect 0.2 micro-litre with the micro-pipette and deposit them in the point that we have previously marked with the pencil on the underside of the plate. For our analysis, we will use a plate for each of the four phenotypes of Fruity Jack / Jack el Frutero to be tested, using a total of two plates per 8 samples. We put the eight micro-drops on the two plates (4+4), so we already have our samples prepared for the next step.
Decarboxylation and analysis of the sample
Now, we must proceed to decarboxylate the samples. To do this, we place the two plates with the eight droplets in a Pyrex tray, which we put in the oven at 120-140°C during 5-10 minutes. Then, we will prepare two glass jars (one for each plate) filling each of them with 2ml of chloroform. With great care place the plates inside the jars so that only the underside of the plates - where the droplets are - is in contact with the eluent. It's important to observe how the eluent is absorbed by the plate; in case it doesn't do it in a uniform way, we probably should discard the results of this sample; this is often the case when old or damaged plates are used. When the chloroform has risen up, it leaves a trace in the form of spots (still not visible) for each of the main cannabinoids. Later on, these spots will indicate the approximate percentages of each cannabinoid in each sample.
Allow the eluent to completely cover the plate until it reaches the upper edge (about 30 minutes). Remove the plates carefully and leave them 5 minutes on the blotting paper in a vertical position, with the pencil marks on the lower part. Meanwhile, we must prepare the mixture with the reagent to make the spots visible. For this process, there are different methods, from UV light to specific reagents that allow us to colour the spots. We have chosen the most common option: pour 20 ml of distilled water in a plastic tray and add 0.1 g of a reagent - salts - called Fast Blue B (C14H12N4O2Cl2 • ZnCl2). Shake the mixture until it's even and all salts are dissolved in the distilled water.
Now all you have to do is soaking each plate in the tray for just two seconds (you also can spray the mixture over it, but it's much better for your health to submerge them, even if you use more liquid). Take it out and leave it again on the blotting paper, always in a vertical position and with the spots at the bottom. After a few seconds, a number of spots will appear along the plates, showing the presence - or absence - of certain cannabinoids (CBD, CBN, THC, THCV, CBG, CBC), as well as its approximate content. Each cannabinoid has its own colour and position on the plate, so it's easy to know if a specific cannabinoid is present in the sample. Its content is determined by measuring the diameter of the spot and comparing it with a conversion table that will give us an approximate content (%). We use the table included in the cannabinoid test kit from Alpha-Cat.
Conclusions on the thin-layer chromatography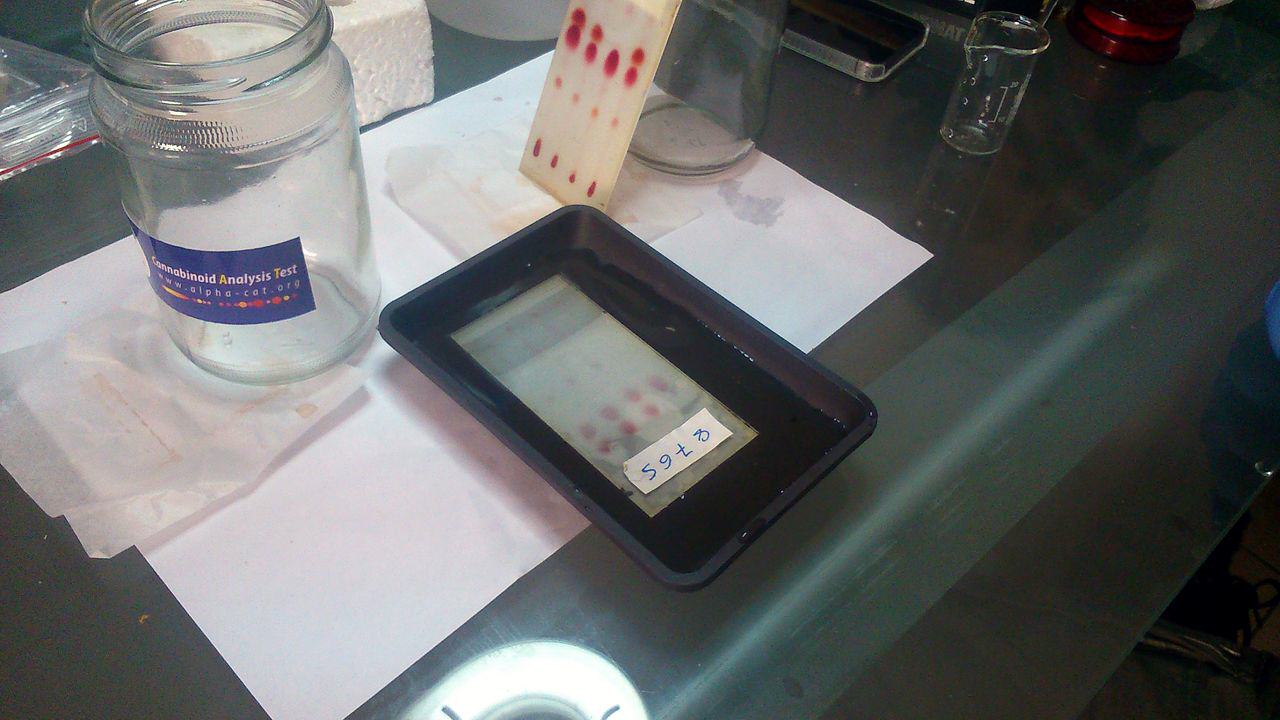 Despite this system is not as accurate as the gas chromatography, it seems a good method for an approximate determination of the cannabinoid content present in a sample. In our case, for example, it has been very useful because the only thing we wanted was to know which of the eight analyzed samples contained high CBD rates. For the happiness of many medicinal marijuana users, six of the eight analyzed phenotypes have shown remarkable CBD contents. The system is especially useful in processes of selection and breeding, since it allows us to know which phenotypes we want to keep with no need for costly gas chromatography analysis.
With this method, anyone can do its own analysis at home and know, for example, what phenotypes contain CBD or which of them has higher THC content. The more you think about it, the more applications seem to have this type of analysis, especially for the selection of individuals in relation to their specific cannabinoid content. It is also useful to test different flowering times, to know the perfect time to harvest marijuana plants, to test fertilisers or substrates, etc. You can perform test crops with clones and see which contents are obtained in each sample, find a phenotype that has a certain balance between its different cannabinoids, etc.
The possibilities, as we say, seem abundant; although it should always be kept in mind that the results don't have the accuracy of gas chromatography analysis. Either way, they can be useful to know which specific phenotypes we want to study more in-depth.
We wish you happy analysis and good vibes.
The articles published by Alchimiaweb, S.L. are reserved for adult clients only. We would like to remind our customers that cannabis seeds are not listed in the European Community catalogue. They are products intended for genetic conservation and collecting, in no case for cultivation. In some countries it is strictly forbidden to germinate cannabis seeds, other than those authorised by the European Union. We recommend our customers not to infringe the law in any way, we are not responsible for their use.