The origins of Skunk
The Skunk gene pool
The Skunk is, doubtless, one of the most widely known and grown cannabis strains worldwide. The Skunk marijuana is a poly hybrid between two Sativa landraces - Colombian Gold and Acapulco Gold - and an Afghani Indica purebred.
This legendary cannabis strain was developed during the early 70's in California by a group of growers and breeders known as Sacred Seeds, leaded by Sam Skunkman.
During this glorious time, selections of thousands of plants were usually performed outdoors. In this way, the best traits of the gene pool were detected and stabilised over the years, according to the criteria that has made the Skunk to become a truly impressive marijuana variety: nice yields, early flowering, nice branching, dense and resinous flowers with few leaves and extraordinary scent.
During the 80's Sam Skunkman brought the Skunk to Europe (Netherlands) and sold some seeds under the name of Cultivator's Choice. The remaining stock of seeds was then bought by Neville Shoenmakers, owner of The Seed Bank, later to become the Sensi Seed Bank.
Today, the Skunk#1 is considered a stable and homogeneous plant, what explains why it is so oftenly used to develop new hybrids such as Haze x Skunk or Seedsman's Hawaïan Skunk.
Despite this fact, the parents used to create the Skunk#1 were different from one year to another, so slight differences could be found between different phenotypes. An example of this is the renowned UK Cheese Exodus cut, found in a pack of Skunk#1 from Sensi Seeds back in 1988 in the U.K. The unforgettable smell and taste of this phenotype made it a true classic in the global cannabis scene.
Nowadays, we find two main Skunk#1 variations: on one hand, we have Sam Skunkman's "Sweet Skunk", a mostly Sativa genetics with sweet, refined aromas and a very pleasant effect. On the other hand, the "Roadkill Skunk" - developed by Neville, who is currently working with Mr. Nice Seedbank - is an Afghani dominant Skunk line, with very intense aroma and a more relaxing effect.
The different Skunk phenotypes have been often crossed with Indica genetics to increase both potency and yields even more.
Skunk genes in different marijuana varieties
We could literally find hundreds of strains developed from Skunk genetics, or at least with Skunk genes in their gene pool.
Sensi Seeds offers the popular Super Skunk, Sensi Skunk, Shiva Skunk, Big Bud...
Mr Nice Seedbank has the Critical Mass, Shit, Devil, G13 Skunk...
Dutch Passion sells Mazar, Green Spirit, Trance...
We can also find  Warlock from Magus Genetics, Critical+ from Dinafem, LSD from Barney?s Farm, Kannabia Special from Kannabia, Channel+ from Medical Seeds, Kritikal Bilbo from Genehtik, Mamba Negra from Blim Burn Seeds, la Rica from Elite Seeds or Philo Skunk / Gokunk from Philosopher Seeds!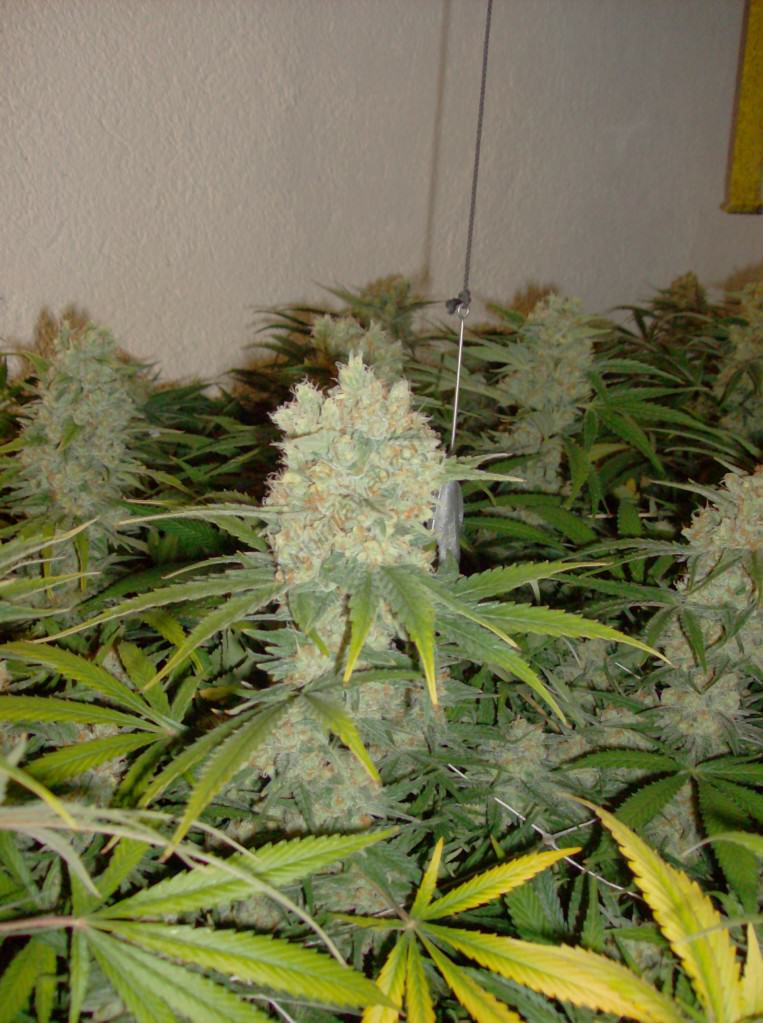 Dutch Passion also offers other lines developed from Skunk genes, such as Ultra Skunk, Euforia or Orange Bud. As we mentioned, almost all seedbanks have at least one Skunk-based strain: Greenhouse with Lemon Skunk, Kiwi Seeds with Kiwi Skunk, Female Seeds with Skunk Special or Elite Seeds with Bestial Skunk.
The Cheese Exodus cut has also been used by many breeders, as is the case of Big Buddha Seeds, Barney's Farm with their Blue Cheese, Sagarmatha with the Cheese Wreck, Medical Seeds with No Name, Sweet Seeds with Sweet Cheese or Dinafem and Greenhouse with their respective Cheese versions.
We could also highlight the Early Skunk from Sensi Seeds, a hybrid especially suited for outdoor crops, and Shark Shock from Mr. Nice, a cross between Skunk#1 and the popular White Widow.
Both the Skunk#1 and the different Skunk hybrids are usually early flowering plants, very easy to grow and then suitable for novice growers.  Growing the Skunk is a safe bet in regard with yields, taste and potency. Remember to use active carbon filters to eliminate the intense smell of these plants!!!
The articles published by Alchimiaweb, S.L. are reserved for adult clients only. We would like to remind our customers that cannabis seeds are not listed in the European Community catalogue. They are products intended for genetic conservation and collecting, in no case for cultivation. In some countries it is strictly forbidden to germinate cannabis seeds, other than those authorised by the European Union. We recommend our customers not to infringe the law in any way, we are not responsible for their use.