pH and marijuana
What is pH?
pH is the negative log used to know and determine the acidity/alkalinity of aqueous solutions by calculating the H+ (Hydrogen positive ion) activity in the solution.  This scale has been developed from standard solutions with stabilised and known pH by international agreement.
Definition and measurement of pH
pH = - Log 10 (ªH+) = Log 10 (1/ªH+)
The pH range or scale is divided into 14 values; pH 7 is considered to be neutral, a pH value of less than 7 is called acidic, and pH values greater than 7 are considered basic or alkaline.
Influence of pH values on marijuana crops
As also happens in humans, plants have pH fluctuations in their metabolism, which mainly depend on the pH range and stability. Thus, cannabis plants have a better or worse development and overall health state depending on the pH, being more or less sensitive to pests and diseases.
Regarding marijuana plants, we could speak about pH as a stopcock that regulates the nutrient uptake and determines which nutrients are available for the plant.
The pH value used when growing marijuana mainly depends on the type of substrate used; if we grow in soil and using organic nutrients we can be less precise than when growing with mineral nutrients or inert substrates. Some growing mediums are not suitable for growing cannabis due to their pH value or nutrient composition.
pH in organic marijuana crops
Naturally, soil has a capacity to control and mantain the pH level, which is called buffer effect. This capacity helps to keep the rootball healthy and protected thanks to a pH range suitable for the growth of cannabis plants. We can check our substrate pH by performing tests, although it is usually indicated on the bag.
This buffer effect is caused by the microbial life in the substrate, which helps to balance pH fluctuations while mantaining it within optimal values during the whole crop and without the need to use acidic solutions to lower the pH, which often destroy this beneficial life.
If we are using an inert substrate like coco, the pH value will be much more unstable. To mantain optimal pH values we can use pH up / down solutions in our nutrient solution, so we can adjust the pH - with the help of a pH meter - to the desired value.
This also happens when using water with pH values too low or too high for the proper development of our plants.  To adjust the pH, use organic solutions such as citric acid to lower it and silicon-based solutions to raise it.
As happens with the nutrients, every bacteria has its own optimal pH value to develop correctly, so using a pH range from 6.5 to 7.5 when growing in soil is recommended for best results.
On the other hand, if we're using mineral nutrients we must be more careful with the pH value of the nutrient solution, otherwise our plants will not have available all the needed nutrients. Since most mineral nutrients are chelated, there's no need for the microbial life of the substrate to process them before the plant assimilates them.
If we use soil and mineral nutrients, the pH value should range between 6 and 7, depending on the stage and needs of each plant.
Influence of pH in hydroponic crops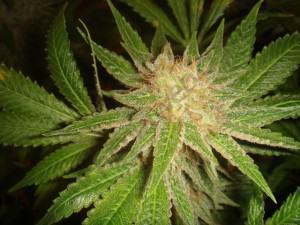 In hydroponic crops, the pH value is as important as the amount of nutrients given to the plant. The pH value must be adjusted for each stage of the plant so it can properly absorb nutrients in every irrigation.
During the growth stage of seedlings and young cuttings a pH of 5.5 is recommended. We can raise this value up to 5.8 as the plants grow. During the stretch (pre-flowering stage) the plants start to demand more and different nutrients; we can raise to 5.9 now. In this way, plants have all the necessary nutrients to grow and start flowering without a problem.
During the bloom period we should use a pH range from 6 to 6.2 for a more efficient nutrient uptake. During the last weeks of this stage, we can raise the pH value to 6.3-6.4.
When pH values are not correct, all plants in general have less nutrients available, so they lose their store of nutrients and begin to show deficiencies (which may also come from nutrient lockouts). We must always think that if plants don't have the correct pH value they'll show nutritional issues sooner or later.
Soil pH
Some substrates don't have a correct pH value for marijuana plants, a problem often caused by the composition of the substrate. We have two options here
First of all, perhaps the simplest solution is purchasing a quality substrate designed for cannabis plants. These type of substrates have a perfect texture for root development and a pH value of 6.5, ideal for growing marijuana.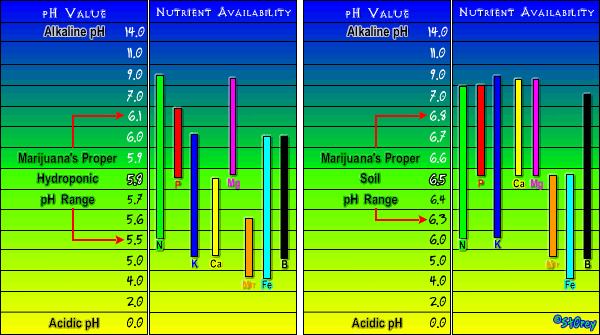 The second option is preparing a good substrate by mixing several types of substrates; we need it to be spongy, rich in nutrients, easy to drain and manipulate. If we don't have a good substrate it doesn't matter how good our seeds or nutrients are, our results will always be poor.
The most common ammends are worm castings, coco, peat, perlite and compost. The type of ammend used mainly depends on the composition of the base substrate.
What pH should I use with foliar fertilizers?
Foliar fertilizers are increasingly used for their easiness of use and fast absorption by plants.
As happens with the roots, we have to adjust the pH of the nutrient solution in order to achieve the best possible nutrient uptake by the leafs.
In this case, the pH value should range from 5.5 to 6.5, so plants will assimilate the NPK content much better. If we don't adjust the pH value, fertilizing our plants is almost useless since they can't absorb nustrients correctly.
Foliar feeding should always be combined with irrigations, otherwise the plant may get used to be fed via foliar and its root system won't grow as it should.
pH meters
We always recommend using electronic pH meters to measure the pH value of our nutrient solution. You can find either manual or continuous meters, which have a probe in the reservoir and continuously offer the current pH value of the nutrient solution on a display.
These continuous pH meters enable the user to replace the probe in case of failure or damage so we can have precise readings again. These meters have to be periodically calibrated with standard liquids with known pH value.
If we don't use a reservoir but want to check the pH value of our nutrient solution we can use manual or portable pH meters , which are battery powered, small and precise. In this way we can carry our pH meter wherever we need and adjust this crucial parameter anywhere.
The articles published by Alchimiaweb, S.L. are reserved for adult clients only. We would like to remind our customers that cannabis seeds are not listed in the European Community catalogue. They are products intended for genetic conservation and collecting, in no case for cultivation. In some countries it is strictly forbidden to germinate cannabis seeds, other than those authorised by the European Union. We recommend our customers not to infringe the law in any way, we are not responsible for their use.