Smoke report: Candyland by Grand Daddy Purple Seeds
Candyland by Grand Daddy Purple Seeds, one of Ken Estes' jewels
For this smoke report, we tasted a bud of Candyland, a variety from the Grand Daddy Purple Seeds bank. Created by legendary breeder Ken Estes, it is only available in regular seed form, resulting from the cross between Bay Platinum Cookies and the world-famous Grand Daddy Purple.
This is a magnificent indica variety, an easy-to-grow cannabis strain with wonderful colouring and pungent earthy, sugary aromas of an organic character with strong nuances of forest fruits such as berries and grapes; a variety that, without a doubt, bears the mark of its creator, both for its organoleptic properties and for its powerful relaxing effects, totally in line with the style and philosophy of Grand Daddy Purple Seeds.
The parent used as the father in this cross is Grand Daddy Purple, a Skunk-based variety but at the same time very different from what we Europeans understand by Skunk; these lines were worked in California rather than in Holland, and it is highly likely that the ancestors of Grand Daddy Purple originate from Mendocino, South America and Afghanistan. The Bay Platinum Cookies mother provides that component so characteristic of the cookies family by adding earthy and creamy butter terpenes in addition to changing the morphology of the flower, affecting its density and bract (calyx) size.
Cultivation information
Candyland by Grand Daddy Purple Seeds is a mostly indica strain, a very bushy and sturdy plant with dark green leaves that grows slender but needs a little more time to grow and fill the pot. It is short and stretches very well at the start of flowering, with strong secondary branching. Due to its genetic heritage, it is highly resistant to pests, but it can be somewhat sensitive to powdery mildew in high humidity conditions at the end of flowering, like many indicas of this type.
It has been possible to verify a high level of homogeneity among phenotypes, with all of them showing clear GDP influences but with a much more refined and subtle touch and slightly more earthy and creamy contributions in terms of the aromas. Some individuals are more vigorous than others and there is variability in flower formation, with some phenotypes showing more Cookies genetic influence and others leaning more towards GDP, but all phenotypes have very interesting and distinctive traits, as you'd expect with a cross of this high quality.
Candyland's buds are rock hard, the apical flowers develop the form of a ballistic missile, while the lower buds resemble ping-pong balls, without problems when maturing due to lower light and finishing their ripening correctly. The flower formations are very firm and spherical in shape, with large bracts and golden stigmas that end up coated with a layer of white resin that even spreads to the largest leaves. The white glandular trichomes are accentuated by the dark tones of the flowers, which mix the blue and purple colours beautifully. The plants did not experience low temperatures at the end of flowering but, in the grower's opinion, with a little cold the flowers would have been much more spectacular in terms of colourations.
The Candyland we used for this smoke report was grown indoors under a 600w sodium grow light, using a mixture of coco fibre with perlite and mycorrhizae in 5L pots with drip irrigation reaching a maximum EC level of 1.5, as Candyland does not need large inputs of fertiliser for proper development.
This particular example of Candyland was harvested at 62 days, after flushing the roots for 11 days before harvesting (with reverse osmosis water), finishing the grow with a photoperiod of 8 hours.
Lighting System: Lumatek 600w Digital Ballast (HPS)
Substrate: Coco mixed with perlite and mycorrhizae
Nutrition: B'Cuzz Coco (A + B) + Ata Calmag and Green Sensation (Plagron) for the last weeks
Harvest: 62 days
Photoperiod: 18/6 in growth and 12/12 in flowering, ending with 8 hours of light at 62 days
Tasted material: 1g flower cured for 2 months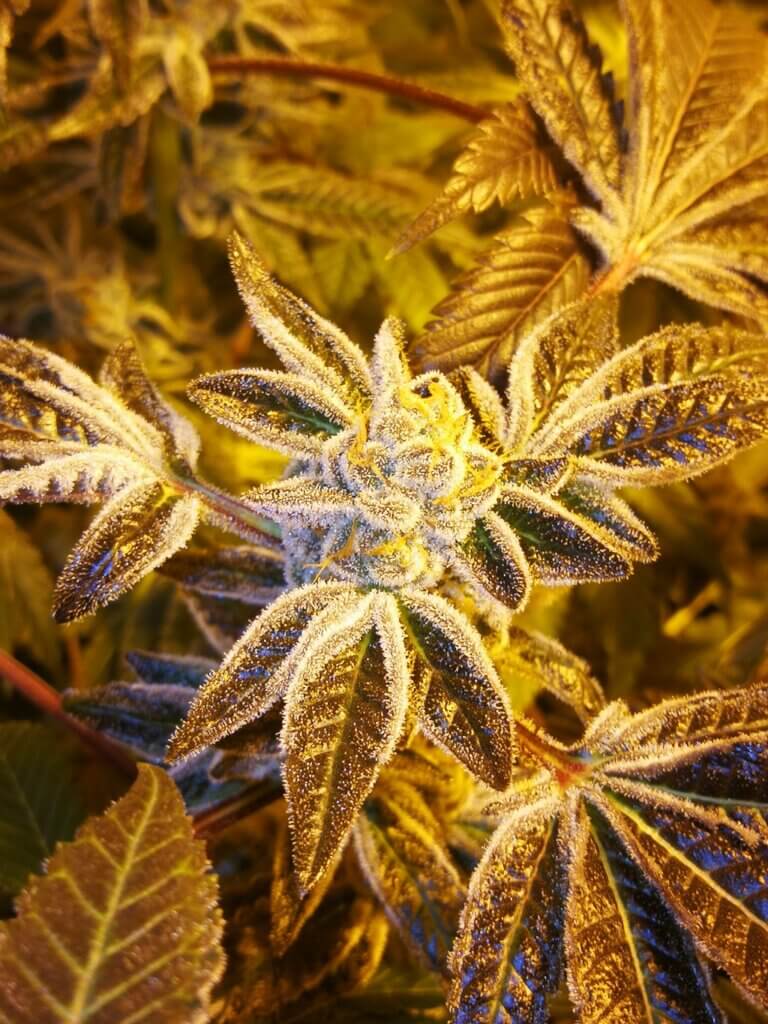 Organoleptic test of Candyland
Pre-tasting evaluation
Looking at the Candyland flowers, there is no doubt that they have great bag appeal; Their swollen, fleshy calyxes stand out alongside the blue, reddish or even violet hues. If we drop the flowers on the table from just a foot high, we can see their consistency, they are solid and crash on the tabletop mercilessly. The smell of the dry flower is creamy with an earthy touch, reminiscent of shortbread and typical of the cookies family. But once we put the bud in the grinder, things change and the unexpected show begins, with a bizarre smell of red fruits with a pronounced sugary component emerging, the Grand Daddy Purple variety making its presence felt.
The joint was made using 1g of flower, mixing it with just a few crumbs of tobacco to improve combustion, so we'd like to take the opportunity and apologise to anyone offended by this! To roll up, this time we use GIZEH's King Size Slim paper and a Jilter Filter sponge filter and, once rolled, we give it a few "dry hits" (without lighting the joint) to check the taste. The earthy and sweet forest terpene makes an appearance, along with creamy touches on a background of red grape and berry fruits.
Lighting up!
Finally, we reach the part we like the most! We light the joint, without putting it to our lips, and we shake it in a circular way for a few seconds so that it burns in the most homogeneous way possible, filling the room with smoke, in this way we can get an early idea of the aromas and nuances that make up the smoke because after the first few puffs it will be much more difficult to notice these subtleties. Without a doubt, the smoke is earthy, with certain coniferous and humid forest notes being distinguished, but the creamy aromas are still maintained with a sweet undertone reminiscent of good quality Afghan hashish.
After a short period of time and after the preliminaries that the cannabis tasting ritual entails, we place the joint in our mouth after shaking it again to ensure that it burns properly and we proceed to take a few light hits.
On the palate, the earthy smoke manifests itself, perfectly combined with a very organic sweetness. On the exhale, the wonderful berries and red fruits with sugary tones of Grand Daddy Purple come through in the aftertaste. The profound and complex fusion of flavours can be appreciated after several tokes, a dense cloud of terpenes that interact with each other, flooding the palate for a long period of time.
In summary, we could say that when smoking Candyland, the earthy taste and sweet influence of Bay Platinum Cookies comes into play with the inhalation, but when you exhale, the spirit of Grand Daddy Purple is awakened in a prominent way with wild berries, grapes, sugar, and in some moments you can even appreciate the syrup flavour.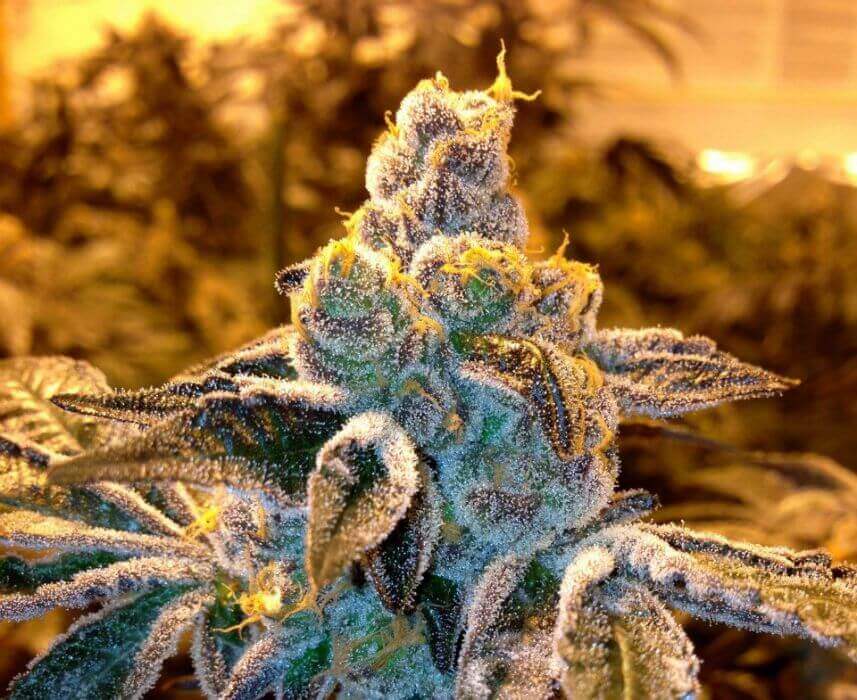 Psychoactive test
The smoke test was done using 1g of Candyland flower with 2 months curing. The method of consumption was a joint in mid-afternoon after getting any previous obligations out of the way and without smoking since the previous day. Of course, depending on the individual, the amount of cannabis, the method, or the time of the tasting, the experience may vary between individuals. We must also emphasise factors such as the method of cultivation, the day of harvest, and the drying and curing process, all of which can affect the type of experience.
After the first tokes, the effect begins to show itself in a subtle, very controllable, and predictable way, it is not a treacherous variety of the kind that creeps up on you without warning, where one suddenly finds oneself ridiculously high without knowing how it happened. The development of the effect is continuous, with a very pleasant state of peace and relaxation in which time seems to stop, but nothing is further from reality, it passes very quickly. The relaxing effects do not impede mental reflection, they induce it calmly and smoothly, as can happen with other, more sativa-leaning varieties.
Candyland can be a very suitable variety to carry out daily activities as long as they don't need a high state of concentration, a post-meal chat with friends, reading a book in the middle of the afternoon or a swim at the beach are ideal activities to enjoy under its influence. We have to remember that Candyland is a very powerful Indica and that if we overdo it we can enter a very introspective state which can make any social interaction rather difficult. After a long day at work or after a day of physical exertion, it can be a very suitable variety, also for falling asleep, leaving you prostrate on the sofa. It has to be said that in the middle of the session it was necessary to eat two bananas and various nuts, as the body was demanding them!
Medicinal properties of Candyland
After 40 years as a user of medicinal cannabis, the creator of Candyland genetics (Ken Estes) has enough experience and background to bring new hybrids to the cannabis world with effects to treat certain types of ailments, pathologies, or disorders. In this case, Candyland may help with:
Stimulating the appetite
Relaxation and muscle toning after physical activity
Improving stressful situations
Inducing sleep
In this article we will introduce you in the exciting world of marijuana tasting, both organoleptic as psychoactive. From the moment we open the container with the sample until the last exhalation during the tasting, a torrent of sensations perceived by the five senses invade our body. What we will try here is to classify and to note down these sensations evaluating them according to the taste of each one. What better way to pay tribute to the buds of that we have been taking care for months?
We hope that this smoke report has been of interest to you, without a doubt Candyland is a strain to take into account if we are searching for something authentic and a little out of the ordinary. Long live Candyland!
The articles published by Alchimiaweb, S.L. are reserved for adult clients only. We would like to remind our customers that cannabis seeds are not listed in the European Community catalogue. They are products intended for genetic conservation and collecting, in no case for cultivation. In some countries it is strictly forbidden to germinate cannabis seeds, other than those authorised by the European Union. We recommend our customers not to infringe the law in any way, we are not responsible for their use.