Grow London 2014
Grow London 2014, the marijuana growing systems fair in London
On 20, 21 of September, part of the Alchimia team had the chance to visit the 3rd edition of this cannabis fair in England. The first two editions took place in Manchester, while this third edition has taken place in London, where the most important brands of the marijuana sector met.
The fair, with a duration of two days, started on Saturday 20 and during that day was open to any person of legal age interested in the cannabis world. The next day, Sunday 21, the fair was only open for professionals of the sector, so they could freely meet and make new contacts, besides having the chance to meet with friends from the sector in another site, different from other fairs like Spannabis.
The public assistance of this 3rd international marijuana fair was not massive; around 1.600 people on Saturday, a low number if we compare it with the average public assistance that we can see in other fairs like Expogrow or Spannabis.
We must highlight the fact that England laws don't allow showing cannabis seeds along with growing systems and products, so there wasn't any seedbank stand in the fairground.
This was probably the main reason why there weren't more people in the fair, although one could see lots of last generation hydroponic farming systems, which is the preferred growing method in the U.K.
Among the different stands, there were several fertilizer brands like Powder Feeding by Green House, Bio Tabs, RAW, Dutch Pro, Bio Green, Metrop, Canna, etc.
In other stands, we could see different hydroponic growing systems like DWS (Deep Water System), aeroponics, hydro with clay pebbles, mapito or coco coir, either recirculating the nutrients or not.
Other interesting products we could see were several watering accessories, specially  Autopot - an automatic irrigation system - different air controllers, air extractors, Co2, PH and EC, etc.
As regards lighting systems , there were new LED panels and double capacity ballasts (2x600W), which gave a colourful touch to the exhibition site. We could also see many anti-odor systems like carbon filters, Can Filters, etc.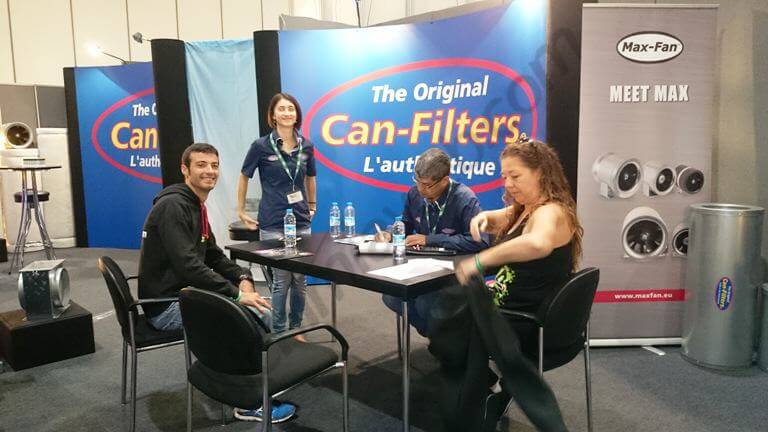 During Saturday night we could enjoy a Reggae music concert that created a really nice atmosphere among the public, who could also enjoy a delicious dinner. Everyone could relax and chill with their colleagues outside the working hours. A big hug for all the attendees of the fair!!
So, the 3rd edition of Grow London 2014 was a rewarding fair professionally, where new products were presented and one could enjoy meeting new people and old friends. We are willing to present all these new products to all our customers and friends, for we always strive to be at the forefront in cannabis farming.