Low-THC Cannabis Varieties
With the rise of medicinal cannabis use and the inclusion of CBD in a multitude of products, the varieties of hemp chosen for cultivation are becoming increasingly important for the producer, who can see how the total CBD yield can easily double if the right choice is made. However, and as every professional hemp farmer knows, his activity is restricted by limits on the THC content in his plants permitted under the corresponding legislation, and that each country has its own limits and regulations.
In today's article, we're going to introduce you to the best currently available varieties with THC levels below 1%, meaning that they can be grown in certain countries without any type of legal issues because they stay below the limits established by the respective jurisprudence. Not only that, but we'll also show you some of the certified hemp varieties that we offer in our seed catalogue.
THC & legal cannabis
As we mentioned, as THC is a psychoactive substance, it is controlled by the legislation of each country, so we can find varieties that are fully legal in one country but not permitted in another country due to their THC content. Each country establishes its own maximum THC level for the varieties that can be legally registered and cultivated (of course, only with a cultivation license), so it is very important that the producers have the latest information regarding these limits so they can work with complete peace of mind. For this reason, in many countries, it is impossible to legally buy seeds with high THC for professional cultivation, because the high THC content - exceeding the established limit - would make it an illegal crop.
In certain countries, and always within the bounds of the law, THC-rich plants can also be legally grown, which greatly expands the range of possibilities for farmers. However, THC-rich varieties that have all their papers in order (phytosanitary certificates, certificates of origin, etc.) are not very abundant on the market, and these types of certificates are usually a mandatory requirement when obtaining a cultivation permit. Be that as it may, at present the main thing is to underline how important it is to ensure that the varieties being cultivated fall within the range of legally permitted cultivars.
CBD in cannabis
Yes, cannabis contains CBD, although not always, and in the cases when it does, not always in the same quantity: some varieties don't produce CBD at all, others produce a small %, while in other varieties it s the principal cannabinoid, reaching levels of over 15%. However, within each variety, we can also find certain differences in the chemotype of each plant, with levels of cannabinoids and terpenes that can vary greatly from one plant to another. For his reason, it's very important to choose varieties that are as stable as possible, so we can find minimal variation between the levels promised by the certification and those really obtained in the field.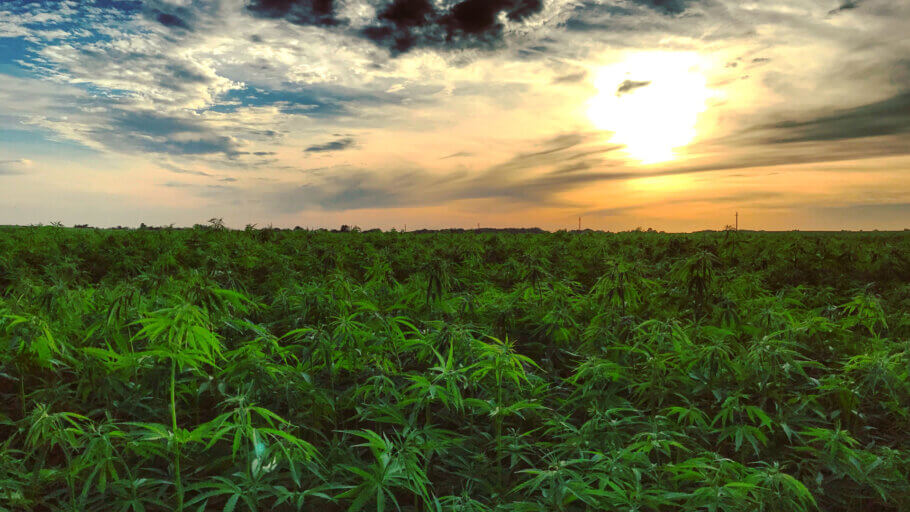 Of course, if the crop is intended for CBD extraction, it will be very important to plant stable varieties that are rich in this cannabinoid, although here it's worth noting that a variety that produces, for example, 10% CBD but whose production of flower weight is very poor will mean that the final yield of CBD per m2 cultivated will be disappointing. For this reason, it is crucial to try to focus not just on the production of flowers per m2, nor only on the percentage of CBD, but on a combination of several factors that give us an approximate % of CBD per square metre of cultivation. How much flower does a certain variety produce per m2? And how much resin per gram of plant matter?
If we look closely at these parameters, we'll realize that there are varieties of cannabis that produce a lot of flowers, but that can end up producing much less CBD per m2 of cultivation than others that produce less flower but with much more resin (or which have a higher % of CBD). Thus, depending on the final product (flower or extract) it may be more convenient to use one variety or another. We are not going to cultivate a certain area if we can achieve the same yield by growing half the area, it's far more profitable to make a good choice of the variety!
High-CBD & low-THC cannabis varieties
The following list contains some of the CBD-rich varieties with really low percentages of THC from our catalogue. However, and especially if you are a professional grower, keep in mind that these are genetics without any official documentation and lacking phytosanitary certification or certificates of origin. In the next section, we'll offer you other varieties that do appear in the register of genetics permitted for licensed growers.
Pure CBD Punch
This variety from Philosopher Seeds is truly outstanding, not only for its stability but also for its excellent aroma and flavour. These seeds are S1, the result of self-pollinating a selection of Session with CBD levels reaching 15% with only 0.6% of THC. Pure CBD Punch is a heavy producer of buds that will be ready to harvest after around 9 weeks indoors and in early October when grown outdoors. It is offered in packs of 1, 3, 5 and 25 feminised seeds.
Delimed CBD Plus
This variety, from the Delicious Seeds catalogue, has a THC level of around 0.6% compared to approximately 20% CBD. Born from a cross between Harlequin CBD and Dinamed CBD Plus, it has a relatively short flowering period (8 weeks indoors, late September outdoors) and is an excellent flower producer. Delimed CBD Plus is available in packs of 3, 5, and 10 feminised seeds.
CBDrelief
Paradise Seeds offers us this cannabidiol-rich variety, with up to 20% CBD and just 0.6% THC. Paradise Seeds haven't released details of the parental plants, although we do know that it's a cross of a high-CBD plant with another of their hybrids. CBDrelief is fast-flowering, needing only 8 weeks indoors under artificial lights and ready to be harvested in early October (Northern hemisphere) outdoors. Available in packs of 3 and 5 feminised seeds.
CBD #1
This ACE Seeds hybrid is basically a Cannatonic backcross, created by crossing a Cannatonic S1 with (Cannatonic S1 x Erdpurt). CBD #1 reaches CBD levels of around 17% with only 0,7% THC. It is possibly the fastest plant on this list, ready for indoor harvest in just 7-8 weeks and in September outdoors, with medium to high yields of flowers. Packs of 3 and 5 feminised seeds are available in our catalogue.
Purplediol Auto CBD
Elite Seeds present this non-photo-dependent option - or auto-flowering in other words - offers a really high content of CBD, reaching over 17%, compared to its 0.5% of THC. Here we find a cross between Kush Rose Auto CBD and Afgan Rose Auto CBD from Elite Seeds, a mostly Indica plant that is ready in just 9 weeks from germination to harvest. Purplediol Auto CBD is available in packs of 3 feminised seeds.
Sweet Pure Auto CBD
Sweet Seeds present their auto-flowering hybrid Sweet Pure Auto, a cross between Sweet Pure CBD and Honey Peach Auto CBD offering CBD levels of between 8 and 20% with just 0.4-0.9% of THC. The plants develop very quickly, being ready to harvest 8 weeks after germination and growing to a height of 50-80cm. Available in packs of 3, 5 and 25 feminised seeds.
Certified hemp varieties with high CBD content
As promised earlier in the post, here we have a list of hemp varieties with THC levels below the legal limit (in Spain). Remember, before you start growing these plants it's always better to ensure that you comply with all the requirements of your country's current legislation (Cultivation permit, etc.). For this, you can check with the relevant authorities about the type of varieties allowed for cultivation in your area and what requirements are necessary to do it in a completely legal way.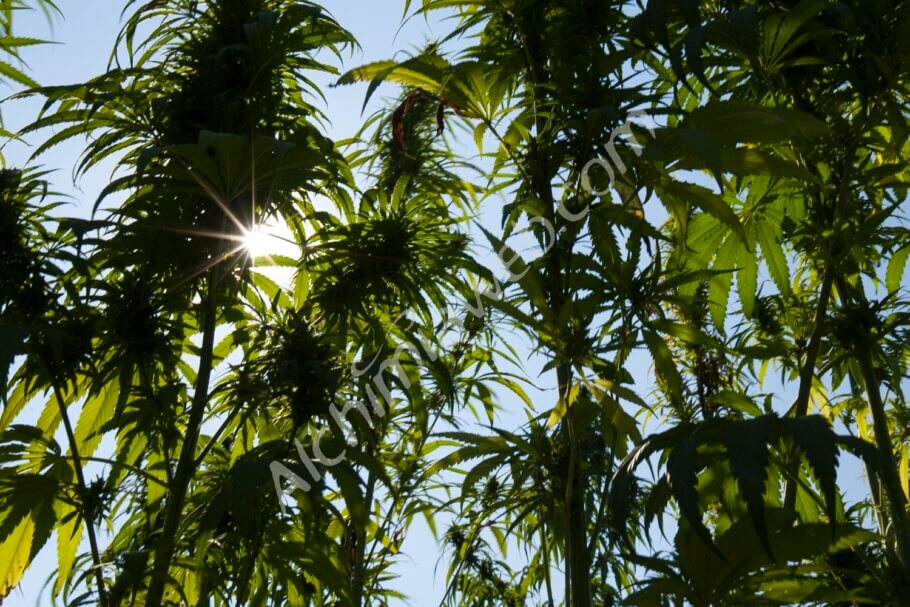 Hemp seeds high in CBD
As you can see, there are many options available to the grower when choosing low-THC cannabis seeds, from seeds for collection to certified hemp seeds, even auto-flowering seeds. Don't hesitate to leave your comments or experiences with this type of genetics, they're always welcome!
Happy growing!
The articles published by Alchimiaweb, S.L. are reserved for adult clients only. We would like to remind our customers that cannabis seeds are not listed in the European Community catalogue. They are products intended for genetic conservation and collecting, in no case for cultivation. In some countries it is strictly forbidden to germinate cannabis seeds, other than those authorised by the European Union. We recommend our customers not to infringe the law in any way, we are not responsible for their use.