5 Cannabis varieties with discreet aromas
Among its many cherished characteristics, cannabis is highly appreciated for its aromas, but sometimes plants can generate a smell so powerful that it can attract the attention of neighbours and this issue can become a serious problem for those growing weed outdoors, where maximum discretion is essential and in which the use of carbon filters or other anti-odour systems is impossible.
In these cases choosing a cannabis variety that gives off discreet aromas is a good idea if we want to limit the smell generated by our garden, especially for outdoor crops on terraces and balconies. For this reason, you should avoid any genetics that stand out for their powerful and telltale aromas typical of cannabis, these include the varieties of the Diesel or Skunk families, Cheese or the Sour Diesel among many others... we are talking about varieties with a very high terpene content, which are distinguished by their characteristic, persistent and highly volatile aromas.
In this article we look at a selection of the varieties most recognised for their subtle and discreet scents, to help you avoid security headaches and uninvited guests at your grow spot.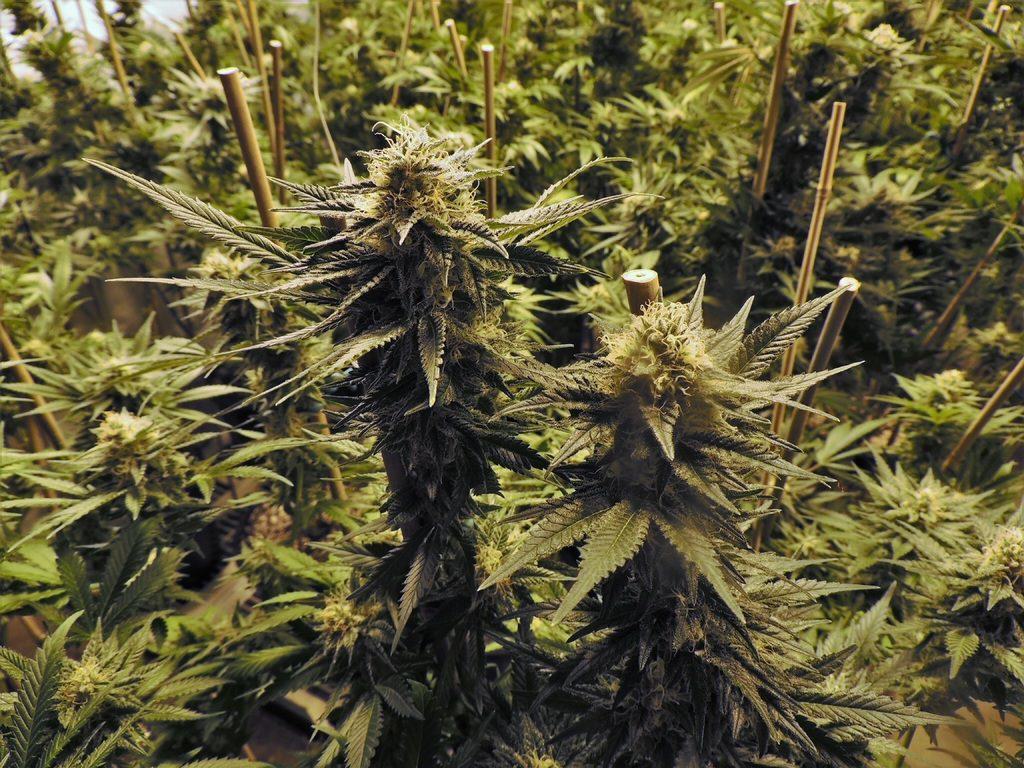 Sugar Pop by Philosopher Seeds
The variety Sugar Pop from Philosopher Seeds is perfectly adapted to single bud or SOG cultivation, forming a large, heavy and highly resinous main bud.
From the cross between a selection White Russian x Kalijah and Jack The Ripper, Sugar Pop is characterised by the subtle aroma that it emits during flowering, while its smoke - and vapour - combine sweet aromas and incense with an earthy perfume, creating a complex and intense flavour, without the insecurity caused by the smell of it growing, and also later on when we want to carry some of the buds around with us.
Resistant to heat, pests and insects, Sugar Pop is easy to grow and matures after 60/70 days flowering, to deliver a harvest reaching 400 to 500g of dense and resinous buds of the highest quality.
Philosopher Seeds Sugar Pop info:
Genetics: Hybrid RK #14 x Ripper #1
60/40 Sativa-Indica hybrid
Flowering indoors: 60/70 days
Harvest outdoors: October
THC content: 18%
Indoor yield: 400-500g per m2
Outdoor production: 400-600g per plant
Northern Lights by Sensi Seeds
Northern Lights is a classic in the world of cannabis: easy to grow with a fast and productive flowering, it offers a high quality harvest, this 100% Indica variety quickly became a reference among growers and smokers in the 80s and 90s.
Its smooth aromas, combining notes of pine wood and spices, make it highly appreciated among growers who want to keep control of odours in the garden, and avoid arousing the suspicion of neighbours with a powerful stench.
This variety, also adapted for indoor cannabis cultivation, needs no more than 8 to 9 weeks of flowering to give a harvest of 350 to 500g of dense and resinous buds per square metre.
Sensi Seeds Northern Lights info:
Genetics: Afghani
Pure Indica
Yield: High
Flowering indoors: 8-9 weeks
Harvest outdoors: Early October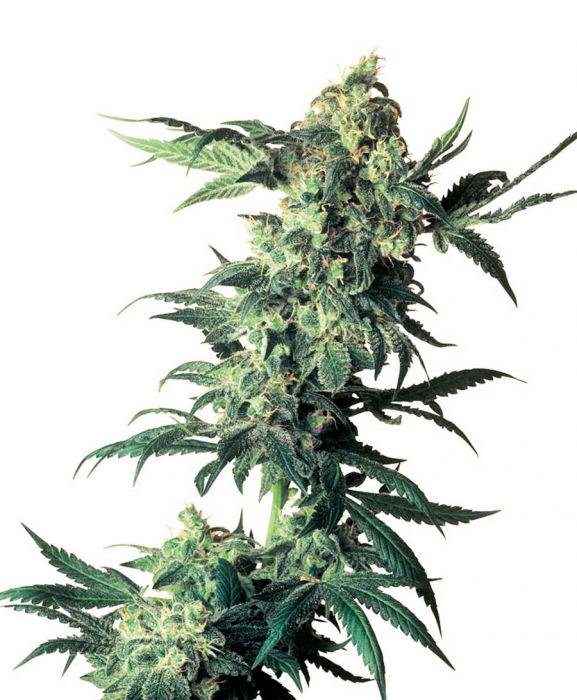 Pink Plant by Eva Seeds
The variety Pink Plant from Eva Seeds is a Sativa hybrid developed to provide vigorous and resistant plants, with an intense effect, and is characterised by its pretty display of pink and purple colours.
Pink Plant is a versatile variety that adapts to outdoor cultivation in humid areas and adverse conditions, at the same time being very discreet in the level of its odour, with fresh aromas of fruit trees and eucalyptus, which are unlikely attract the attention of nosey neighbours.
This variety responds well to FIM pruning and SCROG cultivation, offering generous harvests of dense and resinous buds, some of which may have pink pistils, although other phenotypes will remain green, but still offering the same organoleptic properties as the more colourful phenotypes.
Eva Seeds Pink Plant info:
Genetics: High Level x TNT Kush
Flowering indoors: 55/60 days
Harvest outdoors: early October
Yield: Medium - High
THC: 17/19%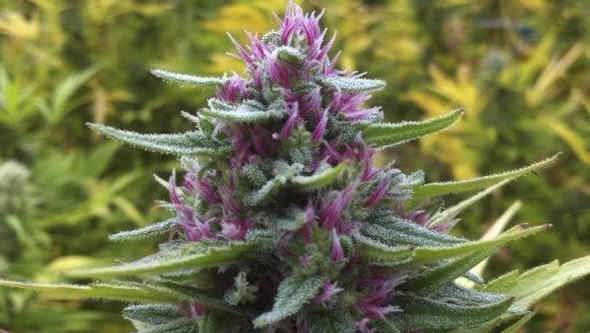 Mataró Blue by Kannabia Seeds
Mataró Blue from Kannabia Seeds is a variety that is highly appreciated by growers, and is characterised by its discreet aromas. A hybrid of Blueberry x Mazar x Black Domina, it is an Indica dominant variety, producing dense and heavy buds, with yields which can reach up to 600g per m2 in indoor cannabis cultivation.
Adapting to both Sea Of Green and SCROG outdoor crops, its flowering period requires no more than 60 days, which will reward the grower on the formation of very compact buds. In the case of cold nighttime temperatures, Mataró Blue can take on shades of blue to purple, contrasting with a thick layer of white resin that will cover its buds.
It produces a subtle, soft smell, with aromas combining floral notes on an earthy and sweet background of the highest quality.
Kannabia Mataró Blue info:
Genetics: Afghani x Original BlueBerry x Black Domina
Cultivation: Indoor & Outdoor
Flowering indoors: 56/65 days.
Harvest outdoors: October
Height outdoors: 2m
Indoor yield: 600g per m2
Outdoor production: 700g per plant
THC: 18-20%
Kalichakra from Mandala Seeds
Kalichakra from Mandala Seeds is a Sativa-dominant hybrid developed from Landrace genetics from South India and Southeast Asia, It offers an exotic and easy to grow lineage. A cross created to offer great performance to all levels of growers, from beginners to experts.
In spite of being a Sativa variety Kalichakra has a fast flowering period, just 60 to 70 days, with proven resistance to mould and very discreet odours, combining notes of mint and lemon in the grow room, a range of smells that won't attract unwanted attention from passers-by and neighbours.
Their spongy and resinous flowers offer an excellent ratio of buds to leaves, which will make trimming our harvest very easy work. Yields can exceed 1000g per plant when grown outdoors in full soil and more than 500g per m2 in indoor growing spaces.
Its effect is stimulating, positive and relaxing and of easy tolerance, leaving users in a state of happiness and euphoria, and at the same time without producing the heart-racing sensation or anxiety so typical of Sativas.
Mandala Seeds Kalichakra info:
Genetics: South India/Southeast Asia
Sativa-dominant hybrid
Flowering indoors: 60/70 days
Outdoor harvest: October
THC content: 17-19%
Indoor yield: 500-550g per m2
Outdoor yield: 850 to 1200g per plant
The varieties that we've presented here have also been employed to create many crosses where their characteristics are more or less dominant, so here we have a genetic base with discreet odours from which to select the varieties that we grow in our homegrown cannabis garden, whether it's indoors or outdoors.
Happy growing!
The articles published by Alchimiaweb, S.L. are reserved for adult clients only. We would like to remind our customers that cannabis seeds are not listed in the European Community catalogue. They are products intended for genetic conservation and collecting, in no case for cultivation. In some countries it is strictly forbidden to germinate cannabis seeds, other than those authorised by the European Union. We recommend our customers not to infringe the law in any way, we are not responsible for their use.