Medicinal Cannabis strains
The use of therapeutic or medicinal cannabis has seen an unprecedented boom in recent years, with thousands of people treating their illnesses, ailments and side-effects derived from other treatments either with the cannabis plant itself or the extracts that derive from it. The multiple benefits offered and the growing number of users bear witness to its effectiveness, which in recent times has led to redoubled efforts by breeders and seedbanks to create new hybrids with better ratios of certain cannabinoids, such as THC, CBD or, more recently, CBG.
Today we're going to take a look at the best cannabis varieties for medicinal use, in particular from the point of view of the relative quantity of cannabinoids they contain. Nowadays, although CBG is fast gaining popularity, the "star cannabinoids" in terms of medicinal properties are THC and CBD, and we can find plenty of varieties with different ratios or proportions between one compound and the other. So, here we're going to list them according to their cannabinoid ratio so that it's easier for you to find the one you're looking for.
What is medicinal cannabis and why use it?
Medicinal cannabis is often talked about as if one could effectively distinguish between one group of cannabis varieties with medicinal properties and another without them. However, the reality is quite different; Cannabis plants produce a series of compounds (cannabinoids, terpenes, flavonoids, etc.), each with its own medicinal properties. But they do not all produce the same amount of each compound, instead, each plant will produce a given amount of certain cannabinoids and terpenes. In this way, we see that each plant can possess a slightly different therapeutic profile depending on the compounds it contains.
When you buy a pack of seeds of a given variety, you're acquiring relatively stable genetics, that will offer relatively similar characteristics between plants. However, there may be a particular plant that stands out for one reason or another or a plant that is more medicinally effective than any of its sisters, and it's for this reason that clones are selected. It's a consideration that's worth taking into account from a therapeutic point of view, especially if you wish to keep a mother plant for future crops. If you find a plant that works especially well for your treatment, it's best to keep it as a mother so you'll be able to grow it whenever you need it.
Is THC medicinal?
THC has a multitude of properties that can be used in a medicinal setting. Yes, it's true that it's the main psychoactive substance produced by cannabis, and that it's still prohibited in many places precisely for this reason, but this does not imply - in any way at all - that THC doesn't possess therapeutic properties. If you'd like more information about this compound, be sure to read our article dedicated to THC in the following link:
https://www.alchimiaweb.com/blogen/tetrahidrocannabinol-thc/
From what has been said so far, one might think that all cannabis plants, no matter how few cannabinoids, terpenes and other compounds they contain, would have therapeutic properties. And this is not too far from the truth, although the properties of the predominant compounds in a plant must be taken into account in order to know whether it may be useful for a certain symptom or not, as well as considering whether the amount contained will be enough to achieve the desired effect. Of course, in our section on Cannabinoids and Terpenes, you'll find detailed information about each of the main compounds found in cannabis.
What is the cannabinoid ratio?
The cannabinoid ratio of a plant lets us know the proportional content of one cannabinoid compared to another, as found in the same sample being analysed. Normally, and as many of you may already know, we talk about the ratio between the two main cannabinoids: THC and CBD. In this way, a 1:1 ratio expresses a very similar content of both compounds, while a THC:CBD ratio of 2:1, for example, shows us that there is twice as much THC as CBD in this sample. So, the ratio doesn't express the exact amount of cannabinoids contained, but instead the relationship between the quantity of each one (in the first example we could be talking about a plant with 5% THC and 5% CBD or one with 13% of both cannabinoids. The 1:1 ratio would be the same in both cases, although the second has more than twice the total cannabinoid content).
This data can be very useful when looking for a predominance of a certain cannabinoid, and it's also handy in the opposite case - when looking for a very similar and balanced amount of both compounds. Thanks to numerous studies of what we call the entourage or ensemble effect, nowadays more and more people are looking for plants with fairly specific cannabinoid profiles or ratios, and in particular, tend to target plants that have a good amount of both THC and CBD. If it's okay with you, we'll begin our list with precisely these varieties, those that offer a balanced ratio between the two main cannabinoids.
https://www.alchimiaweb.com/blogen/entourage-effect-synergy-annabinoids-terpenes/
Cannabis varieties according to cannabinoid ratio
Cannabis varieties with a 1:1 THC:CBD ratio
Pennywise from Subcool The Dank
A 70% Sativa hybrid between the famous Harlequin and Jack the Ripper, Pennywise by Subcool The Dank (RIP) contains high levels of CBD and THC, which can both reach as high as 15%. With a medium height and yield, it's a versatile plant that can be cultivated indoors in a grow tent as well as outdoors and in greenhouses.
Cream Caramel CBD from Sweet Seeds
Sweet Seeds presents the CBD-rich version of their iconic Cream Caramel, with a CBD content between 9 & 17% and similar, but slightly lower, THC levels. Cream Caramel CBD will be ready to harvest after only 8 weeks of flowering, without a doubt result of its Indica dominance. Plants can also be found with a ratio of THC:CBD closer to 1:2 than 1:1.
Dark Rose Auto CBD from Elite Seeds
An option with a balanced ratio but this time in auto-flowering form, Dark Rose Auto CBD by Elite Seeds is an Indica that has very similar levels of THC and CBD, around 8% of each. It's a particularly fast auto variety, being ready to harvest just 9 weeks after germination.
Cheesy Auto CBD from Philosopher Seeds
Another automatic variety with a 1:1 ratio and testing at around 7% in THC and CBD, Cheesy Auto CBD by Philosopher Seeds is the CBD-rich version of Cheesy Auto, the champion of Expogrow Irún in 2015's auto-flowering strain category. Its powerful aroma, inherited from the original Exodus Cheese clone, stands out head and shoulders above most auto varieties!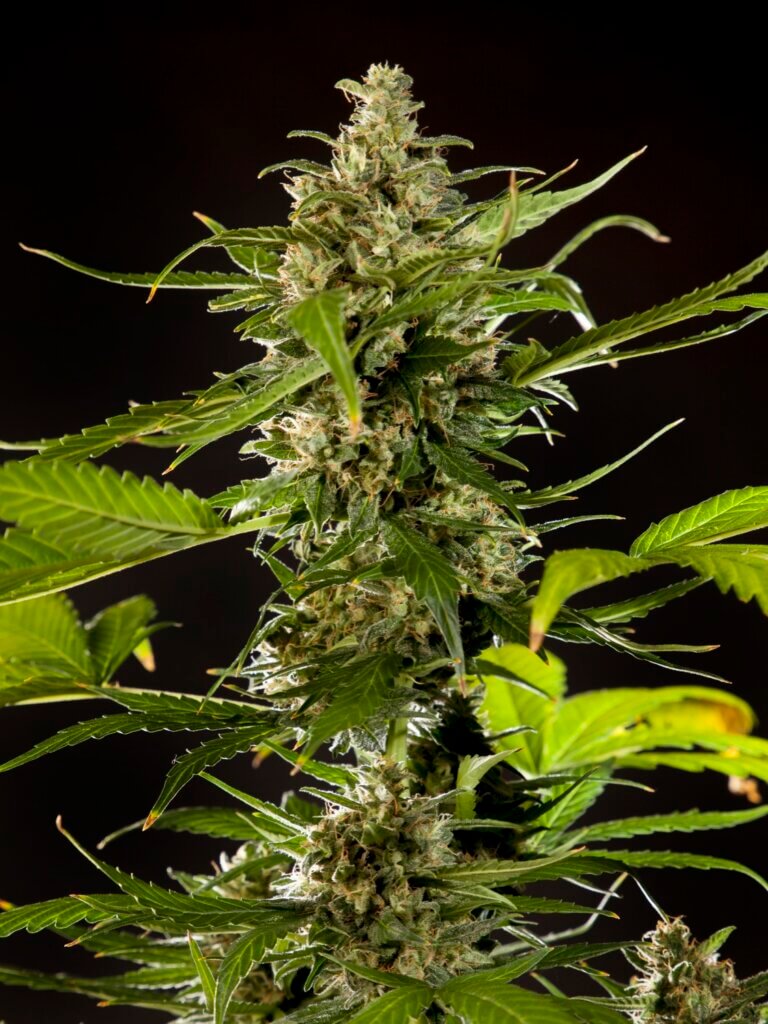 Cannabis varieties with a 2:1 THC:CBD ratio
Fruity Jack from Philosopher Seeds
With a THC content of around 20% and 11% CBD, Fruity Jack by Philosopher Seeds is a hybrid between Respect #13 and Jack the Ripper, an impressive parental plant used in other work by the same bank. Its intense aroma of ripe fruit is unforgettable, and we can't forget its impressive production indoors as well as outdoors.
Black Lights CBD Auto from Sensi Seeds
This variety is a cross between the famous  Northern Lights #5 and the equally popular Harlequin, but with the addition of the Ruderalis genetics responsible for the auto-flowering trait. Sensi Seeds' Black Lights CBD Auto can reach THC levels of 15% with a relative CBD content that results in a ratio of between 1:1 and 2:1 (twice the THC than CBD).
Sweet Love from Philosopher Seeds
Awarded prizes on various occasions for its therapeutic potential,  Sweet Love by Philosopher Seeds is a cross between Juanita la Lagrimosa and Tropimango, that produces THC levels of 16% and an average CBD content of 10%. Its sweet and fruity flavour makes a perfect combination with a clear and happy effect, perfect for day-to-day use.
CBD Warlock from Serious Seeds
Born from a collaboration with House of the Great Gardener, CBD Warlock contains moderate quantities of THC (8%) and approximately half the amount of CBD (4%). Created by crossing the legendary Warlock with Cannatonic, it gives medium to high yields and takes 9 weeks to finish flowering.
Cannabis varieties with a 1:2 THC:CBD ratio
Ice Cool CBD from Sweet Seeds
Ice Cool CBD by Sweet Seeds offers CBD levels that can reach twice that of the THC, although there are also examples with a more equilibrated ratio, closer to 1:1. The content of both cannabinoids can get as high as 13%, being a well-balanced Sativa/Indica hybrid.
CBD Tonic from World of Seeds
CBD Tonic is a cross between Critical Mass and Dieseltonic, with CBD levels reaching over 10% (with a THC content of around 7%). It's a high-yielding variety (up to 1g per watt) that's also reasonably fast to finish, ready to harvest after 8 weeks of flowering indoors.
CBD OG Kush from CBD Crew
With yields of around 1g per watt and a predominant Indica influence, CBD OG Kush by CBD Crew is capable of reaching a ratio of as high as 1:5 in favour of CBD although it fluctuates between 1:2 and 1:5, with a maximum of 10% CBD. It's an excellent option for growers looking for generous harvests and who want to search through various phenotypes.
Green Poison CBD from Sweet Seeds
Without a doubt, this CBD-rich version of one of Sweet Seeds' flagship strains is one of the fastest varieties we've included in this list. Ready for harvest after just 7 weeks of flowering, Green Poison CBD offers THC:CBD ratios ranging from 1:1 to 1:2, with maximum levels of 12% CBD and 9% THC.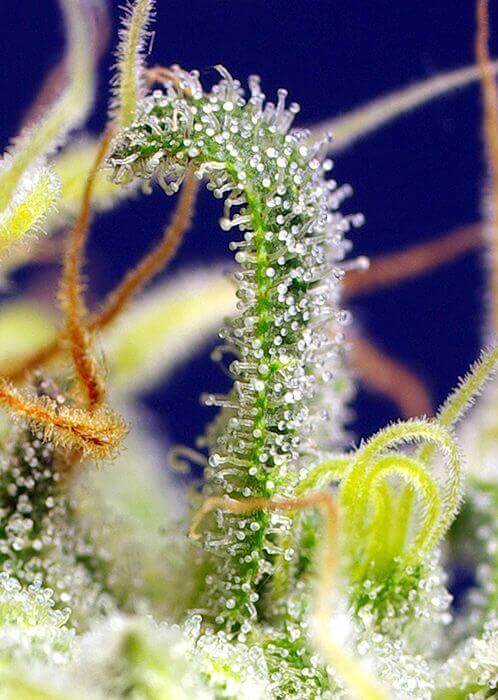 CBC-rich cannabis varieties
Pure CBD Punch from Philosopher Seeds
With CBD levels of around 15% and a very low THC content that barely reaches 0,6-0,8%, Pure CBD Punch (S1 or self-pollination of Session) stands out for its enjoyable flavour and stability, with different individual plants testing at almost identical levels in lab analysis. Without any doubt, it's a safe bet if you're looking for great results and really high CBD levels.
Purplematic CBD from Royal Queen Seeds
Royal Queen present this CBD-rich auto-flowering hybrid, created by crossing Kush Rose Auto CBD and Afghan Rose Auto CBD. With 90% Indica genetics, Purplematic CD is notable for its fast growth cycle (barely 9 weeks from seed to harvest) and for its high CBD content, which can be as much as 17% (compared to only 0.5% THC). As its name suggests, it also offers a spectacular show of colours during flowering.
CBD Auto Blackberry Kush from Dutch Passion
Just like the previous option, this auto-flowering variety shows a marked Indica dominance, with THC levels below 1% and CBD as high as 15%. The complete life cycle of CBD Auto Blackberry Kush is a little longer than the previous variety, lasting 11 weeks from germination to harvest, although the wait is rewarded with an unforgettable fruity and sweet aroma.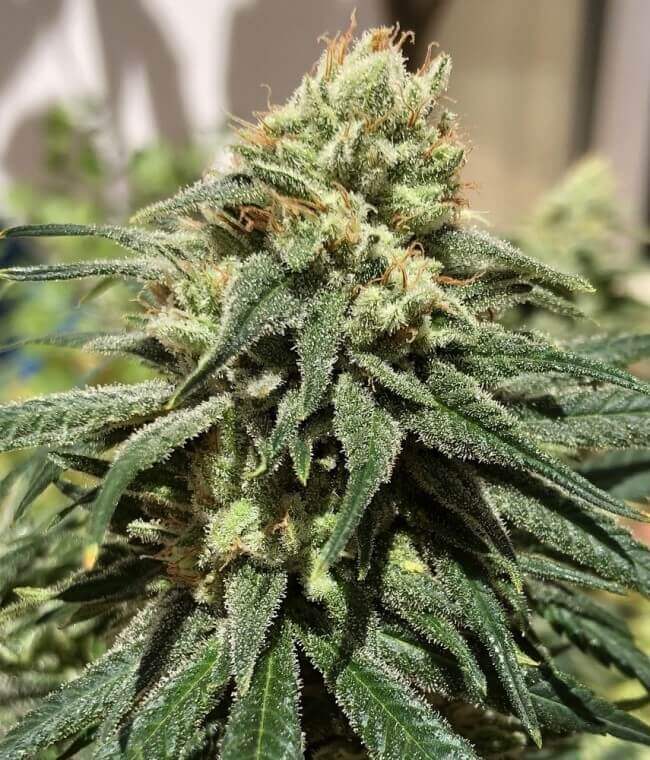 THC-rich cannabis varieties
There's no question that the most popular type of cannabis genetics on the market are those high in THC, with literally hundreds of different examples to choose among, from pure varieties to the latest-generation hybrids that are most in-demand at the moment. Whatever the case, you can check out our catalogue of varieties high in THC, a cannabinoid that, as we've seen, can also be a valuable ally for many patients seeking relief for their symptoms.
So that's it for our review of some of the most standout varieties from a therapeutic viewpoint, we hope that this classification by ratios of the main cannabinoids will help you find the plant that can best help you, always keeping in mind that other compounds such as terpenes will also have their influence on the final range of effects offered by each plant.
Happy harvests!
The articles published by Alchimiaweb, S.L. are reserved for adult clients only. We would like to remind our customers that cannabis seeds are not listed in the European Community catalogue. They are products intended for genetic conservation and collecting, in no case for cultivation. In some countries it is strictly forbidden to germinate cannabis seeds, other than those authorised by the European Union. We recommend our customers not to infringe the law in any way, we are not responsible for their use.