Cannabis and Cinema
In the world of cinema we find several artists who use marijuana, but the plant has become an actor itself, offering to cannabis film lovers a large number of movies in which marijuana plays an important role.
Whether movies that are based on real events or fiction, in this article we will talk about the most outstanding films in each category, trying to make a complete list of the best cannabis movies.
Cannabis and biopics
Biopics are movies inspired by real events that are highly appreciated by the public, which often enjoy to know a true story. This is our selection of films, those movies about the adventures of growers or dealers that we find most interesting.
Mister Nice, The Film (2010)
The most frequent readers of our blog already know Howard Marks, who honoured us by visiting our shop together with his friend Shantibaba. Released in 2010, this British film tells the story of one of the most important hashish dealers in the history, travelling from Pakistan to the USA with multiple identities and smuggling tens of kilos of weed and hashish.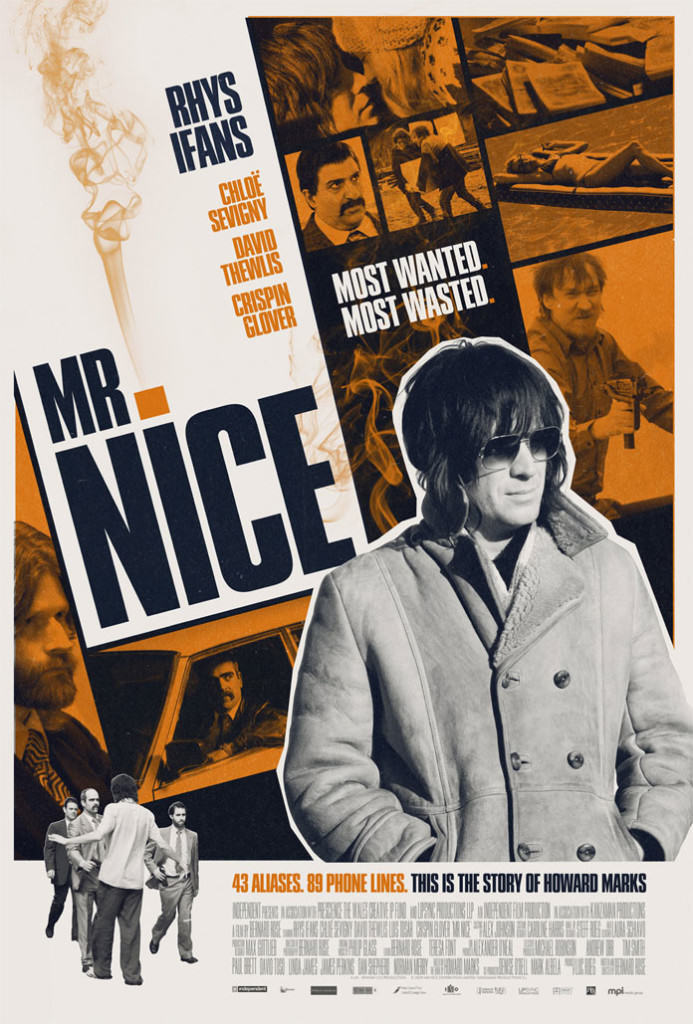 Starting in London during the 70's, Howard (Rhys Ifans) leads us to the massive marijuana crops of the Middle East and other exotic places, until his arrest in Mallorca at the end of the 80's. If you like the film, you will love the book about Mr. Nice, which is far more abundant in details.
Midnight Express (1978)
Midnight Express or how greed can lead to hell. This cult film was released in 1978 and explains the journey and ordeal of William Hayes, a 23-year-old North American who is arrested in Istanbul in 1970 with 2kg of hashish, with which he expected to earn some money once returned to his country.
He is firstly sentenced to 4 years in prison, and then to 30 years, where he must learn to survive in an unhealthy environment of extreme violence in an overcrowded Turkish penitentiary. He takes refuge in the hope of being released someday to avoid falling into madness. A brutal and immersing story, not advised for the most sensitive audience.
Kid Cannabis (2014)
The marijuana dealer starring this film is also a young North American,a guy crazy about weed who always has very insecure jobs. He decides then to become a drug dealer, since at this moment of his life that seems to be the most interesting way to make money and change his social status.
The main character, Nate Norman, lives a few kilometers away from Canada, a country much more tolerant with marijuana and its users than the State in which he lives, and so he organizes expeditions with his best friends, during which they cross the border through the forest with their backpacks full of Canadian marijuana. Unfortunately, the violence of the world of drugs will force them to change their plans...
Paulette (2013)
This French film was released in 2013 and is inspired in a true story of a retiree who lives in the Parisian suburbs. This woman has economic problems and can't make ends meet with her small pension. Burdened with debts and pressured by an eviction process, and realizing that half her neighbourhood lives off hashish trafficking, Paulette decides to start an illegal trade to revive her economy and avoid ending up on the street.
This is one of the last films of Bernadette Lafont, in which she performs amazingly in her role as a bitter and lonely grandmother who recovers the happiness of live thanks to her lucrative activities.
Blow (2001)
This film (2001), starred Johnny Depp, tells the story of George Jung, a north american drug lord and friend of Pablo Escobar. At the end of the 60s, George and Tuna, two young and poor North Americans, lovers of cannabis, went from consuming and selling to become major marijuana dealers, which they brought from Mexico using airplanes.
In 1974, George was arrested with 330 kilos of Mexican sativa and sentenced to 24 months in prison. This period in jail changed his life completely: "Danbury wasn't a prison, it was a crime school. I went in with a bachelor in marijuana and came out with a doctorate in cocaine."
Cannabis and comedy films
Cheech and Chong: Up in Smoke (1978)
Released in 1978, "Up In Smoke" was the first full-length film of the American – Canadian duo Cheech & Chong, icons of the hippie culture in the United States and famous for their passion for marijuana. This is the first film of a long series, which made these actors international representatives of the stoner/pothead culture. They also starred other movies about cannabis, as it is the case of "Super Kitch Evil Bong".
The title of this movie inspired the "Up In Smoke Tour" music festival, a unique a tour performed in the year 2000 that brought together Eminem, Dr. Dre, Snoop Dogg and Ice Cube on the same stage, accompanied by other guest artists.
Saving Grace (2000)
When her husband brutally dies, Grace, a sixty-year-old British woman, soon discovers that her financial position is alarming and quickly realizes that she will be unable to maintain her luxurious house in the countryside of Cornouailles. Expert in the cultivation of orchids, Grace helps her gardener to take care of a few marijuana seedlings, and takes a few cuttings.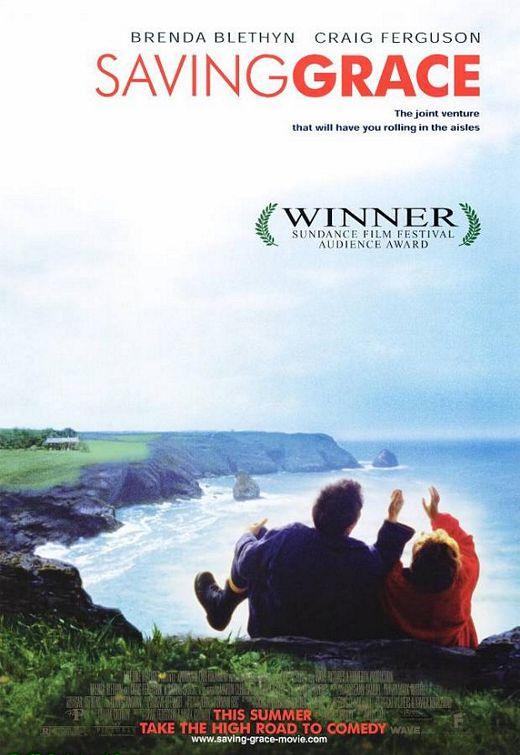 As fast as her first clones produce roots, Grace thinks in avoid the bankruptcy by producing as much marijuana as her greenhouse can, so soon she will have to sell marijuana while avoiding her banker, the sheriffs…
Les Frères Pétard - The Joint Brothers (1986)
This French comedy released in 1986 brings together Jacques Villeret, Gérard Lanvin, Josiane Balasko, Valerie Mairesse and also Smaïn, who recall the life in Paris. Over time, this movie has become a cult film for lovers of the genre.
Momo and Manu, two young Parisians with a chaotic professional, family and sentimental life, help Sammy in exchange for a little bit of money. By chance, they´ll have to smuggle weed from Holland, and then sell it in Paris to get their reward.
La Beuze - The Dope  (2002)
It could seem a remake of the prevoius film: two inseparable friends with a huge stash of marijuana.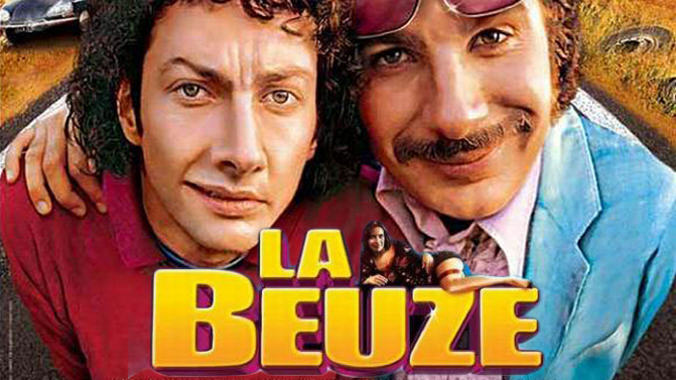 Friends as brothers since the orphanage, Alphonse and Scotch stumble by chance with a very special stock of weed: "La Mongolica", a marijuana with super potent effects created by the Nazis during the second world war to destabilize the enemy. So begins this bizarre adventure in which Michaël Youn and Vincent Desagnat act in the role of this extravagant duo.
Leaves of Grass (2010)
This adaptation of the eponymous book of poems by Walt Withman, released in 2010, tells the story of the reencounter of two twin brothers in their native Oklahoma, starred by Edward Norton.
Bill, who is a University student considered an expert in philosophy and emancipated from his family for more than 10 years, visits his brother Brady, also expert on his favourite subject: the creation of a new marijuana strain and hydroponic culture…
Pineapple Express (2008)
Pineapple Express is starred by Seth Rogen and James Franco, a famous American duo that has also starred films like Zeroville and The Interview. Dale, a young legal advisor and marijuana enthusiast, is involved by his dealer Saul in an adventure full of unexpected twists, after having smoked Pineapple Express marijuana, a strain with strong and betraying smell.
How High (2001)
Silas and Jamal, two budies from a North American neighbourhood - starred by Redman and Method Man - who are two problematic students. Despite everything, they will approve their exams thanks to the talent of a gardener who has just harvested a one-of-a-kind weed with supernatural effects...
Ted (2012)
Ted is a film by Seth MacFarlane, scriptwriter of TV series like American Dad or The Cleveland Show.
John Bennett is a sad and lonely child, being the mockery of his schoolmates, until the day his greatest desire becomes true: Ted, his teddy bear, magically comes alive and becomes his best friend. More than 20 years later, while John and Ted are still enjoying a life without responsibilities smoking marijuana in pipes and lying on the couch, John's grirlfriend tries to turn these teenagers, who live for marijuana, into responsible adults.
Lock and Stock (1998)
Guy Ritchie, director of Lock and Stock, has gained lots of followers thanks to its surprising and immersive settings and for the intelligent dialogs, with constant nods to cinema. Before Snatch or Rocknrolla, this film really helped to build Guy Ritchie's reputation , who also acts in Revolver or Mean Machine.
Soap, Bacon and Tom, three young British peeps are enjoying the calm festivities in the local pub, when they'll have to help their friend Eddie to pay gambling debts with the baron of the city, a cheater who sees in Eddie an easy prey. In this world of cheaters and thieves, this group of friends will cross their way with Winston and his partners, who grow high grade cannabis in large amounts.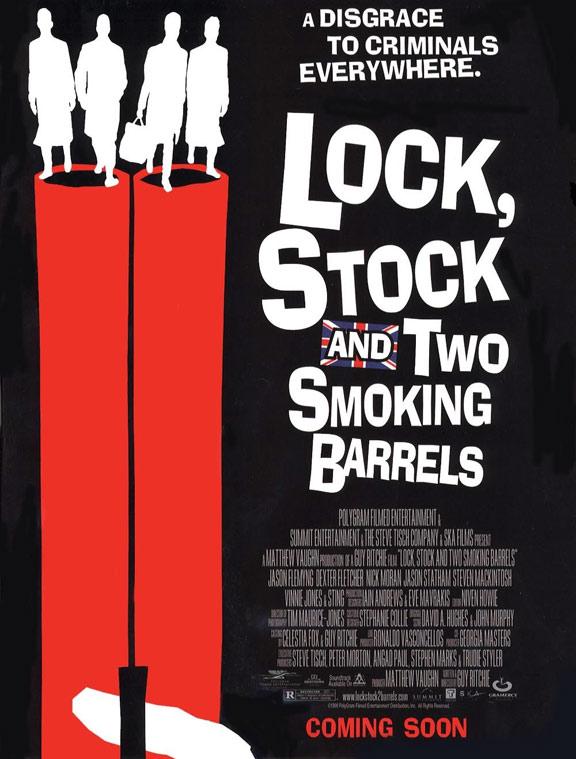 Soul Plane (2004)
After a disastrous trip, Nashawn Wade complaints to the airline, which compensates him widely. Now, being a millionaire, Nashawn decides to create his own airline that differs - and much - of the established standards: dance floor, hip hop music and hostesses with big breasts, his air plane is unique and so is his pilot, lover of Kush marijuana and magic mushrooms, a perfect role for Snoop Dogg, who shares the cover with Tom Arnold and Method Man.
Smiley Face (2007)
Jane lives in Los Angeles and dreams of having a career as an actress, performing many castings in all sorts of try-outs without success. Jane often smokes marijuana, but this time she will unintentionally eat her flatmate's special magic cookies, which produce very potent and long lasting effects, quite different from joints. From now on, her motto will be replacing the cookies so her roommate doesn't get mad, creating a crazy adventure in the streets of L.A.
Cannabis (1970)
The director and screenwriter Pierre Koralnik brings together Serge Gainsbourg and Jane Birkin in this crime thriller with 'reminiscences' of The French Connection.
A mixture of North American Gangsters, French Poets and British Beauties, Cannabis also captured the attention of the public after its release thanks to the amazing soundtrack created by Serge Gainsbourg. Despite its evocative title, this film is rather about the international organized crime than cannabis in particular.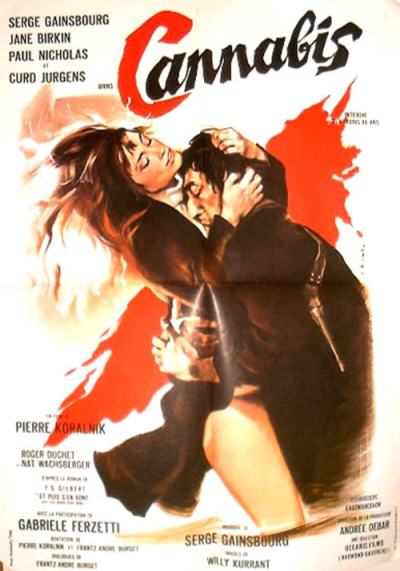 Savages (2012)
Ben, an expert in botany, successfully grows the seeds brought by Chon, former military who travelled around the world before settling in Laguna Beach, California.
Grown in hydroponics for medicinal dispensaries, the weed is also sold on the black market, attracting the Drug Cartels and involving Ben and Chon in a gang war.
Toril (2014)
Philippe is released from jail after having served his sentence for drug trafficking, and must face a tragic situation: his father, sick and with many debts, is forced to sell his family farm. At first, Philippe tries to play the game by replacing his father, but he will soon realize that he can't and won't be able to restore their economic situation observing the law. He thinks then about growing marijuana in one of their hangars to pay off his father's debts.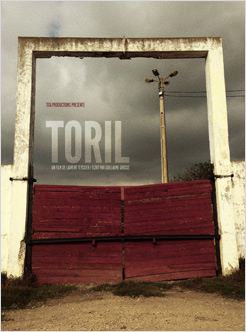 Back Soon (2007)
This Icelandic film is explains the story of Anna, who lives in Reykjavik and wants to sell her company to leave Iceland and retire in a sunny place. But, it isn't a trade like any other: Anna has several clients, all pleased by her cannabis buds.
The Beach (1999)
Leonardo DiCaprio, Virginie Ledoyen and Guillaume Canet share the cover of The Beach, film in which they act as Richard, Françoise and Étienne, a group of young tourists on holidays in Thailand. One of their encounters put them on the track of a mysterious and paradisiacal island where a peaceful community lives in harmony, but also a gang of drug dealers who grow entire fields of cannabis Sativa.
Super High Me (2007)
This documentary film is a parody of Super Size Me. Doug Benson, the main character of Super High Me, will no longer use marijuana for 30 days to "purify his organism", but he will then spend 30 days smoking all the marijuana that he can to observe all the possible positive or negative effects on his health.

Jay and Silent Bob Strike Back (2001)
Jay and Silent Bob are two young unfortunate stoners, resulting from the Clerks series, who are living a life that mostly consists in smoking joints and selling weed, a lifestyle that inspired the Bluntman and Chronic comic book. While Bluntman and Chronic are about to feature in a full-length movie, critics are already severe, so Jay and Bob decide to stop filming this movie, which is advertised as worst film of the year.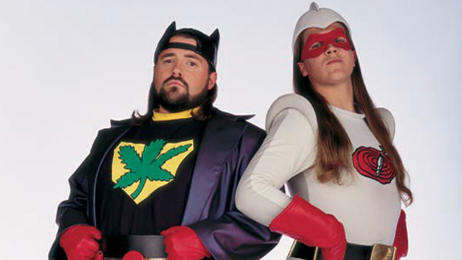 Harold and Kumar gor to White Castle (2004)
The adventures of two roommates and cannabis lovers who, after having seen a tempting ad of a restaurant specialized in hamburgers, will do everything possible to get one of these appetizing Burgers.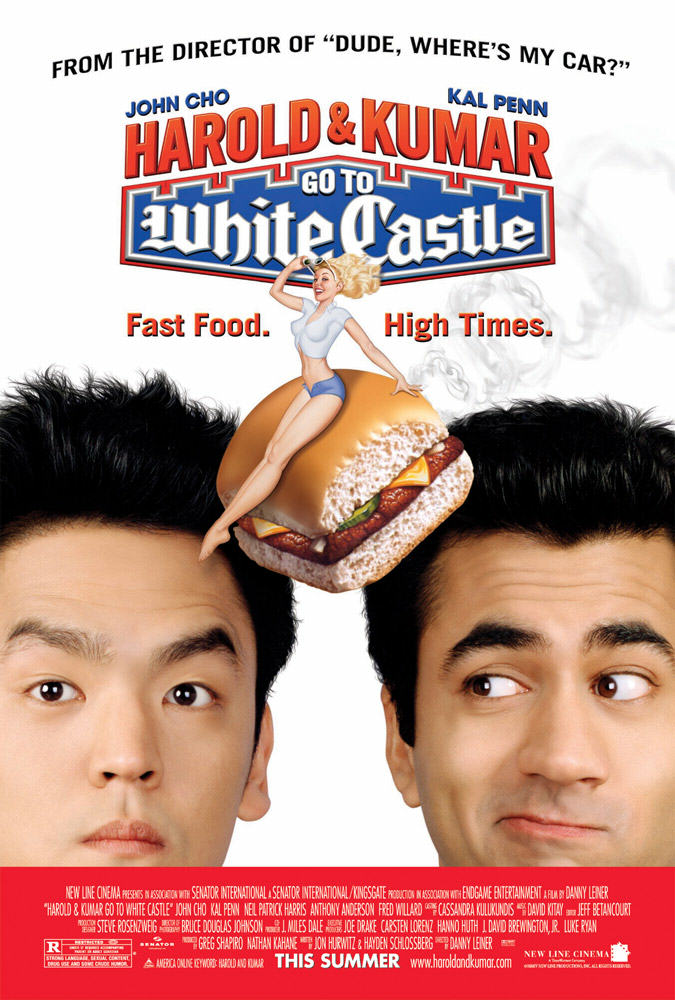 The articles published by Alchimiaweb, S.L. are reserved for adult clients only. We would like to remind our customers that cannabis seeds are not listed in the European Community catalogue. They are products intended for genetic conservation and collecting, in no case for cultivation. In some countries it is strictly forbidden to germinate cannabis seeds, other than those authorised by the European Union. We recommend our customers not to infringe the law in any way, we are not responsible for their use.