How to make marijuana chocolate muffins
In this article we propose an original and easy recipe for making a colourful marijuana edible dessert, a sweet delicatessen to enjoy with your best stoner friends. Actually, they are two combined recipes that provide a very tasteful and appetizing dessert enriched with hashish.
We'll follow both recipes separately, mixing the final products at the end of the process and achieving a true piece of art. Let's go then!
Black chocolate muffin, candied cherries and Marrakech butter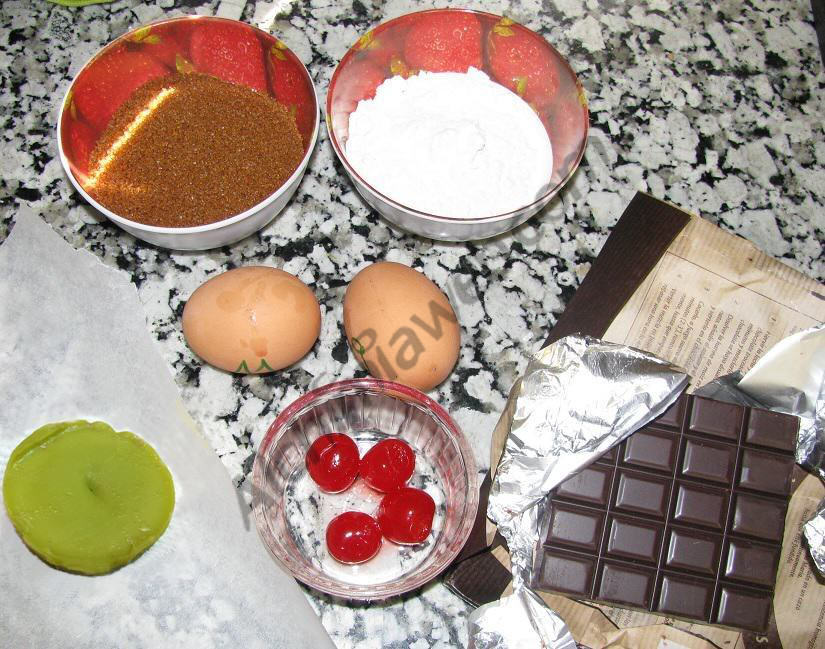 Ingredients for 4 muffins:
100gr black chocolate
100gr powdered sugar
50gr cannabis butter
50gr flour
2 eggs
4 candied cherries
To make the muffins
Preheat the oven to 180ºC (356ºF)
Mix the chocolate and the cannabis butter and heat it in a water bath, stirring it until the mix becomes a uniform liquid.
Meanwhile, mix in a bowl the powdered sugar and the eggs. Beat the mixure vigorously until stiff and foamy.
Pour the chocolate/butter mixture into the bowl while stirring.
When the mixture is uniform, sieve the flour over it while beating the mixture with a wire whisk until you have a smooth, compact dough.
Fill up 4 muffin cups with the dough.
Bake the muffins for about 8-10 minutes, until a crust is formed and a toothpick inserted in the center of the muffin comes out slightly sticky. If it comes out clean, it means that it is a bit overcooked, resembling a cupcake instead of a muffin. We are looking for a coulant-like texture.
When we remove the muffins from the oven, it is possible that a hole is formed on the center of each one, which we can use to place our candied cherries. The first part of our recipe is ready, you can leave the muffins to cool down before storing them in the fridge. Leave the oven heating for the next part.
Strawberry and white chocolate magic cookies
Ingredients (4 persons)
100gr white chocolate for desserts
120gr Marrakech butter
80gr powdered sugar
150gr flour
1 egg
1/2 teaspoon of yeast
1/2 teaspoon of salt
2 teaspoons of strawberry coulis
To make the magic cookies
Preheat oven to 180º (356ºF)
Keep the black chocolate in the fridge
Mix together the butter, sugar and salt in a bowl.
Add the egg.
Sieve the flour and yeast over the mixture.
Grind the white chocolate until you get small chips.
Add 2/3 of our chocolate chips to the mixture.
Cover an oven tray with parchment paper.
Make small balls of cookie dough and place them on the tray, leaving space between them.
Bake them for 10-12 minutes.
Remove the cookies from the oven and cover them with a layer of strawberry coulis (marmalade). You can use chocolate chips as topping.
Bake them a few minutes more, until the chocolate stars melting but before they are toasted.
We have finished the second part of our recipe. We should have now beautiful red cookies with white stains, very similar to the head of a popular mushroom, Amanita Muscaria (Caution: do NOT eat this mushroom, it's highly toxic!).
Note: These cookies can also be made using our recipe of Vegan Space Cookies.
Now we only have to join both parts and we'll have our dessert ready.
Preparing our cannabis dessert
Remove your muffins from the fridge.
Insert a toothpick in the center of each muffin (through the candied cherries) so you can see a few milimeters.
Place the cookies (still warm) on top of each muffin, fixing them with the toothpick.
Your sweet and psychoactive mushrooms are ready to be tasted. You can serve them at room temperature, and if you want to be original you can put them in a wicker basket with things that remind of a picnic, surprising all your guests. This mix of cherries/black chocolate and strawberries/white chocolate, besides its fatty material enriched with cannabinoids , is a perfect dessert to end a perfect evening with friends.
Enjoy yourself!
The articles published by Alchimiaweb, S.L. are reserved for adult clients only. We would like to remind our customers that cannabis seeds are not listed in the European Community catalogue. They are products intended for genetic conservation and collecting, in no case for cultivation. In some countries it is strictly forbidden to germinate cannabis seeds, other than those authorised by the European Union. We recommend our customers not to infringe the law in any way, we are not responsible for their use.