Rosin Hash
This article was published in March 2015, when very few people knew about this extraction method. Before yelling at us in the comments section for pressing flowers with hair straighteners...please keep that in mind! ;)
What is Rosin Hash?
Recently, a solventless separation technique is attracting more and more followers for both the easiness and low cost of the method and the quality of the final product. We are talking about Rosin hash, a concentrate obtained from separating the resin from the green matter through heat and pressure.
We'll make a demonstration of this technique so you can see how easy it is, and the excellent results that we can obtain if we do it correctly, a top-grade concentrate, 100% dabable and with a taste pretty similar to BHO .
How to make Rosin Hash
To make this cannabis concentrate we need the following materials:
A few buds
Slick Sheet or parchment paper
A hair straightener
A razor blade, needle or something similar
As mentioned before, the basic principle of this technique is applying pressure and heat to the green matter, so in few seconds the resin is separated from the buds forming small drops. As usual, safety comes first, so we recommend you to wear protective gloves (oven mitts, etc.) during the process, or wrapping the hair straightener with a cloth to protect your hands from burns.
Let's see the process now:
Fold a piece of parchment paper or Slick Sheet paper and insert the bud in the center of the paper, wrapping the plant matter with it.
Next, pre-heat the hair straightener; we made our first test at 160ºC (320ºF). Once it reaches the selected temperature, gently place the wrapped bud between both plates and apply strong pressure for a few seconds (2-5).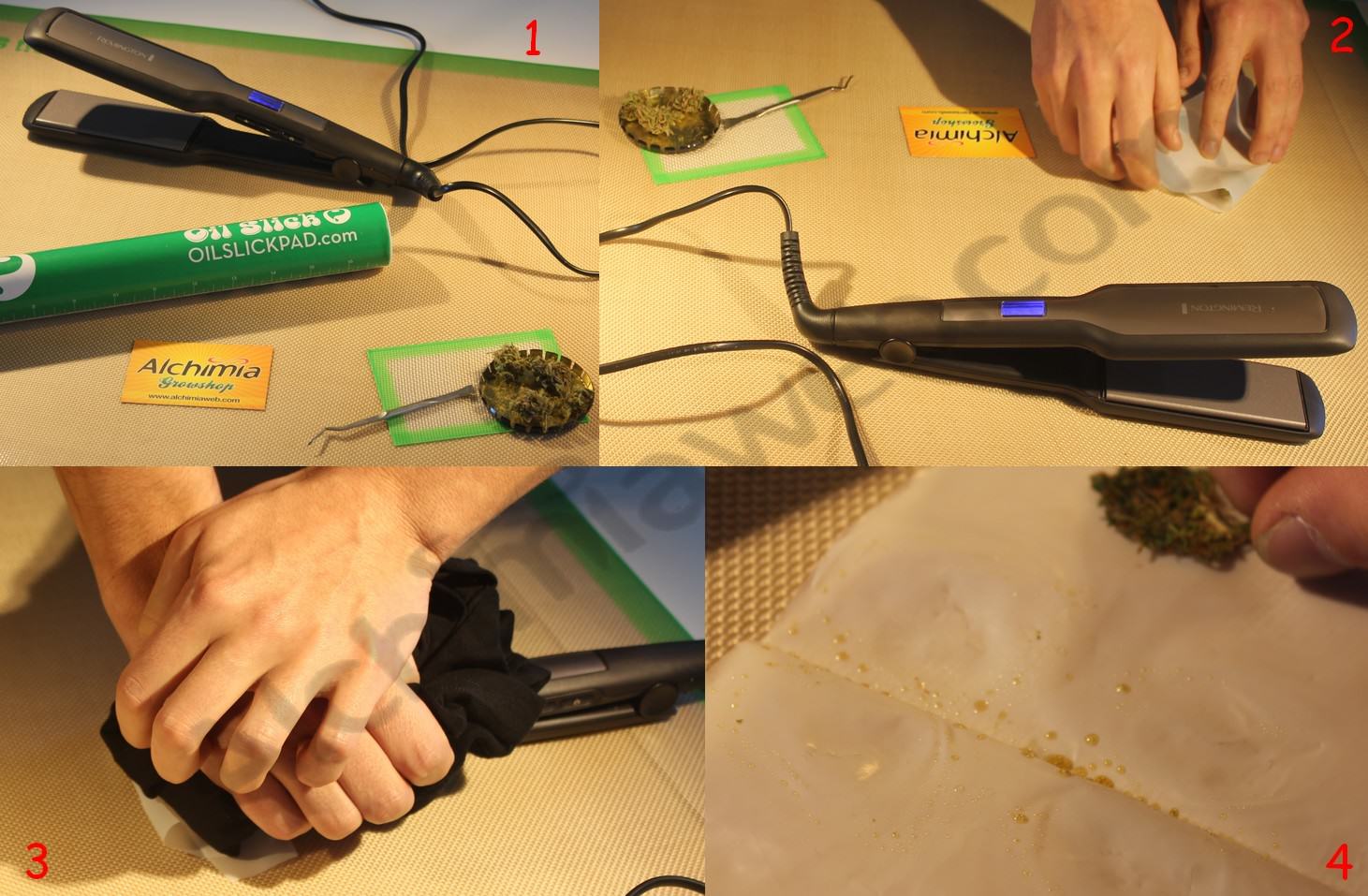 Depending on the temperature and time of exposure to heat and pressure, we'll have more or less return (and, also, higher or lesser quality). The higher the temperature and the more time of pressure, the more terpenes and cannabinoids will be vaporised, but the higher the yields. It is about finding the balance that best suits our demands.
While we are pressing, we'll suddently hear a crunch; that's when we have to stop pressing and remove the paper with the marijuana bud from the straightener. Once we unfold the paper, we'll se the crushed bud surrounded by tiny resin drops. We remove the bud and are ready to collect our resin pearl. Some people make a QWISO extraction with the remaining buds - an extraction technique which uses isopropyl alcohol that we'll discuss in a following article - or prepare a delicious cannabis butter.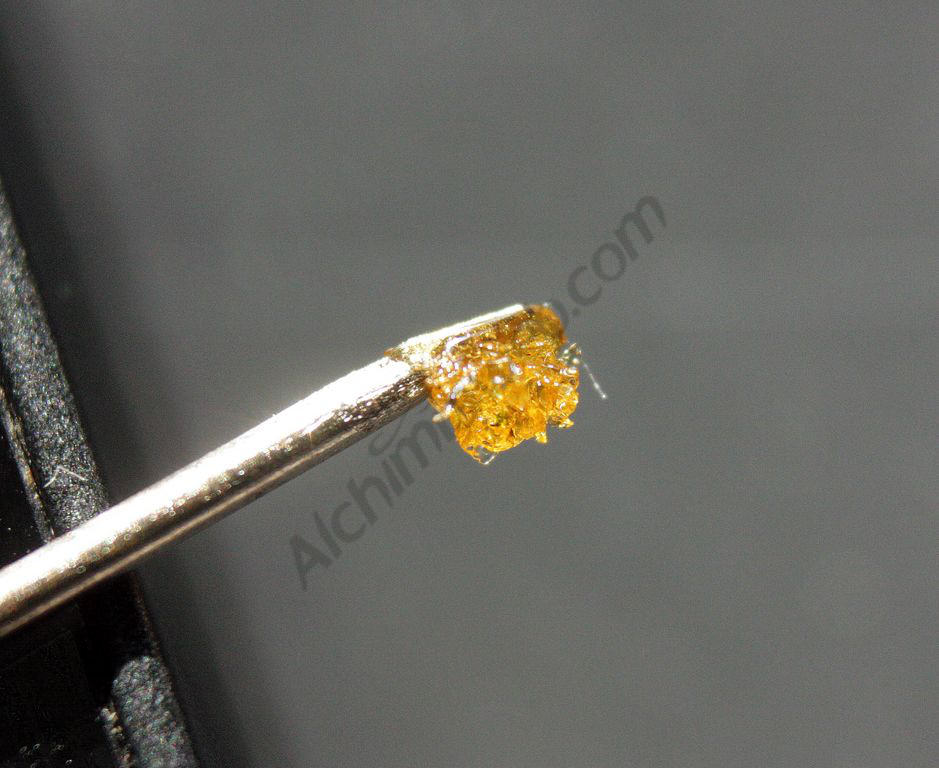 Freezing the paper with the resin greatly helps to remove it with a razor blade or needle (also frozen). Once we have everything frozen, scrape the resin to collect it. We are done!
The final product is much cleaner than other resin solventless separations, competing with renowned solvent extractions like BHO in terms of appearance, taste and effect. The yields are around 10-20%; as we already mentioned, they mainly depend on strains, temperature and pressure and the time of exposure.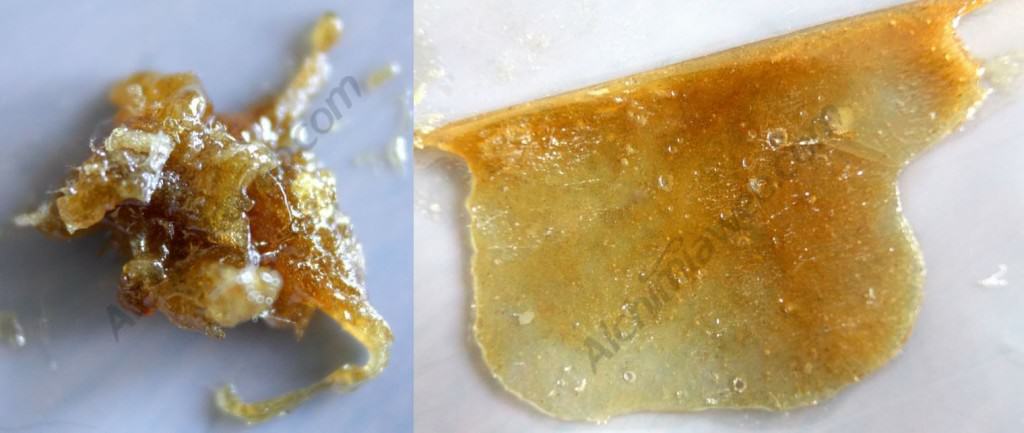 For this post we have used Amnesika 2.0 buds - from Philosopher Seeds - a temperature of 160ºC (320ºF) and strong pressure for about 5 seconds, with the hair straightener onto a hard surface and pressing with all our weight.
The first attemps with this technique were mainly performed by pressing with hair straighteners, although as we can see on the different social networks the technique is already being upgraded to process more buds at once by using t-shirt presses.
Results of our test bench on the Rosin Hash Technique
We have performed a Rosin test by making different extractions of the Jack el Frutero marijuana from Philosopher Seeds. We used different temperatures and pressing times, and also different bud sizes/weights. After all the extractions were ready, we made a tasting using a bubbler and a dabber.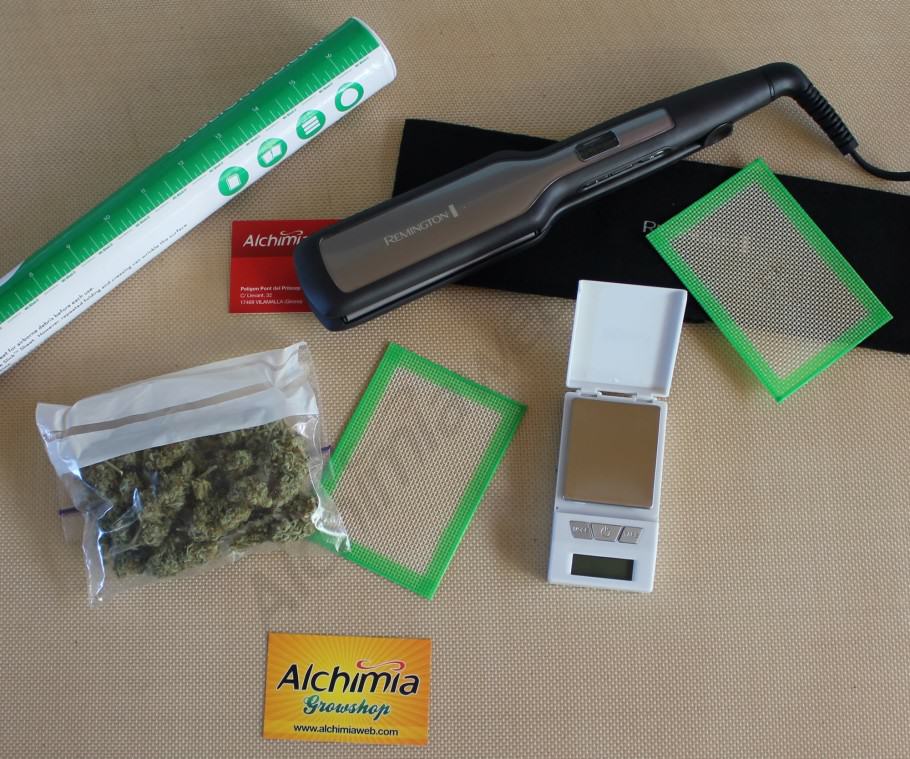 According to our results, the best product is obtained at 150ºC, with a 4-6 second pressure and using 0.25gr samples in each run.
Amount of weed to use: We started pressing 1gr buds, bud yields were poor. We tried with 0.5gr buds, improving the results. After this, we tried with 0.25gr samples and, in this case, the yields increased significantly, exceeding 10%.
Temperature: Our straightener has adjustable temperature settings (10ºC range), being 150ºC the minimum temperature. The higher the temperature, the more terpenes and cannabinoids will be vaporised during the extraction. From 170ºC the quality drops drastically. We also tried to set the temperature to 150ºC and switch off the device for a few seconds, to work with a lower temperature. Still, yields descreased, so 150ºC was the most suitable temperature to work with, offering a nice quality-yield balance.

Pressing time: Pressing for a short time won't give any yield of Rosin Hash. On the other hand, pressing for too much time will cause the vaporisation of the active and aromatic principles of the cannabis samples, what reduces the quality of the final product. We observed that best results came when pressing for 4-6 seconds. You only have to wait until listening a subtle crunch to stop pressing. If you see vapour coming from the sample or smell like vaporised weed, then you are pressing too long (or temperature is too high).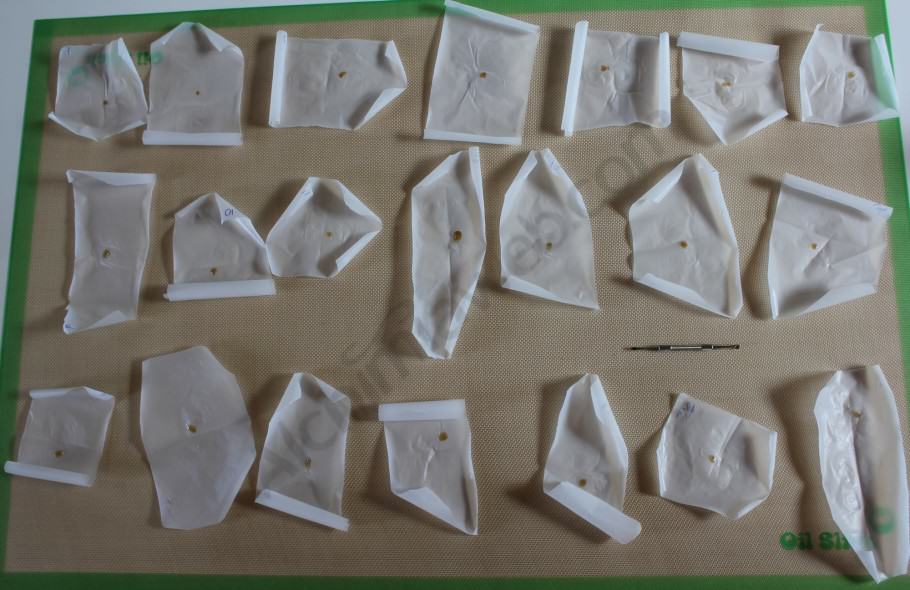 Of course, these parameters may vary depending on your straightener, marijuana strain , drying grade and pressure. If we have a quality hair straightener there's no need to make strong pressure, but pressing firmly is enough, always protecting your hands. If two persons perform the operation everything is much easier: one can hold the cannabis sample while the other presses it. We recommend using a straightener with long and wide plates.
Quality of the Rosin cannabis extraction
We were surprised by the high quality of this concentrate, being pretty close to BHO extractions . Although in some samples there is a slight undertaste of vaporised weed, the overall opinion is that both the smell and taste are good enough to satisfy the user.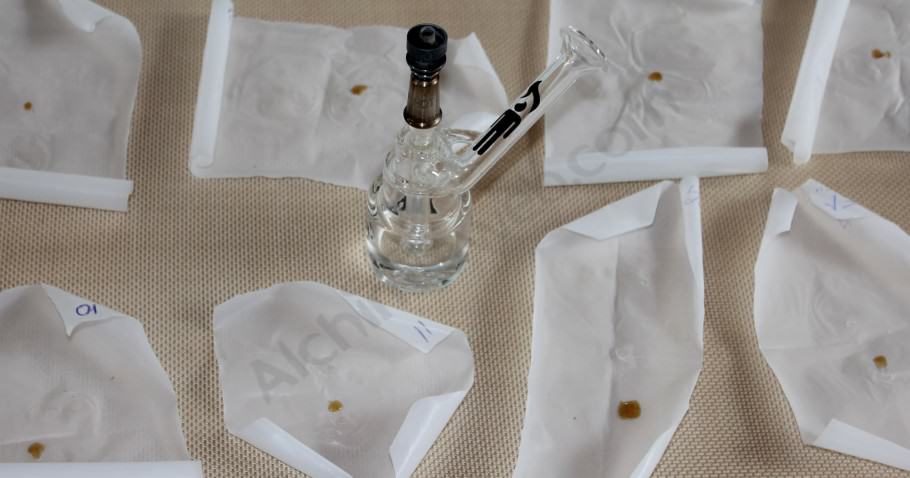 We also tried to make a second run with the pressed buds: although a very small amount of Rosin can be reclaimed, the quality is clearly lower than the first run; the sample contains more plant debris and the taste is slightly "toasted".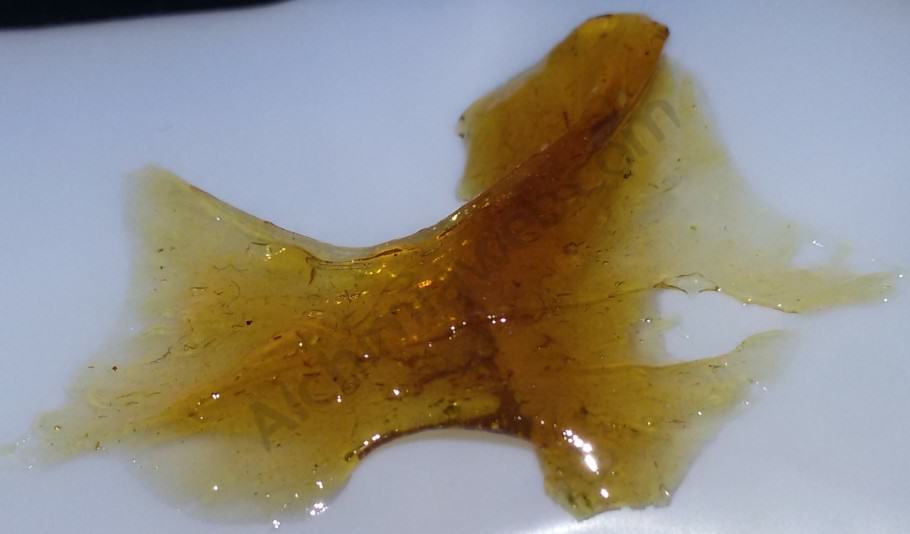 Making Rosin with homemade hash
You can also rosin your homemade hash to purify and concentrate it, either if it is dry sieved or made with water (bubblehash). To make a Rosin extraction from hash, you only have to press it wrapped in a 25 micron mesh and reclaim the return.
In recent times Rosin Presses have become very much in fashion. They are basically two flat, metal plates which are heated to a specific temperature, combined with a press that exerts a certain pressure. By controlling just 3 factors: Temperature, Pressure and Time, we can extract high quality, terpene-rich extractions with high returns. In this video we show you how to produce great Rosin with a press like those available in our Grow Shop:
Rosin Extraction. Tutorial video from Alchimia Grow Shop on Vimeo.
We wish you happy concentrates!
The articles published by Alchimiaweb, S.L. are reserved for adult clients only. We would like to remind our customers that cannabis seeds are not listed in the European Community catalogue. They are products intended for genetic conservation and collecting, in no case for cultivation. In some countries it is strictly forbidden to germinate cannabis seeds, other than those authorised by the European Union. We recommend our customers not to infringe the law in any way, we are not responsible for their use.