Vacuum ovens to purge BHO
The world of cannabis extractions and concentrates - either made with or without solvents - is riding high at this moment among users around the world. One of these concentrates, the well known BHO (Butane Honey Oil), has become especially popular among dabbing lovers because of two main reasons: in one hand, the extract quality ? when is done properly ? is excellent, with high cannabinoids content and no plant debris. On the other hand, this extraction technique provides outstanding yeilds as well, obtaining product with very high percentage of the cannabinoids, terpenes, flavonoids, etc? contained in cannabis trichomes.
BHO extractions and vacuum purging
However, this resin extraction method using butane presents two major disadvantages: the first one has to do, logically, with safety. Using butane gas can be very dangerous because of its highly flammable saturated hydrocarbon which causes a lot of incidents due to incorrect handling. The second major disadvantage is the solvent purge, that is, to remove the substance we have used to obtain the extract (in this case, butane) from the extract itself, which is common in all solvent extractions.
Extraction masters soon realized that the best way to get excellent results is by using closed loop extraction systems to extract the resin and vacuum pumps and ovens to remove the solvent from it. But what exactly are these devices and how do they help us to purge the BHO?
Heat purge BHO with vacuum ovens
The principle of this type of purging is as simple as the traditional system, which uses a laboratory heating plate and a vacuum chamber for BHO (with its corresponding vacuum pump). The process consists of exposing the extract to a certain temperature in a vacuum environment, at an extremely low pressure. Both factors, temperature and atmospheric pressure, have a huge influence when removing solvents, so if they are adjusted in the right way they greatly help to offer the best possible purging capacity. The solvent is much easier to remove when the extract is heated. Likewise, applying low pressure (vacuum) causes the gas to "evaporate" from the extract, which often boils during the process (especially during the first minutes).
This way, once we have collected the oil and butane mixture, we just have to deposit it on a non-stick surface and put it in one of the oven trays. Set the temperature at about 40°C and turn on the vacuum pump, which is connected to the oven. The extract is already being purged. It is that easy! Keep in mind that this purging system is suitable for any type of cannabis extraction made with solvent, whether it is butane, alcohol, etc.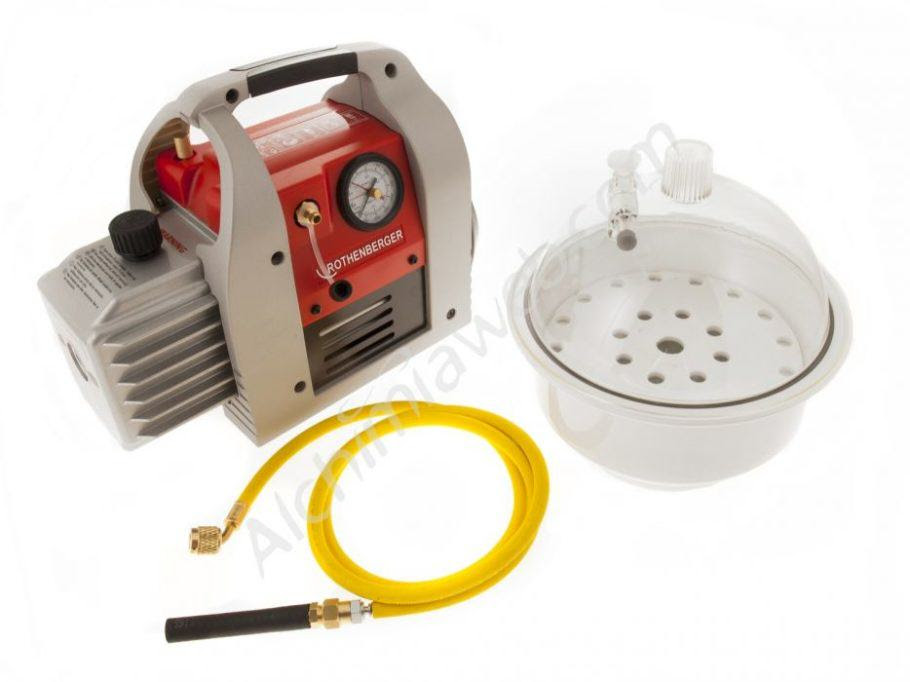 Vacuum ovens for BHO purge
Today we present here the vacuum drying ovens by Touch Science, a company based in Henan, China, with more than 15 years of experience in manufacturing laboratory equipment. Of course, Touch Science offer their systems in several sizes, with 25L and 55L vacuum ovens, which are the most popular ones in our sector.
A stainless steel pipe system covers the entire surface inside the walls of the oven, providing efficient and uniform heating and avoiding both heat and cold air pockets, resulting in a homogeneous purge. This is a professional laboratory system, durable and even more important, it?s explosion proof and also non-flammable. Between the outer casing (which is made of cold-worked stainless steel to avoid the slightest deformation caused by the inside vacuum) and the internal heating system there is a cotton insulation layer that keeps the heat inside and does not let the outer casing to warm up, so there is no danger of getting burned.
The heating system is, as we have seen, very efficient. But in addition of the temperature control chip, these type of ovens offer an impressive accuracy of 0.1ºC. This system allows reaching temperatures inside the oven up to 200ºC. The user has access to the information and device settings thanks to a small LCD displey located on the front side. The door has a large double glass, explosion proof window that allows us to observe the process without losing any detail and without the need of opening the door, which often creates temperature imbalances in the interior.
Finally, the 25L vacuum oven includes an interior tray that serves to deposit the extracts, and the 55L vacuum oven has room for the two trays that come with it. These trays are made of 304 stainless steel, anticorrosive and able to withstand high temperatures. In addition, the manufacturing material ensures that there is no contamination, something essential if we intend to get pure extracts. Having two trays is a great advantage, because apart from being able to purge twice as much material at the same time allows us to purge two different varieties, something that is very convenient for expert users. The oven is perfectly sealed once is closed thanks to the highly durable silicone joints.
As you can see, the use of vacuum ovens ensures the highest purging quality (either for extractions with alcohol, butane, propane or other type of solvent) and represents a step forward compared to traditional heating plates and vacuum chambers. Of course, if there is no need to use closed loop extraction systems to use a vacuum oven for the purging, although these systems are always recommended because of their many advantages: safer extraction process, removal of mystery oil, recovering the gas surplus, processing capacity, etc.
Across International Vacuum Ovens Technical Features
The 25L vacuum oven (ACCUTEMP-09) interior measures are 300mm x 275mm x 300mm. On the outside, the oven measures 585mm x 500mm x475mm, with 1200W power and a single tray, although it supports up to 4
On the other hand, the 54L model (ACCUTEMP-19) includes two trays in its interior space (supports up to 5) which measures 412mm x 360mm x 350mm. The exterior dimensions are 700mm x 575mm x 544mm, with a total power of 1.500W.
These two models are more than enough to meet our needs, so the final choice will depend mainly on the amount of material to be processed and of course, on our budget.
happy purging!
The articles published by Alchimiaweb, S.L. are reserved for adult clients only. We would like to remind our customers that cannabis seeds are not listed in the European Community catalogue. They are products intended for genetic conservation and collecting, in no case for cultivation. In some countries it is strictly forbidden to germinate cannabis seeds, other than those authorised by the European Union. We recommend our customers not to infringe the law in any way, we are not responsible for their use.