How to grow cannabis plants in coco coir
Coco coir as substrate for plants
In this post we'll explain how to properly use coco coir as a substrate for our cannabis plants. After years of experience with this growing medium, we believe that coco coir is the easiest choice among hydroponic substrates.
To get the most out of it, first of all we should take a closer look at its composition and properties.
Coco coir is an organic product that comes from the fruits of coconut trees. After processing the coconuts, the remaining fibres of the husk or mesocarp are collected as waste material. These residual fibers are in the form of powder and filaments, and the mixture of both is an ideal substrate for ornamental plants or intensive hydroponic cultivation.
If we take into account the advantages of coco coir when compared to soil, we'll soon understand why so many growers are considering growing their plants in coco. It's important to highlight the differences between coco coir and other substrates to understand the great results obtained with this growing medium.
Firstly, it should be stressed that coco coir is an inert substrate. This means that it doesn't contain nutrients, so we must fertilise whenever we water the plants.
The aeration capacity of coco coir is one of this substrate's strong points. It's an extremely soft growing medium, which enables the root system of the plants to develop much faster than in soil. A stronger root ball means more vigorous growth, which allows a reduction in the vegetative period. Also worth mentioning is that coco coir contains natural Trichoderma, beneficial fungi which enhances the development of roots and improves the plant's immune system, creating a colony of microbial life that greatly enhances the metabolic processes of the plant.

Watering cannabis plants in coco coir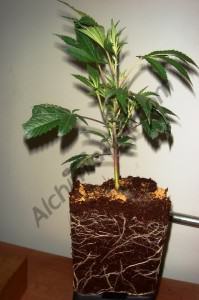 As we have mentioned before, coco coir contains no nutrients, so we must add fertiliser every time we water our plants. In this way, checking and adjusting the EC and pH levels of the nutrient solution is crucial to obtain good results.
The EC or electrical conductivity tells us the amount of salts - nutrients - contained in an aqueous solution. We must control the amount of nutrients contained in the nutrient solution by adding more or less fertiliser, always taking into account the needs of the plants, which mainly depend on the life stage. The pH level indicates if our nutrient solution is alkaline or acidic. pH is measured using a scale from 0.0 to 14, being "0" acidic, "7" neutral and "14" alkaline.
Plants grown in coco coir need a pH level ranging from 5.5 to 6.3, depending on the life stage of the plants. Normally, pH is adjusted to 5.5 - 5.8 during growth and 6.0 - 6.3 during bloom, which helps the plant to assimilate the most demanded nutrients at each stage.
The fertilisers used should be suitable for this substrate, with chelated forms working best. There are plenty of brands on the market which formulate specific fertilisers for cultivation in coco coir, so you can choose from a very wide range of products especially developed for hydroponic cultivation, both organic and mineral.
Mineral fertilisers are the most widely used as they are made specially for hydroponic growing systems. It should be noted that there are also fertiliser brands focused on producing nutrients from organic guano to be used with coco coir, offering new possibilities to those who miss the flavor of organic buds grown in soil.
The containers or plant pots used with coco coir must have a good drainage system as the ability to drain excess water quickly and easily is crucial for proper nutrient uptake and to avoid rot root.
Plants grown in coco coir need less amount of substrate that a plant grown in soil would require. We can use a pot of 1.65l with coco coir to get the same results than a 7L pot with soil. For larger plants, we can use 3L pots with coco instead of 11L containers with soil.
Irrigations during the first weeks should be moderate, with an initial amount of no more than 100ml per plant. This facilitates the dry/wet cycle of the substrate, thus enhancing root development. As the plants grow taller, gradually increase the amount of nutrient solution. You can also install an automatic irrigation system that will increase yields and improve efficiency.
When and how to flush the roots in coco coir
Another important aspect in regard with irrigation and fertilising is root flushing, as well as nutrient excesses and deficiencies. As happens with any other vegetable, if we overfeed the plant we will compromise nutrient uptake and cause a general nutrient lockout that will probably lead our plants to death. Thus, it's always appropriate and necessary to check both the EC of the nutrient solution and the EC of the drainage water.
Measuring the EC in this way allows us to know the level of salts in the substrate. These accumulated salts raise the nutrient concentration in the substrate, often causing an excess of fertiliser. As we mentioned, we may see deficiencies usually accompanied by general nutrient lockout, which means that the plant can't properly assimilate nutrients.
We should always flush the substrate when the EC levels of the drainage water are higher than 2.5, using some enzyme supplement and watering the plants with triple the amount of water than the volume of the pot. Also, adjust the pH level according to the life stage of the plant and use the lowest possible EC. Flushing the substrate reduces the concentration of nutrients in the substrate and thus avoids nutrient imbalances. Most hydroponic growers flush their plants with enzymes every 15 days.
Nutrients and additives for coco coir
Canna Coco A + B
Cannaboost
Canna Rizhotonic
CannaZym
Canna PK13-14
Canna Flush
Hesi growth complex for soil and coco
Hesi coco growth and flowering
Hesi root complex
Hesi PK 13-14
Power Zyme
Super Vit
House & Garden nutrients for coco:
H&G Coco A + B
H&G Roots Excelulator
Top Shooter
H&G Top Booster
H&G Bud XL
H&G Shooting powder
H&G Multienzyme
H&G Drip Clean
Solotek Grow
Solotek Bloom
Vegetative Grow Booster
Vitamax plus
Monster Grow
Monster Bloom
Bloom Fuel
Blossom Blaster
Heavy Bloom
Pro Silicate
Final Flush
Green Hope additives for coco:
Root Max Root Stimulator
Booster Max Growth Stimulator
Flora Max Bloom Stimulator
Bio Protector
The articles published by Alchimiaweb, S.L. are reserved for adult clients only. We would like to remind our customers that cannabis seeds are not listed in the European Community catalogue. They are products intended for genetic conservation and collecting, in no case for cultivation. In some countries it is strictly forbidden to germinate cannabis seeds, other than those authorised by the European Union. We recommend our customers not to infringe the law in any way, we are not responsible for their use.