Growing marijuana in grow tents
How to grow marijuana indoors in a growing tent
In this article we're going to explain some basics about indoor cannabis cultivation in grow tents, one of the most popular options among those who just want to grow some pot at home for their personal use. Being highly versatile thanks to the wide range of available dimensions, you only need to keep several factors in mind to successfully harvest your own buds.
Lighting System
The lamps should be 50/60 cm away from the plants (with 600 watt sodium lamps), 35/40 cm away with 400 watt sodium lamps, and should be raised as plants grow, always maintaining the same distance from their tops.
During the growth period, marijuana plants need 18 hours of light and 6 hours of darkness for a fast and healty developement. This phase should last for a minumim of two weeks or until the plants are about 25 cm tall.
During the flowering period, marijuana plants need 12 hours of light and 12 hours of darkness (it is very important that plants are in total darkness). The length of the flowering period varies from plant to plant and it ranges from 50-70 days, depending on phenotypes. Normally, growers use HPS lamps, LED panels or LEC CMH lighting kits for this stage.
Ventilation of marijuana plants
The extractor fan  must always be connected when the light is on. During the dark phase it should be connected during 15 minutes every hour, and during the last weeks of flowering you should increase this period to 15 minutes every half an hour. If humidity levels reach 90%, then the extraction fan has to be connected continuously.
It can act as "passive intractor" when temperatures are moderate, when we don't need an intractor fan.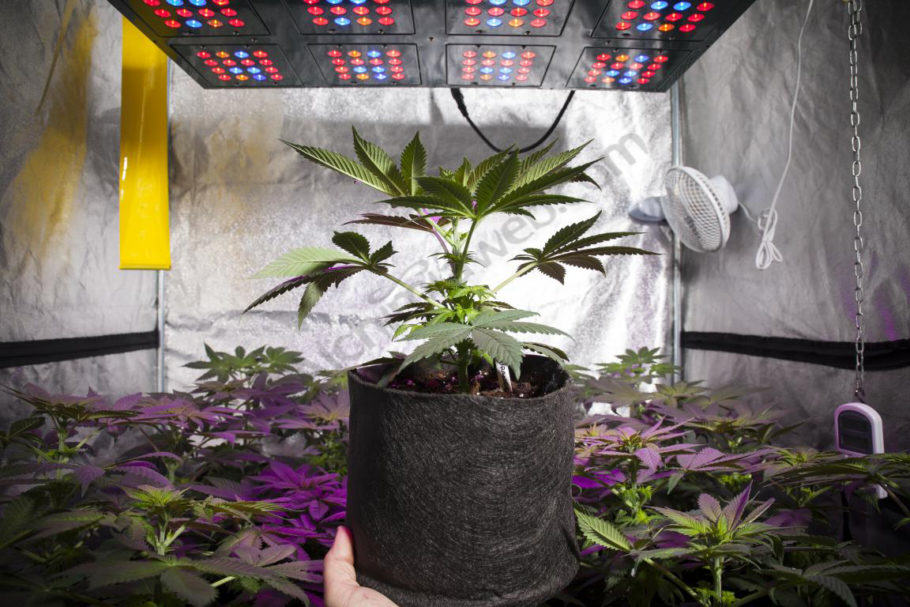 Temperature and humidity in the grow tent
The temperature in the grow tent should not exceed 31°C (maximum temperature) and should be above 17ºC (minimum temperature), although the ideal temperature is between 20 and 28ºC.
Relative humidity should not exceed 75% (maximum) and should't be lower than 20% (minimum). The ideal humidity is between 40 and 60%. Sometimes it can exceed 90%, what shouldn't be a problem if it happens only in particular occasions. A thermo-hygrometer is necessary to control these parameters in our growing space.
Watering and fertilising marijuana
Marijuana seedlings need an abundant watering once they have been transplanted (½ litre per plant). A few days later, 150 ml of water per plant and day will be enough. A sprayer can be of great help.
At the start of the flowering period irrigation should be increased to 250 ml per plant and day.
During the last two weeks of flowering you should give your plants 150 ml of water per plant and day.
Before each irrigation, touch the potting soil. If the soil is still moist, wait for the next day to water again.
These instructions are just guidelines to help you find the optimal irrigation for your plants, which will vary slightly depending on several factors like temperature, pot size, etc.
Fertilise the plants every two irrigations, i.e. using tap water one day and nutrient solution the day after.
Fertilising should be done according to the dosage and feeding schedule recommended by the manufacturer.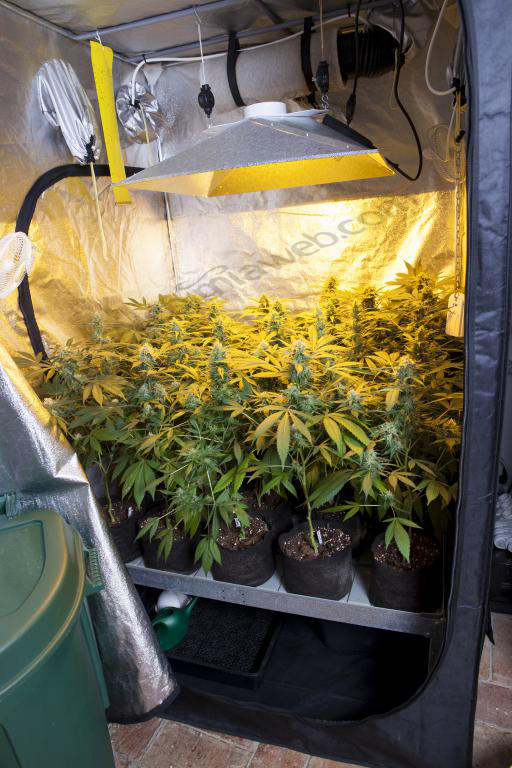 Phytosanitary treatments for cannabis
To avoid pests and diseases , it is advisable to treat your marijuana with pesticides, including insecticides and fungicides . The first treatment should done one week after the plants are in the grow tent, and the second treatment should be performed when the plants are one week into flowering.
https://vimeo.com/267217858
The articles published by Alchimiaweb, S.L. are reserved for adult clients only. We would like to remind our customers that cannabis seeds are not listed in the European Community catalogue. They are products intended for genetic conservation and collecting, in no case for cultivation. In some countries it is strictly forbidden to germinate cannabis seeds, other than those authorised by the European Union. We recommend our customers not to infringe the law in any way, we are not responsible for their use.