Vacuum Pump 170L/min Rothenberger
Vacuum Pump 170L/min Rothenberger
Free gift
with every purchase
Secure
payment
Discreet
shipping
Free
shipping (*)
Rothenberger professional vacuum pump designed for the maintenance of air conditioning systems allow us to use its power to get a good purge of our BHO oil samples.

With a flow of 170L per minut (6CFM) it has a vacuum capacity of 34 bars of pressure, which will give a lot of strength to pull out all the micro gas bubbles that have been trapped by the density of cannabis oil.

It has a 330ml oil tank, which lubricates its engine of 3440 RPM of two vacuum stages, to achieve greater efficiency.

With a weight of 11.kg and a voltage of 230V, this pump ensures the highest quality standards, being as compact as possible, and with SAE standard connectors of 1/4 ", 3/8" and 5/16".
Features of Vacuum Pump 170 L / min from Rothenberger Roairvac 6.0:
Weight: 11.5kg
Vacuum Capacity: 34bar
Flow Capacity: 170l/min - 6CFM
Voltage: 230V
Oil tank: 330ml
Motor: two vacuum stages 3440rpm
SAE Standard Connector 1/4"
Compatible connectors: 5/6 "- 3/8"
Accessories of Vacuum Pump 170L/min Rothenberger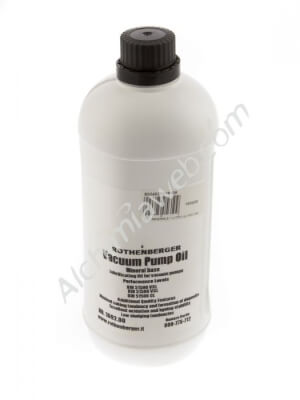 1 liter
There are only 3 units
Vacuum Pump 170L/min Rothenberger related products (BHO Extraction)
Opinions about Vacuum Pump 170L/min Rothenberger and questions
We use 240v in Australia. Do I get an adaptor or is UK OK? Cheree
Hi Cheere,
You won't need a voltage converter, but you'll probably need a power adaptor to plug the pump to your power outlet. In Autralia you have type I. In Spain (European plug) we have type F, and UK plug is type G.
Hope it helped!