Grow report of Fruity Jack / Jack el Frutero
In this new post, the breeding team of Philosopher Seeds seed bank shows you a growing report of the Sativa strain Fruity Jack / Jack el Frutero, recently awarded with the First prize at the 2015 Canary Islands Cup for the marijuana strain with the highest concentration of CBD, achieving an astonishing 10.8%. A Sativa marijuana variety with haze flavour and a valuable medicinal effect.
To create this hybrid, Philosopher Seeds joined efforts with Reggae Seeds seed bank using its renowned Juanita La Lagrimosa , a cross between the legendary New York Diesel from Soma Seeds and the sativa strain Queen Mother - Reina Madre - from Delicatessen Seeds. This is a perfect choice for a large number of pathologies due to the diversified presence of cannabinoids, including THCV, which is very hard to find in commercial marijuana hybrids.
Germination and first transplant of Fruity Jack / Jack el Frutero
There are some important factors to consider before germination and performing the first transplant of marijuana seeds:
Factors that improve seed germination:
Use wet napkins or place the seed directly in water.
Check the temperature of both the water and the environment (22º-24º).
Add 10% of hydrogen peroxide to the water
Dilute vitamin B or root stimulator (¼).
Factors that inhibit seed germination:
Planting the seeds directly in the substrate.
Using cold water (<18 °).
Low temperatures.
Using heavily fertilised substrate.
For this growing report, 25 seeds were germinated using wet paper napkins and a heating mat. In less than 48 hours, all seeds showed white roots and were ready to be transplanted. The percentage of casualties was null.
To make the transplant, Philosopher's team used a mixture of organic substrate along with the following material:
100 litres of Biocanna Bio Terra Plus
5 kg of Asturhumus.
2.5 litres of Bio Supermix.
After the first transplant was performed, the small plants grew for 10 days. 7.6 litre Smart Pots were used for the final transplant, keeping a constant photoperiod of 18 hours of light and 6 hours of darkness per day.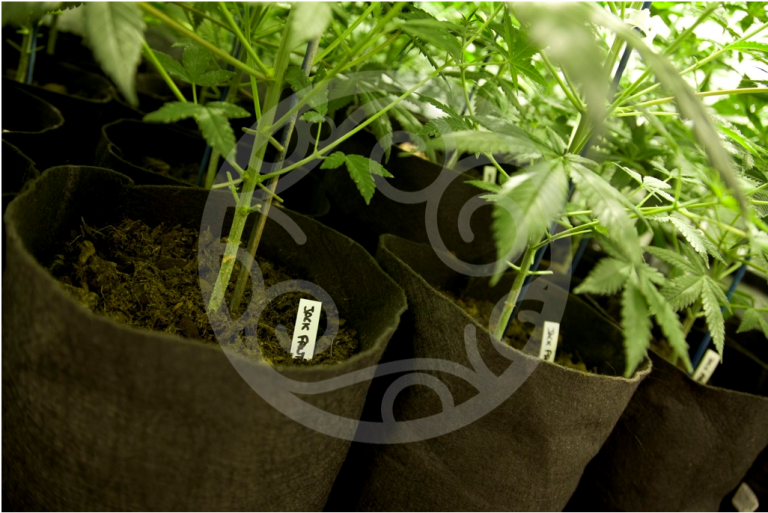 Growth stage of Fruity Jack / Jack el Frutero
Fuity Jack / Jack el Frutero from Philosopher's Golo Line grows fast due to its Sativa heritage. Around 3-4 weeks after germination all plants are tall enough for the onset of the flowering period. Tying the central stems of each plant is very important, since the flowers are well-sized and the plant needs a good subjection to ensure its proper development. All plants reached 30-40 centimetres in height, so they were big enough to produce 20-40 grams per harvested plant.
When using growing tents, the plant's size might be smaller: plants measuring 20-25 centimetres in height will occupy the entire space in the grow tent, so there's no need for an extended growth period and this last week of growth is not necessary. We can start flowering the plants after just three weeks in the 18/6 cycle.
Three weeks after the final transplant, they started using liquid fertiliser regularly, 2-3 times per week. The complete line of Biocanna fertilisers was used for this report, thus achieving a 100% organic crop. There is no need to adjust the pH of the irrigation water with this type of fertiliser; hence, pH acid-based reducers -which impede the development of micro-life in the substrate - were not required.
Flowering stage of Fruity Jack / Jack el Frutero
This strain grows very vigorously, tripling the height of its main branches during the first three weeks into the flowering stage. Pruning and super-cropping techniques were used with this Sativa variety, enhancing the growth of secondary buds while obtaining a very homogeneous production of flowers.
After 40-45 days into flowering, the growth slows down and its flowers get bigger and bigger until getting fully ripe. Trichome production is very high for a mostly sativa variety: all its secondary leaves are coated with resin glands. Despite being a Sativa strain, its flowering period was really short: all phenotypes grown during this report were harvested 65 days after the change of photoperiod to 12 hours of light and 12 hours of darkness per day.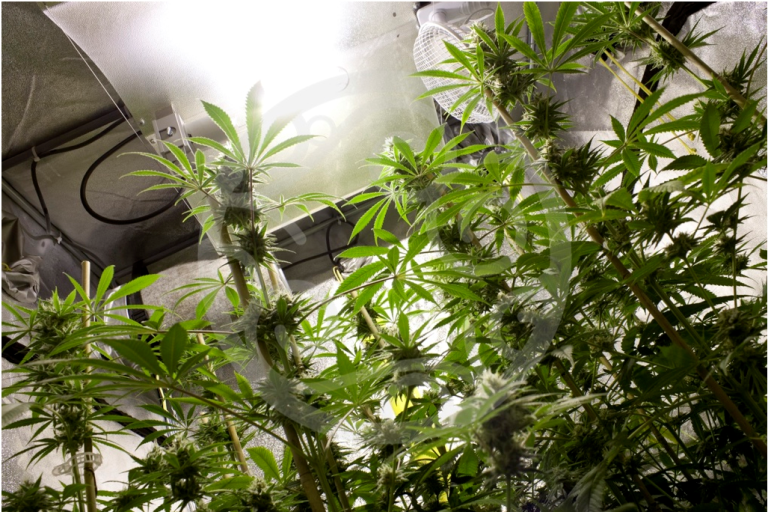 Being a 100% organic crop, the nitrogen levels in the substrate were always very low, hence the main leaves became a little lighter in colour during the flowering stage. As usual, during the last weeks of flowering the level of fertiliser was reduced, what produced a very special taste and aroma. This stressed even more the organoleptic features of this special cannabis Sativa strain.
Rating Fruity Jack / Jack el Frutero
Fuity Jack / Jack el Frutero provides high quality results. Its easiness of growth and fast flowering make it an ideal strain for novice marijuana growers, especially in grow tents. A short period of growth is needed before flowering this ladies. Its yield is high: 500 g/m2 are guaranteed. A very fast flowering Sativa strain that finishes its bloom period in less than 70 days.
This strain has a classic haze flavour, inherited from its parent Jack the Ripper. Some phenotypes produce very dense flowers, while others have a very similar aroma but with more Sativa features,  with a very high calyx-leaf ratio. There is another phenotype that produces a more fruity and aromatic smell, reminiscent of peaches and mangos subtly blend with the incense smell typical of haze lines.
Its medicinal properties are many; recent studies show that this variety has great medicinal potential. Some individuals are very high in CBD, with a 1/1 ratio and above 10% of cannabinoids. Along with one of its parents - the famous Jack the Ripper from TGA Subcool - this is one of the few varieties with a percentage of THCV close to 6%. It is definitely a great choice for medical marijuana growers who are looking for high levels of CBD (10.8%).
The articles published by Alchimiaweb, S.L. are reserved for adult clients only. We would like to remind our customers that cannabis seeds are not listed in the European Community catalogue. They are products intended for genetic conservation and collecting, in no case for cultivation. In some countries it is strictly forbidden to germinate cannabis seeds, other than those authorised by the European Union. We recommend our customers not to infringe the law in any way, we are not responsible for their use.