Presentation of TGA Subcool's breeder
TGA Subcool, probably one of the best seedbanks in the world.
TGA is a small work group led by the talented breeder Subcool and his lovely wife MzJill. They are very famous in the world of medical marijuana, and have become very popular among cannabis growers as they always look for original tastes and a powerful effects. This is because all TGA Subcool strains are selected under the same criteria: potency, flavour, resin production and therapeutic potential!
TGA Subcool marijuana plants are also very easy to grow, robust and early flowering. Both beginners and experienced growers, whether using cannabis for medicinal or recreational purposes, will be delighted with these seedbank's strains!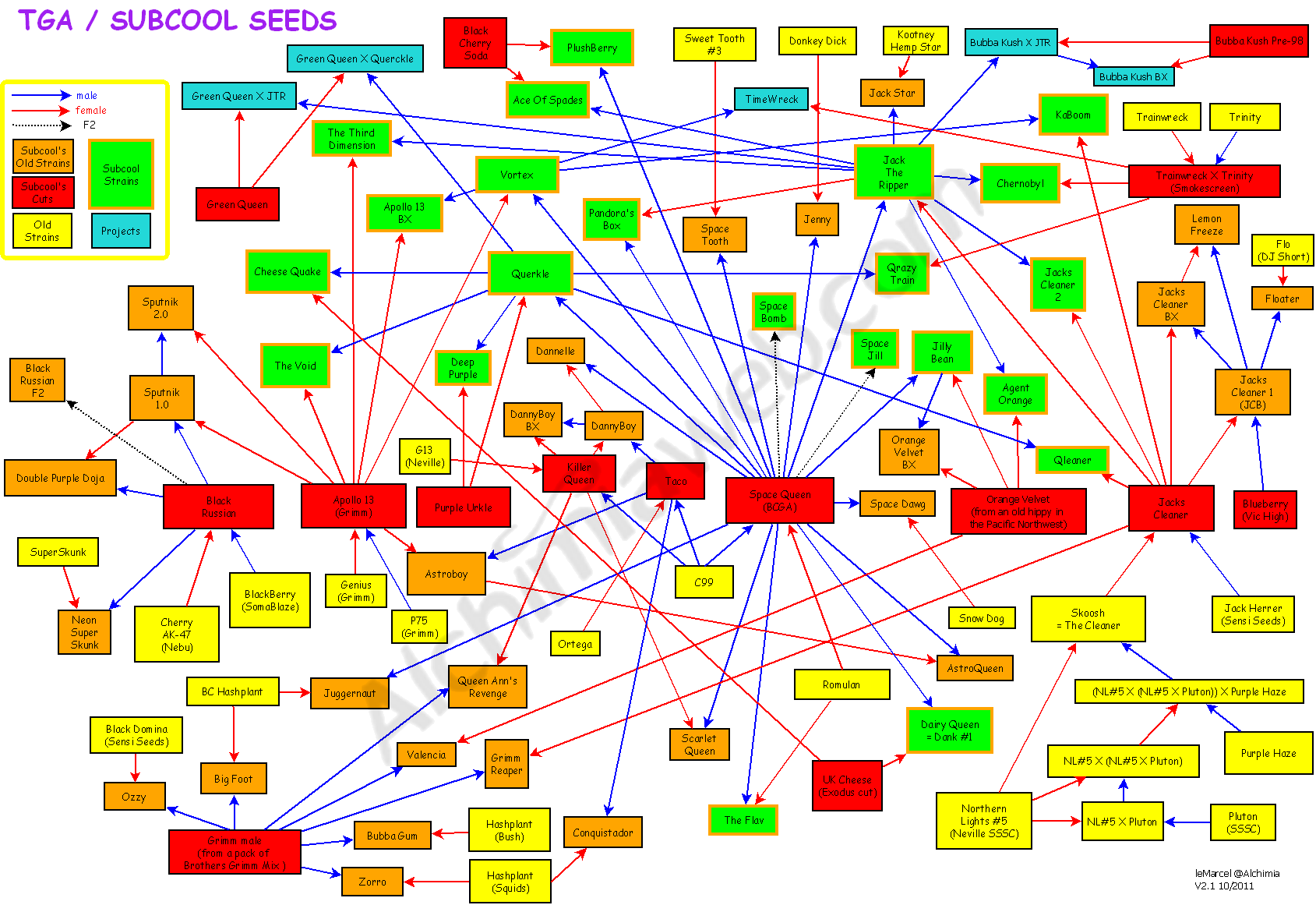 As you can see in the family tree, the main strain of TGA Subcool's catalogue is Space Queen, which is a very fruity hybrid of two famous marijuana strains: C99 (Sativa) and Romulan (Indica). TGA offers two different selections of this strain: Space Bomb and Space Jill. The former is a higher yielding strain, while the latter produces more resin.
Subcool uses an excellent male named "Space Dude" to breed these F2 versions of Space Queen, which is also used in some of his new cannabis strains: Jillybean, Jack The Ripper, Dairy Queen, The Flav, Querckle, Vortex, Pandora's Box, Plushberry...
TGA Subcool's cannabis strains
When breeding their strains, TGA Subcool also use some "elite" clones that are very popular worldwide, thus making possible for everyone to grow these extraordinary genetics:
Jacks Cleaner, which produces lots of trichomes and lemony taste: Jack the Ripper, Jacks Cleaner 2, Kaboom, Qleaner ...
Orange Velvet Skunk, high yielding and with strong citrus smell (oranges): Jillybean, Agent Orange ...
Purple Urkle, a potent purple Indica, very resinous, with berry and grapes flavour: Querkle, Deep Purple ...
Apollo 13, a renowned Sativa with a strong and stimulating high: Vortex, The Void, Third Dimension, Apollo 13 BX...
Trainwreck x Trinity, another resinous Sativa strain with many good qualities: QRazy Train, Chernobyl ...
Black Cherry Soda, which produces gorgeous pink buds with a delicious berry flavour: Plushberry, Ace of Spades...
UK Cheese, the famous English clone with its very strong and distinctive flavour: Dairy Queen, Cheese Quake...
Jack The Ripper is probably the most well-known strain from TGA Subcool. This ultra resinous and early flowering Haze hybrid, with lemony taste, has also very high levels of THCV (Delta-9-tetrahydrocannabivarin), which is a more active and potent form of THC!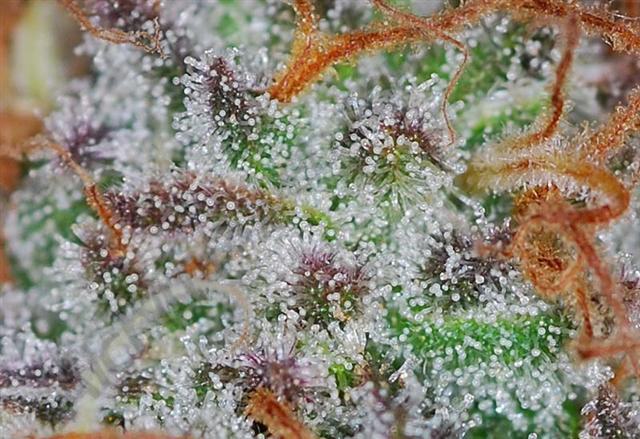 TGA Subcool is currently working on new strains based on Green Queen (Green Queen x JTR and Green Queen x Querckle) and Pre-98 Bubba Kush (Bubba Kush X JTR and Bubba Kush BX) as well as the new strain TrainWreck, a cross between the TrainWreck x Trinity female and a Vortex male.
Like all TGA strains, they are only available in the form of regular seeds, which is perfect for selecting a mother plant from which you can get all the cuttings that you need to do the same pleasant process over and over again.
For this reason we advise to try the original strains by this breeder. You will be amazed for the extraordinary quality and incredible potential of your marijuana!
The only drawback you'll find if you choose to grow TGA Subcool's strains is that after trying them you might find other banks' seeds bland and boring!
The articles published by Alchimiaweb, S.L. are reserved for adult clients only. We would like to remind our customers that cannabis seeds are not listed in the European Community catalogue. They are products intended for genetic conservation and collecting, in no case for cultivation. In some countries it is strictly forbidden to germinate cannabis seeds, other than those authorised by the European Union. We recommend our customers not to infringe the law in any way, we are not responsible for their use.