Growing marijuana with Metrop nutrients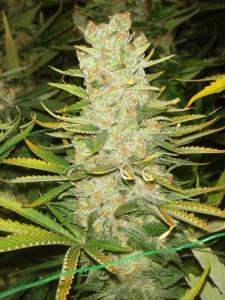 Metrop fertilizers
The range of nutrients formulated by Metrop is ideal for all the stages of the plants, from seedling to harvest, also being suitable for different growing media like soil or hydroponics. In this article we will show you our results with Metrop nutrients.
Each product has been formulated to meet the needs of the plant on each stage, not being necessary to add other products than those contained in the Metrop line to obtain awesome results. There is a kit with 250 ml bottles so anyone can test them before purchasing the regular 1l bottles (we must take into account that these nutrients are highly concentrated, and a 1L bottle of Metrop can last as much as a 5L bottle of other brands).
Growing cannabis with Metrop nutrients
The plants used for this grow report were grown in two different containers; we first used a 0.5L pot to develop a strong root system and then used 1,65L pots until harvest time, always using coco coir.
During the first two weeks of growth we watered our plants with about 200ml per plant every two days. At this stage, products like Root+ (Amino Roots) and Mr-1 provide all the necessary nutrients for a fast root expansion and lush growth.
Mr-1 is formulated to enhance the development of both roots and branches, containing a high concentration of phosphorus (NPK 10-40-20).
The plants grow fast and lush during the growth stage (18/6 photoperiod) with no nutritional deficiencies and excellent root development. The stems and branches are robust and the leaves have a beautiful green color.
In addition to Mr-1 and Root+ we also used Calgreen, a calcium and magnesium supplement which enhances the development of the plants, which showed an incredible vegetative vigor.
We used the following feeding schedule during the vegetative stage and the first two into flowering:
First four weeks maintenance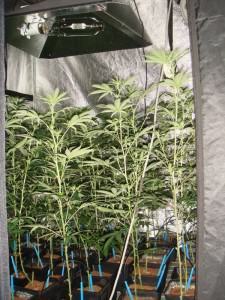 During these first 4 weeks we performed different tasks so the plants could start flowering without pests or diseases.
The lower parts of the plants were pruned to get rid of possible pest sources, also to focus the plant's energy on the tops of the branches.
The growth of the roots is splendid at this point. Root+ did an excellent job, and our plants developed more roots compared to those that were not fed with this product, which is a balanced cocktail of amino acids for plants. Everything indicated that we could switch the photoperiod to bloom.
Foliar sprays with Metrop
Metrop fertilizers are also formulated for foliar feeding. In this case we must consider the following factors:
The Ph of the foliar nutrient solution should be 7.0-7.1. If sprayed with a Ph level lower than 7.0 the leaves can not absorb the nutrients properly
The EC level for foliar applications must be lower than that used in irrigations, since nutrient assimilation is much faster via leaves than via roots
Do not let your plants get lazy. Too much nutrients through the leaves will cause root growth to decrease, which may bring new problems afterwards
During the flowering period use only MR-2 to spray the leaves
According to Metrop, Calgreen can also be sprayed directly on the buds, improving their molecular structure  and producing harder and heavier flowers
Flowering with Metrop
Two weeks after the photoperiod was switched to 12/12, the plants begin to show the first floral clusters. To know the exact EC to water our plants, we looked at the youngest flowers and the color of the leaves, also checking the EC of the drainage water and the overall vitality of the plant; all these points tell us if we need to add more or less fertilizer to the nutrient solution.
At this point we stopped using Metrop's MR-1 and Root+ - which are products specifically designed for the growth stage - since root growth slows down now and nitrogen consumption is detrimental to the consumption of phosphorus and potassium (among other microelements of great importance like magnesium). The plant focuses its energy on developing flowers.
MR-2 can be considered as a PK booster, as it contains high levels of both phosphorous and potassium.
We just have to raise the Ec level by adding more base nutrient to get the most out of our plants during the blooming stage, when they'll show their full potential.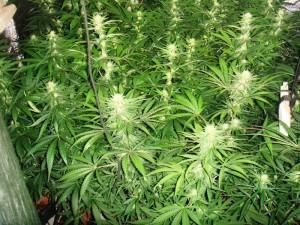 MR-2 is necessary from the second week into flowering, right when we can see the first buds developing. Metrop formulate their nutrients with an internal structure that makes nutrient uptake easier, thus increasing bud production.
At this stage the pH level has been kept from 6.0 to 6.2 to ensure proper assimilation of all the macro and micro nutrients needed for an exuberant flowering.
We have not flushed the roots since EC levels have been regularly checked through the drainage water and we haven't seen the need.
Watering the plants with Metrop
Our plants were watered manually during first stages to have more control over the needs of each individual plant.
Some plants showed higher levels of moisture evaporation, so they should be watered more often than others. This can be caused by different factors, such as higher root growth, air currents, more or less light exposure, etc.
The amount of water was increased as the plants required it. Remember that - unless we have a sealed chamber with a/c - external weather conditions affect indoor crops; in this case, and since the winter brought really cold temperatures and high humidity levels, we were forced to use a dehumidifier.
During the flowering stage we used an automated irrigation system. We employed the following equipment:
800l/h Water pump
16mm Watering pipes
Microtubes
40ml/min drippers
90l Reservoir
Air pump and air stone
Last days of bloom with Metrop
We reduced the amount of MR-2 during the last two weeks before harvest. Our plants still have nutrients stored which will be used until harvest time, so we can start flushing our plants to facilitate the loss of these nutrients from the plants metabolism.
As we flush the growing medium the plants will send their stored nutrients back to the soil by reverse osmosis, thus balancing the internal EC of the plant with that of the growing medium. This will ensure a clean harvest with all the organoleptic properties intact and no traces of fertilizer.
As we have seen, these fertilizers are highly concentrated and enable a very rapid nutrient uptake by the plants. Thus, we recommended to be cautious and check the EC level of the nutrient solution. In this way, you'll get big and tasty buds easily!
Happy harvests!
The articles published by Alchimiaweb, S.L. are reserved for adult clients only. We would like to remind our customers that cannabis seeds are not listed in the European Community catalogue. They are products intended for genetic conservation and collecting, in no case for cultivation. In some countries it is strictly forbidden to germinate cannabis seeds, other than those authorised by the European Union. We recommend our customers not to infringe the law in any way, we are not responsible for their use.