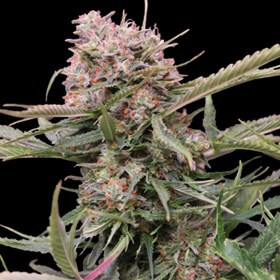 Free gift
with every purchase
Secure
payment
Discreet
shipping
Free
shipping (*)
Auto Gigabud from G13 Labs is an automatic cannabis plant created by crossing Gigabud (Big Bud x Northern Lights marijuana) with a Ruderalis strain, providing the auto-flowering gene that makes it become a non-photodependent self-plant.
It is an Indica-dominant hybrid with vigorous growth that gives plants a medium to tall size. It is a versatile variety that can be cultivated both indoors and outdoors and is also easy to grow, making it ideal for those starting out in cannabis cultivation or for those growers who are looking for an easy-to-manage plant giving good results.
Flowering Auto GigaBud from G13 Labs
In flowering it creates big, dense buds, with a huge main bud forming on the central tip, coated in a thick layer of resin that bathes all the flowers and provides an excellent and powerful dose of terpenes that aromatises the entire room. Its flowering period is from 55 to 60 days with a medium to high yield of buds with purple tones that give great bag appeal to the harvest.
Its aromas and flavours are notable for containing a fruity base with added notes of pineapple and touches of mandarin that give it a very sweet taste for lovers of fruity strains.
Its effect is typically Indica, ideal for relaxing and removing the tensions accumulated during the day, to wind down before going to sleep, as it has a soporific effect, making it a great choice for those who suffer from insomnia.
G13 Labs Auto GigaBud info:
Type: Feminised cannabis seeds
Genetics: (Bigbud x Northern Lights) x Autoflowering
Genotype: Indica
Indoor flowering: 8 weeks
Outdoor growing season: March to September
Yield: Medium to High
THC: High
Auto Gigabud related products (G13 Labs)