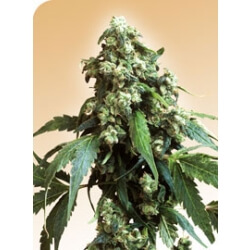 Free gift
with every purchase
Secure
payment
Discreet
shipping
Free
shipping (*)
How do you improve the best cannabis in the world? That was the big question when Sensi Seeds was working on a new strain created from the illustrious Jack Herer line.
Since Sensi's team has always had a particular love for Sativas, one thing they really wanted to change was the myth that delicious, cerebral, tropical strains were too difficult or low-yielding for the average indoor grower.

Actions speak louder than words, so creating a Jack Herer hybrid with all the growing advantages of the Skunk genetics seemed the best way to prove their aim.

While most members of the Sensi family rate Northern Lights#5 x Haze or Jack Herer as their all-time favourite ganja, Jack Flash is another serious contender for the title and is steadily gaining ground on the two world champion Sativas.
Jack Flash from Sensi Seeds features
Type: Indoor & outdoor
Sex: Regular seeds, Males & Females
Genetics: Multihybrid
Indoor Flowering: 50-60 days
Outdoor Harvest: Early-mid October
Jack Flash related products (Sensi Seeds)