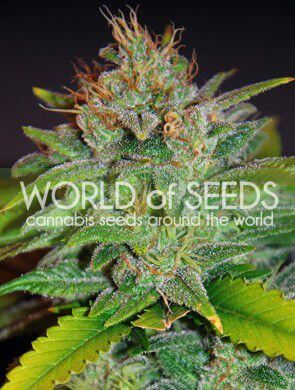 Free gift
with every purchase
Secure
payment
Discreet
shipping
Free
shipping (*)
Alchimiaweb presents here the Skunk 47 marijuana strain, born from the crossing of Skunk #1 - as female parent - with the renowned AK47. These varieties are quite similar in some of their features, offering a very productive and "Skunky" indica.
We talk about combining two plants with a great mix of properties, coming from Afghanistan, Mexico and Colombia in the case of the Skunk #1 (Indica - Sativa hybrid), and from Afghanistan, Mexico, Thailand and Colombia in that of the AK47 marijuana (mostly Sativa).
In this way, Skunk 47 becomes a cannabis plant with indica structure, well branched and vigorous, with pyramidal shape. The many branches growing from the main stem are transformed into fat colas during flowering, with very compact buds.
It is harvested in 55-60 days, being very fast, commercial, also having high resistance to mildew and pests. It easily yields up to 500gr/m2 indoors, and about 600g if planted directly in the ground.
The aroma and flavor that comes from its flowers when smoked is very similar to the Skunk family, maybe a little sweeter. Its effect is balanced, relaxing body and mind, becoming narcotic after a while or if we smoke more. Suitable for relaxation, insomnia, stress and physical pain.
Skunk 47 from World of Seeds properties:
Feminized marihuana
Genetics: Skunk #1 x AK47 marihuana
Indoor Flowering: 55-60 days
Outdoor Harvest: Early October
Indoor yield: 400-500 gr/m2
Outdoor yield: 400-600 gr/plant
THC: 20%
Skunk 47 related products (World of Seeds)