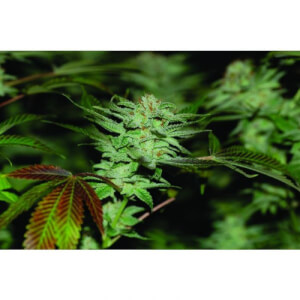 Free gift
with every purchase
Secure
payment
Discreet
shipping
Free
shipping (*)
Obtained from Chemdawg plants and cousin of OG Kush, Sour Diesel is a strain that produces big resinous and sour buds revealing pretty rosy pink colours at the end of the flowering period.
For create these seeds, , the team of Reserva Privada from DNA has crossed the original Sour Diesel clone (ECSD) with a Sour Cream plant (ECSD x G13/Haze), performing then several retro-crossings of Sour Diesel to stabilize all desired traits.
We recommend to wait until the end of the 10 weeks of flowering period, what will generate an extraordinary harvest whose delicious taste lasts a long time on the palate.

We recommend to trimm and stake the plants during the growth period because the Sour Diesel tends to stretch a lot and so we will increase the yield.
If the growing space has a little height the rooted cuttings can be passed directly on flowering period, they will end up with a last height of 100 to 130 cm. Given that it's a plant resistant to deviations at the time of fertilizing, and taking into account its great strength, we can say that this strain is easy to grow.
Sour Diesel from Reserva Privada won the second prize on 2010 High Times Cannabis Cup in the Hash category.
Strain that has become a favorite of many growers. From now on and you can add it to your garden and so see for yourself all that what has contributed to give it that reputation
The effect of this strain is powerful and euphoric.
Features of Sour Diesel from DNA – Reserva Privada:
Genetics: ('91 Chemdawg x Mass Super Skunk / NL) x DNL
Type: 60% Indica / 40% Sativa
Flowering time: 10 weeks
Yield: 450 to 550g per m2
Sour Diesel related products (Reserva Privada)