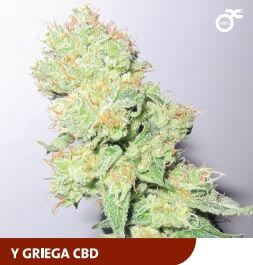 Free gift
with every purchase
Secure
payment
Discreet
shipping
Free
shipping (*)
Alchimiaweb welcomes to the seed catalogue Y Griega CBD, a strain of feminised marijuana resulting from the collaboration of Medical Seeds and CBD Crew.
The Y Griega strain, with its high content of THC and its intense citrus flavour has quickly won over growers and fans of sativa strains. Here you have the medical version, limited in THC, but high in CBD (cannabidiol).
This has been possible thanks to the work of both Medical Seeds and the CBD Crew seed bank , that have a clone with high CBD content and almost no THC. This version of Greek is intended for people with little tolerance to THC and looking for an effective strain of marijuana to use for medicinal purposes.
Y Griega CBD has a robust appearance, with wide leaves and vigorous growth. Medical Seeds advises for this reason to grow up to 16 plants per square metre, so that they can develop properly. On a nutritional level, Y Griega CBD prefers organic fertilizer as opposed to mineral fertilizers, not only in order to squeeze all their organoleptic potential, but also to produce a maximum yield.
Blooming between 9 and 10 weeks, Y Griega CBD will give a yield of about 400gr/m2 resinous buds with an sour taste and musky aroma with hints of lemon. Medical Seeds recommend this plant for making creams, tinctures and other cannabinoids extraction due to their limited mental effect.
Characteristics of Y Griega from Medical Seeds
40% indica 60% sativa
Type: feminised seeds
Ratio CBD: THC = 1:1
Genetics: Y Griega x CBD rich plant
Growing season indoors: 1-1.5 weeks
Indoor flowering period: 9-10 weeks
Indoor yield per m2: 500gr
Outdoor height: 2-3 meters
Outdoor harvest: Mid to late October
Outdoor yield: 400gr/plants
Y Griega CBD related products (Medical Seeds)