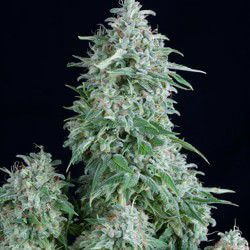 Free gift
with every purchase
Secure
payment
Discreet
shipping
Free
shipping (*)
Alchimia introduces the automatic version of the Anubis marihuana strain , a hybrid between the famous Chronic and Wembley, to achieve a fast blooming of 67 days - from germination - and a production that may reach 550 gr/m2 indoors.
Auto Anubisis a mostly Indica genetics, which keeps a low growing shape and that grows mostly horizontally. It has a typical scrub shape, not exceeding 130cm outdoors.
Indoors, after a quick flowering of 8 weeks, the flowers produced by this cannabis strain are thick and hard, completely covered with a voluminous white resin layer.
The aroma and flavour remind of grapefruits, accompanied by a soothing effect - but not too heavy - which lets you make your daily activities without problems, thanks to the good combination of cannabinoids present in this plant.
Auto Anubis from Pyramid Seeds properties:
Genetics: 100% Autoflowering
Indoor Flowering: 8 weeks
Outdoor Harvest : 67 days from germination
Production: 500-550 gr/m2
Height: 60-130 cm
THC content: 15%
CBD Content: 0.7%
CBN content: 0.4%
Auto Anubis related products (Pyramid Seeds)