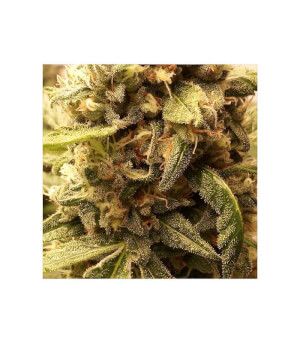 Free gift
with every purchase
Secure
payment
Discreet
shipping
Free
shipping (*)
He at Alchimia Grow Shop we are glad to present this new arrival, Mr Gorilla Cream from Mr Hide Seeds, a very productive and fast flowering 60/40 Indica-Sativa hybrid.
Mr Gorilla Cream, vigorous, well-branched and robust
Mr Gorilla Cream is a cross between Gorilla Glue #4, Cookies & Cream and Big Bud, bringing together three cultivars highly appreciated for their power, productivity and particular aroma in one exceptional variety.
It is a perfect variety to cultivate both indoors and outdoors, developing a Christmas tree structure in which a huge central point stands out.
Mr Gorilla Cream, an extremely resinous Indica dominant hybrid
This vigorous plant reaches a height of 1m in just 12 days of vegetative growth, developing abundant strong branches, so we must take care if we cultivate hydroponic growing systems. Cultivated in open ground outdoors, it can reach a height of 2m.
Mr Gorilla Cream is covered with sticky and aromatic buds during the flowering stage. The buds will be mature after about 7-8 weeks, with a yield of up to 600g per m2 in an indoor grow tent and up to 650g per plant when cultivated outdoors.
It produces so much resin that it is an excellent choice for fans of cannabis concentrates, offering a high return of aromatic resin.
Mr Gorilla Cream, vanilla aroma with earthy, Diesel and Skunk touches
It has a very intense aroma combining earthy and spicy nuances with vanilla, Skunk and Diesel notes, a balanced blend of its genetic inheritance. It is advisable to use activated carbon filters to avoid smell problems with the neighbours.
Mr Gorilla Cream has an extremely strong effect, both at a physical and cerebral level. If consumed in excess it can totally knock you out, plunging you into a deep and restful sleep, which makes this variety highly suitable for therapeutic cannabis users.
In moderate doses, it is sedative and physically relaxing, while at the same time cheerful, euphoric, psychoactive and very pleasant.
Mr Hide Seeds Mr Gorilla info:
Type: Feminised cannabis seeds
Genetics: Gorilla Glue #4 x Cookies & Cream x Big Bud
60/40 Indica - Sativa
Indoor flowering: 55-60 days
Outdoor harvest: Early October
Indoor yield: up to 600g per m2
Outdoor yield: Up to 650g per plant
Mr Gorilla Cream related products (Mr. Hide Seeds)
Opinions about Mr Gorilla Cream and questions
Hi there what THC content is the Mr Gorilla Cream......thank you before hand
Hi Mark,
Unfortunately, Mr Hide Seeds don't provide this information. If we take a look at the parents, I'd bet it is above 20% for sure.
Best!