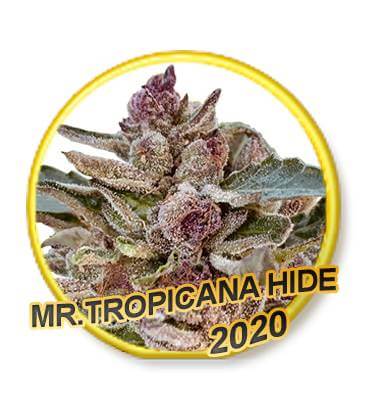 Free gift
with every purchase
Secure
payment
Discreet
shipping
Free
shipping (*)
Mr Hide Seeds presents here Mr Tropicana Hide, a Sativa hybrid with a fruity and sweet aroma and a stimulating and relaxing effect. This variety is now available in our feminised cannabis seed catalogue at AlchimiaWeb!
Mr Tropicana Hide by Mr. Hide Seeds cultivation
Mr Tropicana Hide is composed of 70/30 Sativa Indica genetics. This variety shows a vigorous development, producing plants with a fir-like appearance. It has a ramified structure with short internodal distance branches, promoting the development of many floral sites resulting in a very generous harvest.
It is ready for harvest in about 60-70 days of flowering in indoor cannabis cultivation, and in early October in outdoor cultivation. It offers a generous yield of about 400-500g per m2.
Mr Tropicana Hide by Mr. Hide Seeds harvest
It offers fruity flavours and aromas, combining citric and cinnamon notes on a sweet and spicy background. The terpene profile is dominated by caryophyllene, limonene and humulene. This delicious and powerful aroma, combined with its high resin production, makes this variety a perfect choice for producing marijuana concentrates.
Mr. Tropicana Hide produces a fast acting effect, with a stimulating, positive and euphoric high that boosts creativity and promotes good mood, all combined with a relaxation feeling. Mr Hide Seeds expresses that it can also be effective in combating depression, anxiety and stress, pain and nausea.
Mr Hide Seeds Mr Tropicana Hide info:
Type: Feminised cannabis seed
Genetics: Tropicana Hide
70/30 Sativa Indica hybrid
Flowering cycle: 60-70 days
Outdoor harvest: early October
Yield: 400-500g per m2
THC: 17-19%