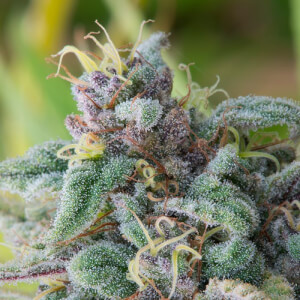 Free gift with every purchase
SFV #1
Alchimia invites you to discover the strain SFV #1 from the Draft Line of BSF Seeds catalogue, a category gathering the most current cannabis genetics. Now in our online feminised seed store.
SFV #1 is a cross between a San Fernando Valley OG clone from California and a Pre '90 Dutch Skunk male strongly resembling an Afghan.
The resulting plants grow with plenty of secondary branches that will occupy a large area, making it ideal for growing with the SCROG technique. SFV #1 needs only 8 weeks to finish flowering indoors, and while the final yield of buds is average, the quality is very high, with the dense nuggets completely covered with resin.
SFV #1 is highly recommended for outdoor growing due to its remarkable resistance to fungal attack and its high yields when planted in the ground. Close to harvest time we'll be able to see some purple colours on certain phenotypes as the temperatures drop.
The effect of SFV #1 is euphoric, typical of a Sativa-leaning plant, while the flavours are sweet and acidic with earthy notes, a real delight for the palate. Medicinally, it's a great strain for combating problems like depression, stress or muscle pain.
BSF Seeds SFV #1 info:
Type: Feminized seeds
Genetics: San Frenando Valley OG X Pre '90 Skunk
70/30 Sativa-Indica
Flowering indoors: 8 weeks
Indoor yield: 350-450g per m2
Outdoor yield: 200-700g per plant
THC: High
---
SFV #1 related products (BSF Seeds)