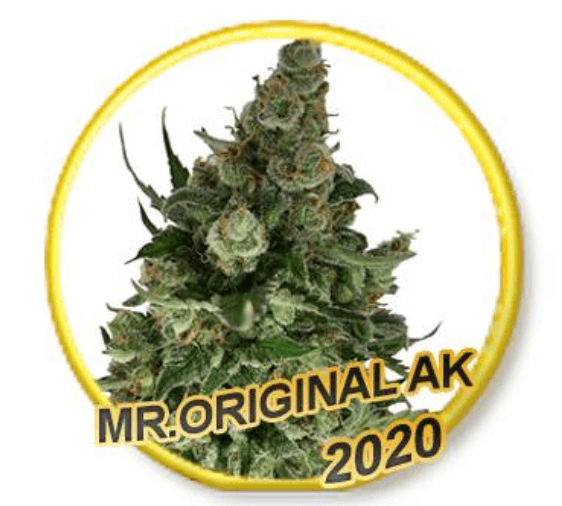 Free gift
with every purchase
Secure
payment
Discreet
shipping
Free
shipping (*)
Alchimia presents Mr Original AK, the Mr Hide Seeds AK-47 version. Certainly AK-47 strain is a variety that needs no introduction. This seed bank features its own variety of one of the most influential genetics in the cannabis history. It is now available in our feminised cannabis seed catalogue.
Mr Original AK cultivation
It is a encounter between three sativas of different origins, Colombia, Mexico and Thailand, joining Indica landraces from the Afghan Hindu Kush mountains. The result is a genetics 65/35 Sativa Indica. It is a plant with solid branches, easy to cultivate and does not require any special attention to obtain good results. However, it is only sensitive to abundant watering and is a point that novice growers should take into account.
Mr Original AK offers a generous harvest, with a yield of up to 500g per m2 indoors for a flowering cycle not exceeding 60 days in the most Indica-tending phenotypes. In some specimens with more sativa tendency the flowering can take up to 80 days.
It has a fairly vigorous vegetative development, so are not recommended too long growing periods. In outdoor cultivation can reach up to 3m, so it is a matter of consideration if we are looking for some discretion. This large plant can provide up to 1 kilo of compact and sticky flowers in outdoor cultivation.
Mr Original AK, a radical variety
This variety produces very strong odours that are particularly difficult to conceal, either during cultivation or with the harvested product. It offers earthy and woody aromas typical of Dutch varieties from the 90s.
Mr Original AK offers varied and complex effects, a deep physical relaxation accompanied by a euphoria, creativity and joy feeling. It has a lasting effect that is ideal for social or sports activities.
Mr Hide Seeds Mr Original AK info:
Type: Feminised cannabis seed
Genetics: AK 47
65/35 Sativa Indica hybrid
Flowering cycle: 50-60 days
Outside harvest: October
Indoor yield: 450-500g per m2