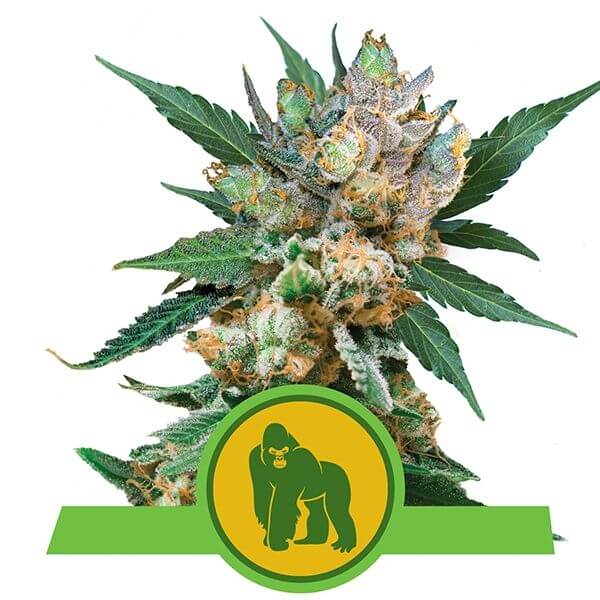 Free gift
with every purchase
Secure
payment
Discreet
shipping
Free
shipping (*)
Alchimia invites you to discover Royal Gorilla Automatic, a hybrid of Gorilla and Cookies in an automatic version from Royal Queen Seeds.
The breeders at Royal Queen Seeds have selected Gorilla and Cookies genetics for their potency and crossed them with a Ruderalis variety to create Royal Gorilla Auto.
This is an autoflowering hybrid that won't grow over 120cm tall indoors, and delivers an abundant harvest of compact buds, with crops of up to 400g per m2 being possible.
Outdoors in optimum conditions plants will grow a bit larger, up to 140cm with harvests of up to 120-170g per plant.
Royal Gorilla Automatic develops plenty of secondary branches while maintaining a classic pine tree structure. It is very easy to grow, does not require heavy doses of nutrients and is perfect for a SOG type crop.
Just 10 weeks after germination you'll be able to harvest a heavy crop of resin-coated colas that will give off appetising Diesel and Kush aromas.
Finally, with THC levels of up to 20% and minimal CBD, the effect of Royal Gorilla Automatic is a potent and highly psychoactive mix of euphoria and relaxation.
Royal Queen Seeds Royal Gorilla Auto info:
Type: AutoFem seeds
Genetics: Gorilla x Cookies x Ruderalis
30% Sativa/50% Indica/20% Ruderalis
Harvest: 8-10 weeks after germination
Flowering: 5-7 weeks
Size: 60-140 cm
Yield indoors: 400g per m2
Yield outdoors: 120-170g per plant
THC: up to 20%
CBD: Low
Royal Gorilla Automatic related products (Royal Queen Seeds)