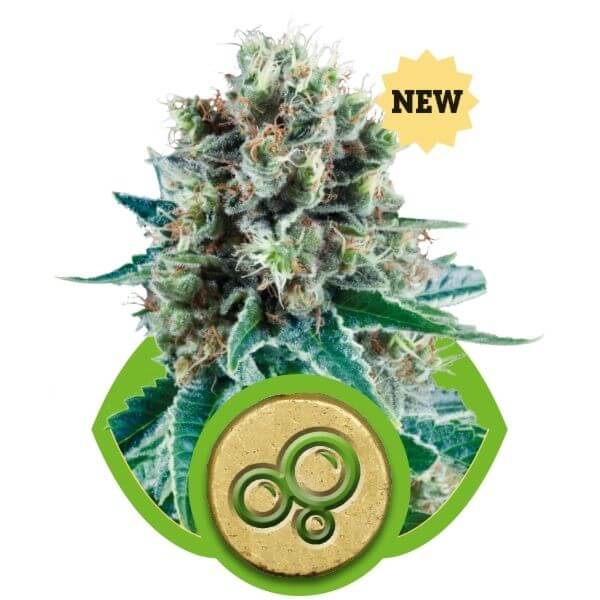 Free gift
with every purchase
Secure
payment
Discreet
shipping
Free
shipping (*)
Get now in Alchimiaweb the Bubble Kush Auto from Royal Queen Seeds, an AutoFem marihuana strain that combines BubbleGum , Royal Critical Auto and OG Kush. It is very easy to grow and has a really fast flowering period, producing up to 170g/plant.
As we said, the resulting plant is very easy to grow, reaching a maximum height of 140cm if planted in-ground, with a fast and vigorous development.
Its structure is branched and bushy, thanks to its 60% Indica genetics part that dominates over the rest. It also makes its cycle lasting for only 8 weeks, when we can harvest up to 170g/plant when grown in-ground and with ideal growing conditions.
The scent of its buds is sweet and tasty, full of earthy tones that contrast beautifully. It has an euphoric and hilarious high, very intense and fast, courtesy of its 16% THC, and being also very useful against stress.
It also increases appetite and relaxes the muscles, and can help with insomnia. The combination of both effects will immerse you in a very pleasant and lethargyc cloud.
Bubble Kush from Royal Queen Seeds properties:
Type: Feminized autoflowering
Hybrid 60% Indica - 10% Sativa - 30% Ruderalis
Genetics: OGKush x BubbleGum x Royal Critical Auto strain
Indor yield: up to 400 g/m2
Outdoor yield: up to 170 g/plant
Flowering: 5-7 weeks
Harvest: 8-9 weeks from germination
THC 16%
Bubble Kush Auto related products (Royal Queen Seeds)