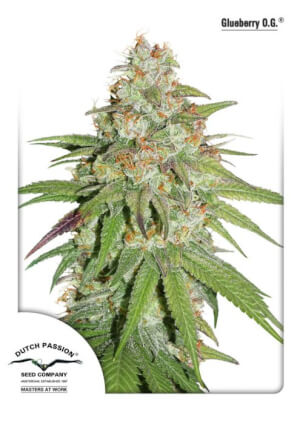 Free gift with every purchase
Glueberry O.G.
Alchimiaweb presents here Glueberry OG, a feminized cannabis strain developed by Dutch Passion by crossing a Gorilla Glue x OG Kush hybrid with Blueberry.
This Indica dominant plant shows the best traits of its parents, with very nice yields and excellent organoleptic features.
Glueberry OG grows vigorous up to 2 metres in height and is ready to harvest in just 8 weeks.
Its compact and frosty buds are typical of Gorilla Glue and OG Kush plants, while its sweet and fruity flavor is reminiscent of the Bluebery parent.
Glueberry OG from Dutch Passion info:
Genetics: (Gorilla Glue x OG Kush) x Blueberry
Type: Feminised seeds
Indica / Sativa hybrid
Indoor flowering: 8 weeks
Yield: High
Height: 2 metres
Properties of Glueberry O.G.
---
Glueberry O.G. related products (Dutch Passion)
Opinions about Glueberry O.G. and questions
3
29-12-2018-> Roger dodger says:
Just got a bit of this tonight really nice smoke very fruity indeed
07-01-2019 -> Alchimia Grow Shop says:
Hi Roger,
Thanks for your comment!
;)
18-03-2017-> Ahmed J Shabazz says:
Do you furnish and and the level of blueberry o g?