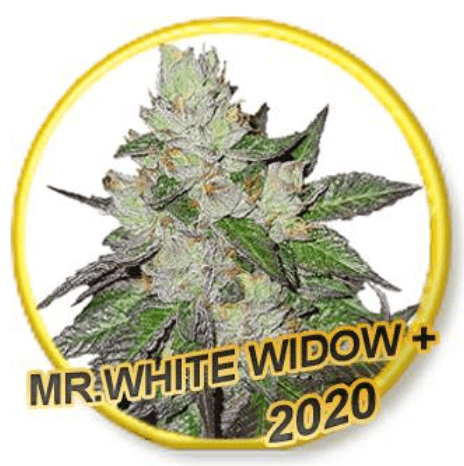 Free gift
with every purchase
Secure
payment
Discreet
shipping
Free
shipping (*)
Mr Hide is glad to present White Widow +, its own version of one of the most popular Dutch genetics in the world. This variety is now available in our feminised cannabis seed catalogue at Alchimiaweb.
White Widow + cultivation
White Widow + has 80/20 Indica Sativa genetics, it is a plant very well adapted to novice cultivators. It is very easy to grow and control. It is robust and develops in a small pine shape, with several secondary branches and a dominant central tip.
It produces numerous compact and bulky buds. White Widow flowers are bright white, very sticky due to a thick resin layer. It is a variety that will delight concentrate lovers.
White Widow + is ready for harvest after about 55-60 days of flowering, offering an abundant harvest with a yield of up to 550g per m2 indoors and a yield of up to 900g per plant outdoors under optimal growing condition.
White Widow +, classic among the most classic
White Widow + by Mr Hide Seeds offers earthy and citric flavours typical of the old school Dutch varieties. It is delicious and complex terpenes profile provides sweet and fruity nuances.
White Widow, like a good indica variety, produces a deep and very narcotic relaxation ideal to rest. It has a strong analgesic power offering at the same time a good and very cool dose of energy and creativity.
Mr Hide Seeds White Widow + info:
Type: Feminised cannabis seeds
Genetics: White Widow +
80/20 Indica Sativa hybrid
Flowering period: 55-60 days
Outdoor harvest: End of September
Indoors yield: 450-550g per m2
Outdoors yield: 900g per plant