Cannabis and April Fools' Day
April 1st is almost here and with it comes April Fools' Day and all the anticipation of playing a hilarious yet harmless prank on somebody while trying to avoid falling victim to anybody else's joke. We all know of the classic tricks played between family members and friends, such as swapping sugar for salt or changing the yoghurt with mayonnaise, but for many years now, companies and corporations have joined in with the fun on a larger scale, turning the day into something of a marketing opportunity and a chance to show that they have a sense of humour, a quality valued by many consumers.
The spread of legalisation around the world has led to an increase in social acceptance and destigmatisation of cannabis users and its use. And as it seeps into mainstream culture, our favourite plant has found itself the focus of a surprising number of these corporate April Fools' Day pranks, with varying degrees of success, as we will see in this article where we look at some of our favourites from the last few years...
The Jägerbong - made with 56 herbs and spices, plus cannabis!
In 2019, German alcohol brand Jägermeister wanted to do something special for April Fools' Day and, perhaps with an eye on the forthcoming 4/20 celebrations, they came up with a new marketing concept to appeal to stoners... the Jägerbong! The well-designed package consisted of a 1L bottle of the famous digestif, alongside accessories allowing the user to up-cycle the bottle into a bong once empty.
Also included in the kit were such stoner essentials as a cannabis grinder, a lighter, some eye drops (to alleviate the classic red-eye symptoms) and even a hacky sack for some post-smoke fun and exercise! This was enormously well-received by the general public when Jägermeister announced it on social media, with fans begging to be able to own one for themselves, sadly the Jägerbong kit was just a joke and never became reality.
Trump announces Federal cannabis legalisation
Another prank from 2019, and perhaps one that left cannabis consumers feeling more disappointed than amused, was the announcement by alternative newspaper LA Weekly that President Trump had used his executive powers to finally legalise marijuana at a federal level. The LA Weekly article went into great detail about the Oval Office session in which the Commander-In-Chief had signed the executive order, informing readers that the president had, for the first time during his mandate, eschewed his trademark red tie to wear a green one for the occasion!
In a "quote" from Donald Trump, he stated that it was time to reverse the laws that had only been put in place to suit "the political and business interests of misdirected government officials and corporate titans" and that from now on, "the word "marijuana" would be officially replaced by its true scientific name, "cannabis'" as well as making a sideways reference to Canada's lead on federal legalisation a year earlier, "I will no longer tolerate billions of dollars leaving our country for our northern neighbour". The article also detailed the provisions of the act, which included the expungement of criminal records, full access to banking facilities for weed business, federal cannabis research and even declaring April 20th aka 4/20 a national holiday! Unfortunately, the last line of the article brought readers back down to earth: "I am terribly sorry to have to say to our loyal readers: April Fools. Help me make this dream a deserved reality."
Artificial sweetener... with THC?
For last year's April Fools' Day, Sweet'N Low, the brand of artificial sweeteners designed to replace sugar in coffee or tea when dieting, teased consumers with the news that they would be releasing a brand new product: Sweet'N High, a THC-infused artificial sweetener! In an Instagram post, the company's social media team claimed that the product was ideal to "sprinkle on cereal, use in your favourite beverage or enjoy straight from the packet. Also great for "bake" sales." The caption also conspicuously stated that this was a product with limited availability and would only be on sale that day. The reality, however, wasn't quite so sweet, as this product was only a lighthearted joke that never made it to stores.
Jack Astor's Marijuana Menu
2019 was evidently a good year for weed-related April Fools' Day pranks, and Ontario-based Canadian restaurant chain Jack Astor's is another company that got in on the action, launching a special Marijuana Menu which included Cannabis Sauce Wings, a variation on their famous table-tossed fried chicken wings with a "legalised original recipe cannabis sauce infused with non-psychoactive CBD extract".
The company's advertising even went as far as including details such as the dosage of 5mg per serving, giving the concept some real authenticity. And, despite the announcement coinciding with the grand opening of Ontario's cannabis dispensaries, which lent it even more credibility, this particular piece of cannabis cookery was never intended to be on the real menu at Jack Astor's, although you never know what might happen in the future!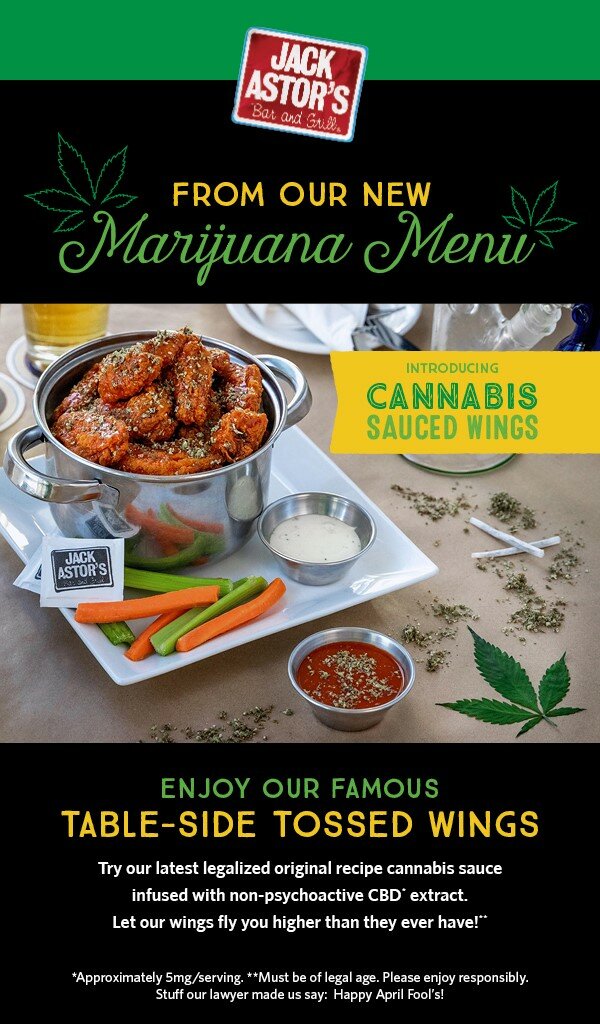 Cannabis-infused beer
On April 1st 2021, Stretta Craft Beer, an artisanal brewery in Malta, launched a new and exciting product line: a beer with added cannabis extract! Coming after the Maltese Prime Minister proclaimed that the government would introduce laws to legalise cannabis possession and cultivation for personal use, this product launch had all the appearance of being real and indeed, the slick and well-designed advertisements that appeared on Facebook did little to dispel the myth. But this product was, in fact, too good to be true, and was just a bit of fun for April Fools' Day. However, it's not all bad news, because now that Malta has officially legalised cannabis (see our article about it here), there's no reason why it can't become a reality in the near future.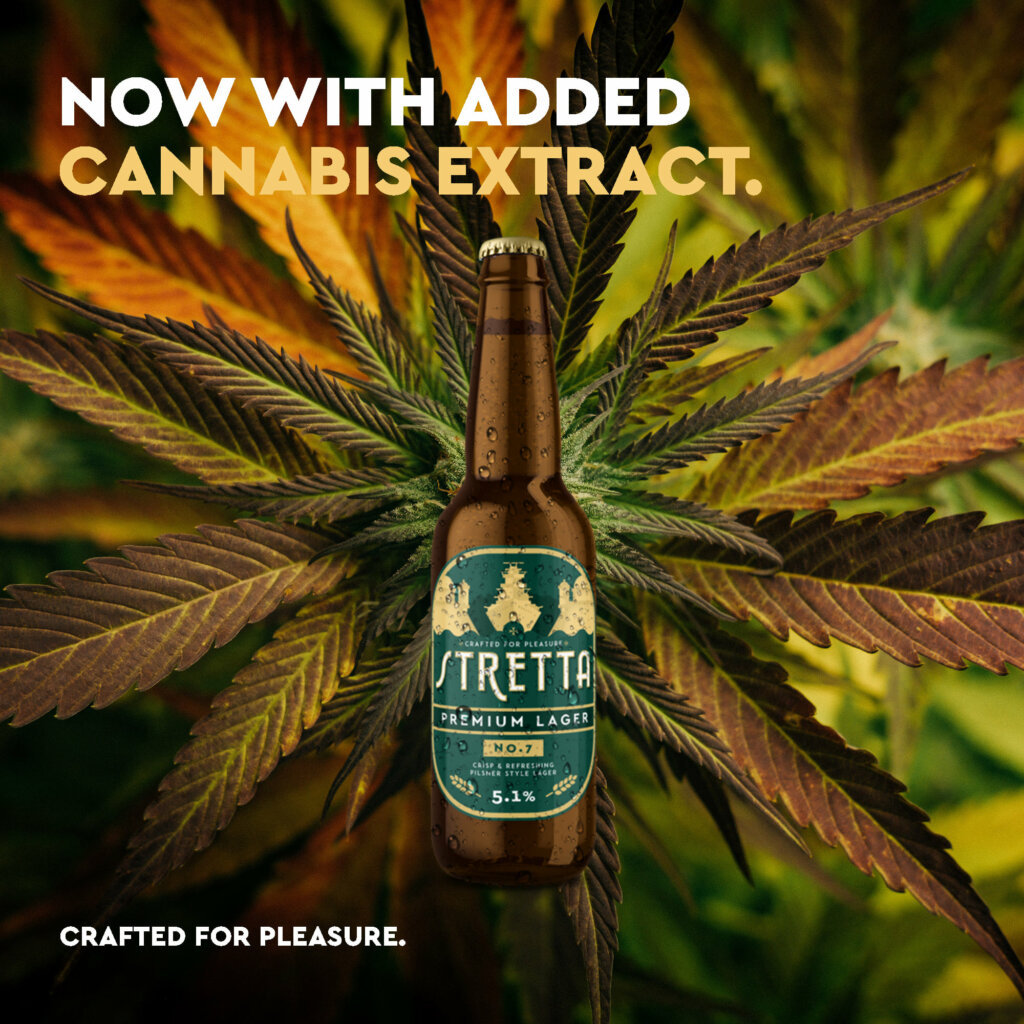 Malta's first cannabis social club
Next up is another 2021 April fools' trick from Malta and another one that rode the wave of excitement and anticipation following the Prime Minister's February announcement of the forthcoming legalisation. This time, the architects of the joke were the team at Lovin' Malta, a local media company dedicated to covering Malta's news and culture. On April 1st, they launched a new project titled The Planting Authority.
This would be Malta's first cannabis social club, the location of which would be revealed to new members upon their approval. The social club would offer safe, private and hassle-free access to cannabis varieties tailored to suit every need, grown and tested by a team of experts. The club would also serve as a safe space for cannabis consumption, and the images show a clean, modern and sleek space, furnished with style and filled with beautiful people. The website even gives strain descriptions for some of the special cannabis varieties available, as well as lists the fees for prospective members (€29.99/month, €199/year) and shows some of the culinary delights to be available on the munchies menu, such as Ganja Chicken Tenders or Rasta Mojito Pork Ribs, alongside healthy cannabis-infused shakes. This ambitious project was, however, an elaborate April Fools' Day joke, designed to amuse and also raise awareness of the many benefits that cannabis social clubs can have for consumers and for society as a whole.
Cannabis cottage cheese
Muuna, an American cottage cheese brand, pranked the public back on April 1st 2019 by launching their new line of cannabis-infused cottage cheese. The joke product featured the company's usual single-serving of creamy and rich cottage cheese but with the addition of a serving of food-grade cannabis at the bottom of each tub. The concept was intended to "promote a feeling of zen" among consumers because, as the press release claimed, "euphoric vibes are just one delicious spoonful away with this creamy, dreamy snack, coming straight from grass-fed cows." However, this particular April fools' prank was not a very successful piece of marketing, because just a short time later the parent company decided to cease production of Muuna cottage cheese altogether.
Winter weed
This prank is the only one that we've managed to find from an actual cannabis company among all the corporate April fools' Day jokes. On April 1st 2020, Delta 9 Cannabis, one of Canada's premium cannabis companies with dispensaries in several states, publicised their new and unique cannabis variety, named Winter Weed. This newly-developed plant was capable of being grown all year round and standing up to Canada's worst winter weather without being adversely affected by the cold, thus bringing "a new meaning to frosty trichomes." It didn't take weed-savvy social media followers very long to put two and two together and work out that this was a hilarious hoax, but it did get a few laughs!
Cannabis to calm job applicants' nerves?
We'll finish this article with one weed-related April fools' prank that wasn't received quite as well as the others we mentioned. In 2018, a Dutch recruitment agency suggested in several tweets that it would offer cannabis and alcohol to calm the nerves of anxious job interviewees. The tweets stated that, because many of the applicants are young, this was their first experience of a job interview so they were, naturally, very stressed out, and as such would perform better with a shot of alcohol or a joint of weed to ease the nervousness. The ploy was quickly seen for what it was by many - a joke, however many more people took it seriously, forcing the company to release a retraction and an apology, assuring the public that this was just a light-hearted bit of fun and they would never consider offering drugs or booze to potential employees!
We hope you've enjoyed reading about all the pranks we discovered. If there are any you think we missed, or if you have your own ideas of a hilarious cannabis-themed joke to play, please tell us in the comments. And remember... think twice before you believe anything published on April 1st this year!
The articles published by Alchimiaweb, S.L. are reserved for adult clients only. We would like to remind our customers that cannabis seeds are not listed in the European Community catalogue. They are products intended for genetic conservation and collecting, in no case for cultivation. In some countries it is strictly forbidden to germinate cannabis seeds, other than those authorised by the European Union. We recommend our customers not to infringe the law in any way, we are not responsible for their use.