Presenting BSF Seeds at Alchimia
We've recently added a new Spanish bank to our feminised seed catalogue, a bank that, despite its young age (it was founded in 2017, although they've been working on it since 2011), has already aroused enormous interest among cannabis growers and users. We're talking about BSF Seeds, short for Bigger, Stronger and Faster that perfectly sums up the philosophy of this team of breeders when it comes to developing the cannabis varieties they offer. In this article we'll familiarise you with this seed bank and its work.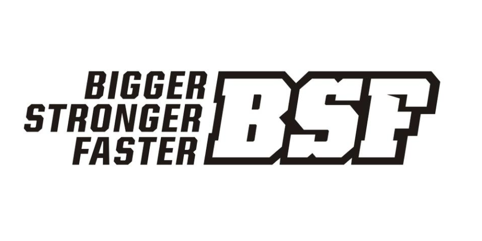 The BSF Seeds catalogue is made up of both feminized and large size automatic varieties (also feminized), making them hugely popular with fans of auto varieties. As well as including some classics of the cannabis scene, the catalogue also gathers together some of the most coveted current hybrids of the moment, like Gorilla Glue, Tangie or the famous Zkittlez.
The breeding program followed by BSF is clear: select the most resistant, productive and fastest specimens to stabilise and fix these traits to obtain hybrids that are especially easy to grow and give excellent results, whether they are autoflowering seeds or photodependent varieties. If we factor in the high quality of the genetics from which they start their work, the formula for success seems assured! Furthermore, they've also used a very original formula to manage their catalogue, an interactive way that we'll now explain you.
BSF Seeds catalogue of cannabis strains
Doubtless, one of the most attractive aspects of this cannabis seed company is their original way to organize their catalogue, similar to the popular drafts of many American sports leagues. Thus, they've divided it into several categories:
Stars Players
High quality hybrids developed by BSF Seeds from some of the most sought-after clones at this time, and with continued presence on the catalogue. Includes: Moby-D, Moby-D XXL Auto, Gorilla Glue #4, Gorilla Glue Auto, Tangie, Tangie XXL Auto, Super Lemon Haze, y Red Critical Auto.
Draft Line
The true novelty. 6 strains will compete against each other during one year in order to determine the best 3 genetics, which will be added to the Stars Players category. The remaining 3 strains will be removed, and a new draft will be created with 6 new varieties. In this way, the final position of each strain depends on sales, that is to say, on you! Includes: OG 24K, Pinneaple Larry OG, SFV#1, Gorilla Ghost, Amnesia Glue, Rainbows.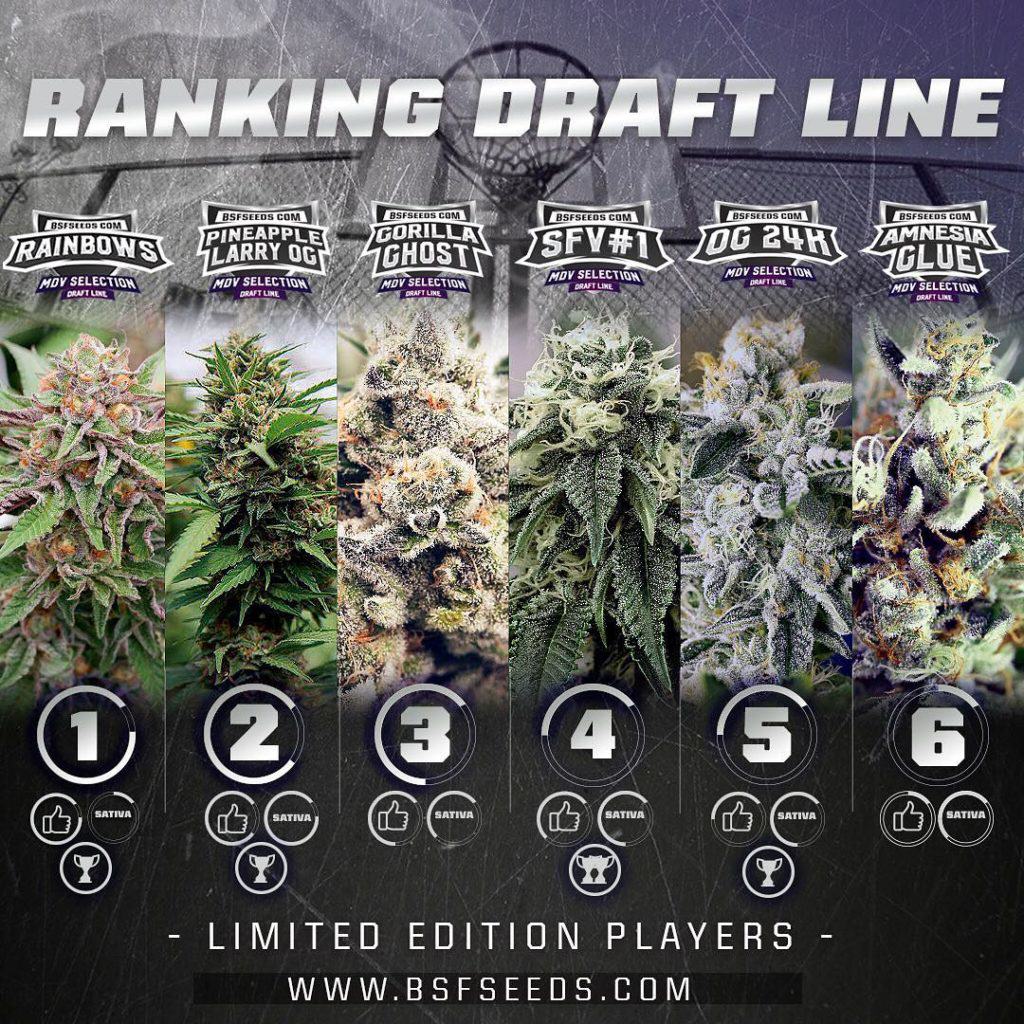 Hall of Fame
A tribute to BSF's favourite music stars. They start this category with OBG Kush, an extremely fast Indica strain.
Mixes
They include either Autofem strains (automatic and feminised) or feminised photoperiod varieties. These are the available mixes:
Here we'll offer a little review of the BSF Seeds varieties you can find online at Alchimia Grow Shop.
BSF Seeds Feminized Varieties
The first things to stand out when looking at the BSF Seeds catalogue are the exciting US genetics they work with: hybrids of the quality and fame of Gorilla Glue (which we can find, for example, in their Gorilla Glue #4 and in Gorilla Ghost, a cross between GG #4 and Ghost OG) or Tangie (a cross between California Orange and Skunk made famous by its smell of orange peel and tangerines) are protagonists of its collection, a safe bet if you're looking for a product of the highest quality.
With SFV #1 the bank offers their own version of the popular San Fernando Valley OG Kush clone (SFV OG), this time crossed with an excellent Pre-90 Skunk. Within the Kush line, we can also highlight the impressive Pineapple Larry OG, a hybrid between Cinderella 99 from Brothers Grimm Seeds and a very special selection of Super Lemon Larry OG IBL from Alpine Seeds. Also worthy of mention is the OBG Kush, an especially fast flowering OG variant that finishes in only 40-45 days!
In a similar line we find OG 24K, a balanced cross between Kosher Tangie (aka 24K Gold) and one of the most cherished Kush cultivars of all time, the unforgettable Bubba Kush. The result, as we already know, will delight lovers of  all types of resin extractions!
To finish off the American genetics on a real high, we can't forget Rainbows, the BSF Seeds version of one of today's most famous clones... you guessed it, Zkittlez! Rich in cannabinoids and with a terpene profile that's out of the ordinary especially in it's flavour and intensity, this strain has already captivated thousands of users who will certainly not forget the first time they tasted its intense fruity flavour. An authentic delight for the palate that you now have the chance to enjoy thanks to this S1 version of the clone (Zkittlez x Zkittlez).
For its part, Amnesia Glue was born from the union of two strains from different continents. On the one hand, Gorilla Glue, which, as we've already seen, is one of the favourite parent plants of the BSF breeders. On the other side, a 2001 Dutch clone of Amnesia Haze, one of the icons of the European scene. The result: an absolutely spectacular plant with Sativa dominance!
Another variety with European genes is SLH, a hybrid between Lemon Skunk and what is undoubtedly one of the worlds best known Haze lines, Super Silver Haze, legendary for its delicious flavour and potent cerebral effect. And for lovers of powerful Sativas, we cannot overlook Moby-D, the Bigger, Faster, Stronger version of the popular Moby Dick. Developed from Jack Herer and White Widow genetics, it is an excellent yielder with an especially long-lasting effect.
BSF Seeds Automatic varieties
The team at BSF Seeds have also developed an impressive collection of large-sized feminised autoflowering varieties, representing a great step forward in this type of plant, notably in terms of crop yield. Three of the autofem varieties offered by BSF Seeds are in fact autoflowering versions of some of their feminized varieties: Gorilla Glue Auto, Moby-D XXL Auto or Tangie XXL Auto.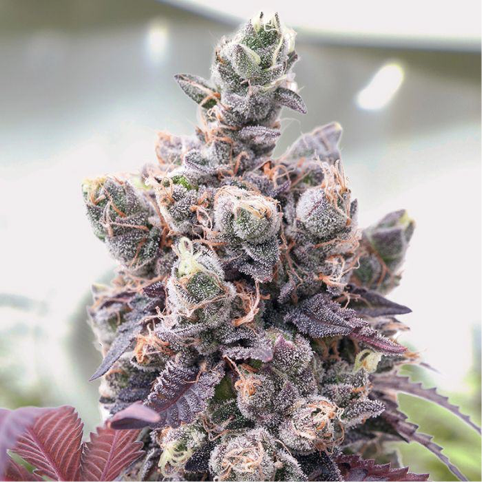 The fourth auto variety we introduce you to is a true delight for the eyes. Created from Critical Auto and a 4th generation autoflowering line displaying beautiful colours, Red Critical Auto develops huge pink calyxes covered with trichomes that contrast with the red and purple colours of its leaves. This will undoubtedly grow to be one of the queens of the garden!
Happy growing!
The articles published by Alchimiaweb, S.L. are reserved for adult clients only. We would like to remind our customers that cannabis seeds are not listed in the European Community catalogue. They are products intended for genetic conservation and collecting, in no case for cultivation. In some countries it is strictly forbidden to germinate cannabis seeds, other than those authorised by the European Union. We recommend our customers not to infringe the law in any way, we are not responsible for their use.