82 studies on the efficiency of marijuana against cancer
October 2015 Update: Since we published this article on August 2014, many new studies have been developed. We have added 14 new studies published by the National Insitute of Health of the United States. We have now 82 scientific studies!
Cancer is a leading cause of death in industrialised countries. So far, the treatments available from the pharmaceuticals mostly have limited efficiency, as well as a significant toxicity and strong undesirable side effects. It is known that the marijuana plant can help in a natural way and relieve symptoms of cancer and chemotherapy: pain relief, nausea, vomiting, greater appetite, improvement of mood, sleep, relationships with the environment... And we all know how important it is to have a good quality of life when fighting against any disease.
Therefore, we can now find something even more interesting: some cannabinoids in the marijuana plant have a healing action against different forms of cancer. Several testimonies are available now in social networks, particularly in the United States, where medical marijuana is much more accessible than in Europe. Examples of the most common cures are leukemia and brain tumors (gliomas), usually in children and even babies. However, these numerous testimonies are not sufficient evidence to convince the medical and scientific communities, which need reliable studies to confirm these claims. In order to rectify the situation, we propose here a (non-exhaustive) list of 68 international scientific publications, drawn from the best research laboratories, demonstrating the efficiency of the cannabinoids found in marijuana plants in the treatment of cancer.
Studies on the action of cannabinoids against cancer
Marijuana against brain cancer (glioma, glioblastoma...)
Mechanisms of cannabinoid action against brain tumors
Marijuana against breast cancer
Explanation of cannabinoid action against breast tumors
Marijuana against blood cancer  (leukemia, myeloma, lymphoma...)
Marijuana against lung cancer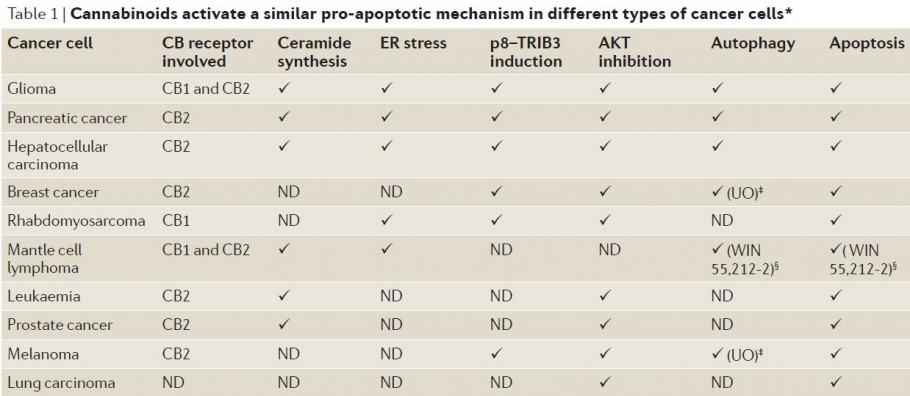 Cannabinoids against colorectal cancer
Marijuana against stomach cancer
Marijuana against prostate cancer
 
Mode of action of cannabinoids against tumor cells
Marijuana against liver cancer
Marijuana against pancreatic cancer
Marijuana against skin cancer
Bud Buddies: Project Storm, Cannabis VS Cancer (2014)
Marijuana against other types of cancer
Finally, it's worth highlighting from these publications that the efficacy of cannabinoids against cancer depends on the dose: the higher the dose, the more important the action. Since it is difficult to obtain high and constant blood concentrations of cannabinoids by consuming marijuana plants in the usuall ways (smoking, vaporizing...) most patients use extractions of cannabinoids. The most popular extraction is called Rick Simpson's oil .
We advise you to use a high CBD marijuana strain for your extractions, for this non-psychoactive cannabinoid seems to be the one with best anti-tumor properties.
We greatly appreciate the research work carried out by Dr Manuel Guzman's team at the Universidad Complutense de Madrid for their current work on the use of cannabinoids against cancer.
Do not hesitate to share this information in your community, particularly if you know doctors who do cancer research, and obviously with people suffering from this disease and seeking a natural, effective and safe complementary therapy.
The current legislation on medical marijuana is not adapted to the medical information available today.

The articles published by Alchimiaweb, S.L. are reserved for adult clients only. We would like to remind our customers that cannabis seeds are not listed in the European Community catalogue. They are products intended for genetic conservation and collecting, in no case for cultivation. In some countries it is strictly forbidden to germinate cannabis seeds, other than those authorised by the European Union. We recommend our customers not to infringe the law in any way, we are not responsible for their use.