Cannabidiol CBD capsules in Achimia
What are cannabidiol capsules?
It's been a long time since we wanted to introduce edible cannabis extractions in our catalog, but we had to make sure that all the hard, costly registration and certification requirements from the Spanish authorities were met in order to legally offer these products across the European countries.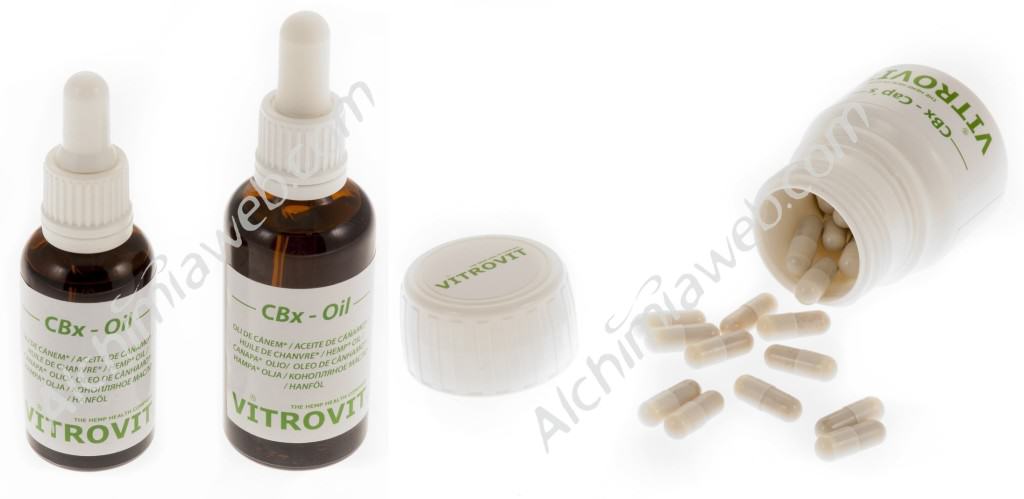 All this has changed now thanks to the Vitrovit products, which contain a 100% organic complete extraction from hemp plants. This concentrate contains around 400 natural ingredients, 77% of them being Cannabidiol CBD, a non-psychoactive cannabinoid that is constantly surprising the medical and scientific communities for its different therapeutical properties.
This hemp extraction is available in the form of CBD capsules and oil. The CBx oil is made by diluting 25 ml of extraction in virgin olive oil, for a total concentration of 19,25mg of CBD. The CBx capsules are made by diluting the extract in cocoa butter - which is solid at room temperature - avoiding product leaks. Each capsule contains 25mg of hemp extract, 19,25mg of CBD. These cannabis products only contain very small amounts of THC (<0,2%), meeting all legal requirements for their sale.

Medicinal properties of Cannabidiol CBD
CBD is a molecule pretty similar to THC, although CBD is completely non-psychoactive, it has not the typical euphoric, intoxicating effects of THC. CBD has a very low affinity with the cannabinoid receptors CB1 and CB2, while its effect is stronger in other receptors such as GPR55 or 5-HT1A.
CBD has the advantege of being non-psychoactive, presenting very few adverse side effects; in the worst case, excessively high doses may cause sedation.
Different scientific studies show that Cannabidiol CBD has medicinal properties suitable to treat the following cases:
Epilepsy: CBD has showed positive results in epileptic patients, especially in certain rare and severe childhood epilepsy cases like the Dravet or the Lennox-Gastaut syndromes (Source: 1, 2 and 3). CBD has just been legalized in Brasil in January 2015.
Pains and inflammations: CBD is a molecule with analgesic and antiinflammatory properties. It is particularly efficient to treat neuropathic pains. (Source: 4, 5 and 6)
Neuronal degeneration: Cannabidiol shows a more important antioxidant activity than vitamins C and E.  It protects our neurons from degeneration while limiting the progression of diseases like Alzheimer. (Source: 7 and 8)
Anxiety and depression: CBD has anxiolytic properties, being also a potent antidepressant. (Source: 9)
Cancer: Cannabidiol (CBD) has been studied for its antitumour properties (Source: 10 and 11). It also has anti-angiogenesis properties, i.e. it inhibits the creation of new blood vessels necessary for the development of the tumour (Source: 12). However, we must say that the CBD doses used in these studies are much higher than those offered by the different cannabis extractions on the market today. To obtain such high doses, we should use cannabis strains rich in CBD to make extractions, following one of the different options available, such as the Rick Simpson oil.
Nausea and vomiting: CBD is an antiemetic molecule, particularly suitable to treat nausea and vomiting caused by chemotherapy treatments. (Source: 13)
Schizophrenia:  CBD is a potent antipsychotic used to treat schizophrenia and other psychotic disorders. (Source: 14)
Bacterial infections: Cannabidiol shows useful antibacterial properties (Source: 15), being also suitable to treat psoriasis (Source: 16) and acne (Source: 17). It is always better using an ointment for topical applications, such as Trompetol Extra Tea Tree.
CBD is also being studied to treat diabetes (Source: 18), inflammation of intestines (Source: 19), hepatic steatosis caused by alcohol (Source: 20) and even to treat tobacco addictions! (Source: 21)
We should also highlight the studies presented in February 2015 in the Pharmacology & Pharmacy magazine, which show that an extract from a plant rich in CBD is more efficient than CBD in pure form; this is explained by the interaction of the other cannabinoids and aromatic terpenes, hundreds of different molecules found in the plant that act in natural synergy to enhance the properties of CBD, particularly the relation between dose and efficiency. (Source 22)
These are the sources used to write this article:
The articles published by Alchimiaweb, S.L. are reserved for adult clients only. We would like to remind our customers that cannabis seeds are not listed in the European Community catalogue. They are products intended for genetic conservation and collecting, in no case for cultivation. In some countries it is strictly forbidden to germinate cannabis seeds, other than those authorised by the European Union. We recommend our customers not to infringe the law in any way, we are not responsible for their use.