Cannabis risotto with saffron
Risotto is a traditional Italian dish made with medium graine rice, which should be rich in starch. This recipe comes from the Verona area, since top quality rice is widely found there, as well as the other main ingredient of rissoto, cheese. In Italy, rissoto is defined as "minestra asciuta", which means dry soup and indicates that the resulting preparation must be neither dry nor too liquid, but with a creaminess that allows to use a fork.
Risotto, along with pasta and pizza, are probably the three flagship dishes of Italian cuisine. Despite the main ingredient of today's recipe is rice, we are going to use it as a vehicle to transport the rest of flavours that we want to incorporate to the dish. You can use a wide range of ingredients to complement your rice, the only thing to keep in mind is to achieve a correct balance between the different flavours. Thus, you can use vegetables, seafood, poultry meat, bush meat, guts, spices, wines, etc.
Tips and tricks to prepare the best cannabis risotto
The first thing to know is that rice will be ready around 15-20 minutes after adding the first spoonfuls of broth. Thus, it is best to have all ingredients ready before start cooking, such as some clean and chopped veggies, the cannabis butter, some olive or hemp seed oil, spices, etc. In the case of risotto with vegetables, the most renowned ones include zucchini, peas, mushrooms and leeks.
First of all, we'll fry some veggies with the cannabis butter. Then, we'll add the rice and fry it, along with any meat. In the case of using fish, it is normally added 10 minutes after starting to add the broth. If you use seafood, then add it after around 12 minutes, so it is only cooked for 3-5 minutes. The most important thing when preparing a risotto is - apart from the quality of the ingredients and your cooking skills - the broth. You must try to match the correct flavours, like using bones, vegetables and meat. On the other hand, if you want to use fish with your risotto, then prepare your broth with some seashell, fish heads and fish bones.
One of the best ways to consume marijuana and benefit from its full potential is through the making of marijuana butter. Pay special attention to the dose, as the effect of marijuana in food is very different to when smoked. You should start with very small doses and gradually increase them depending on the needs of each person.
Saffron risotto is just one of the many variations of this delicious dish, which hides a curious story: legend has it that the young disciple of master Valerio of Flanders fell in love with his master's daughter. He wanted to create a new dish to surprise everyone at their wedding, creating a simpe but trully flavourful dish...so he used saffron. Since then, this ingredient is know as an excellent condiment for rice-based culinary recipes.
Recipe of cannabis risotto with saffron
Main ingredients:
400g medium graine rice (arborio rice is excellent)
60g cannabis butter without salt
50ml white wine, we recommend you Cannawine!
1 onion
Saffron
80g Italian cheese (Grana Padano)
1L poultry stock
Salt
Black pepper
Olive or hemp seed oil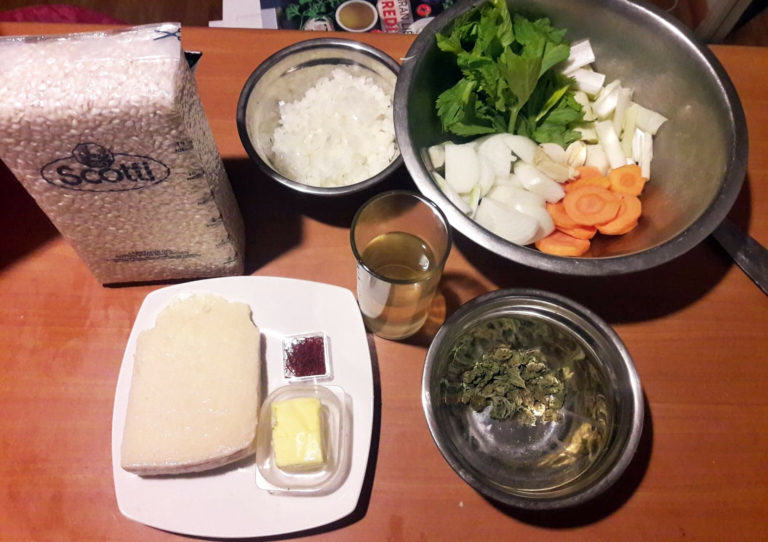 Instructions:
Prepare a broth (meat, fish or veggie)
Chop the onion
Put half the cannabis butter in a frying pan on a slow heat, then add the onion and fry it until it is well browned (allways on a low heat so THC is not degraded)
Add the rice and some saffron and stir for 5 minutes. Once you can see a thin white line on the rice grains, add the white wine and let it cook until completely evaporated
Add some broth and stir a bit. You must add the broth progressively, a few spoonfuls every few minutes and until the rice is completely cooked
Once ready, add the remaining cannabis butter and some grated Grana Padano. Cover the frying pan with a clean kitchen towel and wait for 5 minutes. Some people like to add some olive oil before serving.
You can enjoy an ice cold Cannabeer while you prepare this delicious dish, and serve it with some tomatoes, meats, fishes...your imagination is the limit!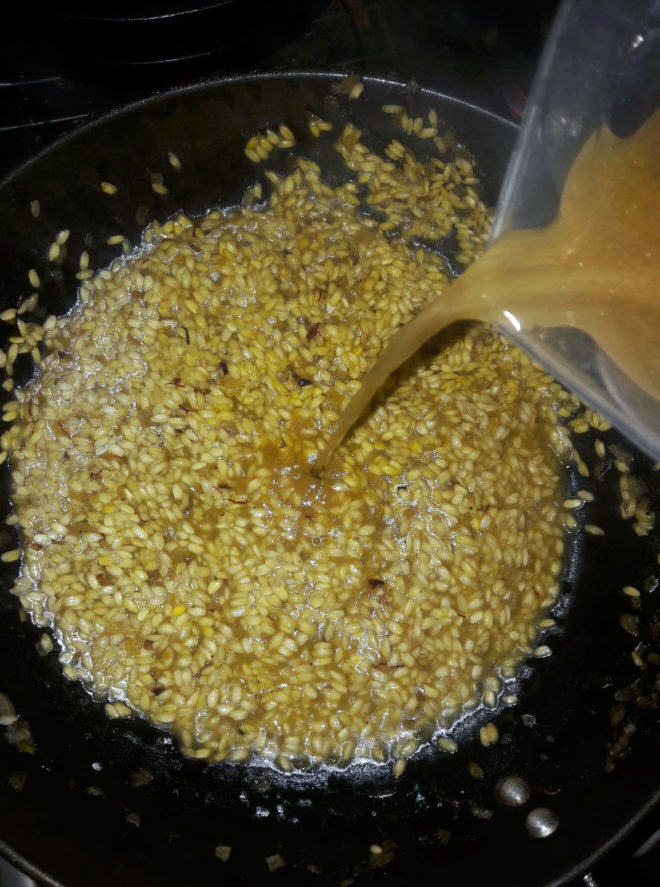 Please keep in mind that the effects of ingested cannabis last much longer and also take longer to appear than when you smoke or vape cannabis, so it
The articles published by Alchimiaweb, S.L. are reserved for adult clients only. In France, the age of majority is set at 18 years old. Consult your country's legislation and obey it. Alchimiaweb, SL is a Spanish company governed by Spanish law and can not, in any case, be held responsible for any misuse or non-compliance with the laws and regulations specific to each country, in relation to the articles published on its Blog. We remind you that the cultivation of cannabis seeds on French territory is strongly prohibited by law. We do not encourage our customers to break the law in any way and are not responsible for their use.