Cannabis Moon Rocks and Sun Rocks
Thanks to the rise of resin extractions - largely due to cannabis legalization, in many US states - cannabis users can choose among a growing number of different products, from the classic dry sieved hash - also known as dry sift or kief - to the purest cannabinoid distillates. Today, we would like to talk about one of these products, which in fact is a combination of several types of extractions and the actual plant matter; that is, the bud itself.
Known as Sun Rocks and Moon Rocks, it?s a product marketed in the United States since 2014, which due to its striking looks and high potency, it hasn?t stopped gaining supporters. Let us explain next what cannabis Moon Rocks are and how to make them.
What are Kurupt's Moon Rocks?
Back in 2010, the online cannabis community, in particular the American, discovered a new product called "Caviar", which basically was a bud of the highest quality dipped in a cannabis oil like BHO, and left to dry. Needless to say, the effects of these buds had nothing to do with those from the traditional flowers, and the same went for their flavour and aroma, given that everything was enhanced by the oil.
However, it wasn?t until 2014 that the term Moon Rocks became popular, thanks to one of the first cannabis ads seen on American television made by rappers Kurupt and Dr. Zodiak. It is said that, following the idea of infusing a bud with BHO (which until then was known as "Caviar"), a dispensary called Starbudz760 was the first to have the brilliant idea of coating one of these flowers with kief or dry sift hash, achieving a result that was as powerful as eye-catching.
The product soon became popular thanks to the version presented by Kurupt and Dr. Zodiak and the television advertising campaigns. Kurupt's Moon Rocks were born, an item that soon would be on the entire cannabis community's lips. Eventually, other producers have joined this adventure and are offering an improved version with raw material of better quality called Sun Rocks, which can contain up to 80% of THC.
From then on, more and more dispensaries are offering this product, greatly expanding the number of cannabis strains available in this format. As is always the case, the quality of these products depends on the quality of the plants involved in their preparation, as well as on finding the right formula in terms of strain mixture, so the experience is great. In fact, you can combine flowers from a particular strain with BHO from another and kief from a third, expanding the range of possibilities with regards to the taste and effects obtained.
How to make Moon Rocks and Sun Rocks
Before we go any further, we should make an important distinction, because when Kurupt's Moon Rocks were launched there was already a concentrate called Moonrock or Crumble, which was a variant of BHO obtained by slightly modifying the purging parameters.
The texture of this concentrate is similar to cookies, with small holes or craters that, admittedly, resemble a piece of lunar soil. However, in this case, the resin has been extracted with butane gas (BHO), while the one before us today is a mixture of bud, BHO and kief, achieved by dry sifting. Traditionally, the buds used were Girl Scout Cookies or OG Kush, although we obviously can use any strain with compact buds.
It must be said that when the first Kurupt's Moon Rocks were created, nobody knew about Rosin Hash, so they are typically made using BHO. However, they can also be made by replacing BHO with Rosin, and even with some CO2 extractions; the only thing we must seek when preparing the chosen concentrate, is a texture as liquid as possible, which would greatly facilitate the process of infusing the bud with oil.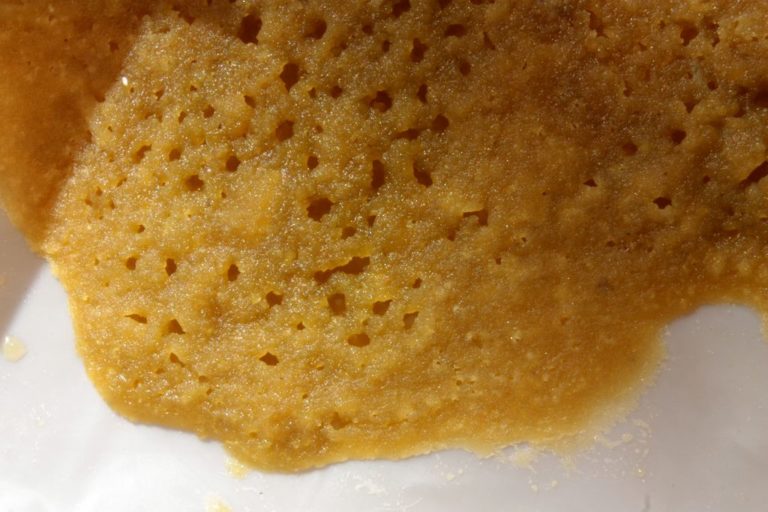 Cannabis Moon Rocks recipe:
1. Choose a particularly compact bud, so it won't crumble nor break into small pieces later on.
2. With the help of a dabbing tool, scatter the oil over the bud. If necessary, you can warm up a little the extract to facilitate the task
3. Once the bud is covered in oil, place it on a plate or bowl containing the dry resin and coat it completely with it.
4. If you think it's appropriate, repeat steps 2 and 3 until you achieve the desired results
5. Let it rest and dry for a few hours and you're ready to go!
How to smoke Moon Rocks
Although at first sight you could ask yourself "How do I smoke this?", the truth is it can be done with almost any method. One of the most popular is the bong, by putting a small portion into the bowl. And the same goes for cannabis vaporizers and water pipes or bubblers. Due to the large amount of resin in this product, glass pipes and bubblers are recommended, as they are much easier to clean after each session.
Some people roll joints with Moon Rocks as if they were standard bud, letting them dry completely so the rolling is less cumbersome. Nevertheless, if you try this method, the cigarette will go out constantly, something that?s rather annoying. Whichever method you choose, the effects will be huge and very powerful!
As a final recommendation, we advise you not to use a grinder, as it will end up totally impregnated with resin. To break the Moon Rocks down into pieces, use a sharp knife. And, above all.., try them once you have done all your daily tasks!
Can you buy cannabis Moon Rocks and Sun Rocks?
Currently, and after 5 years in the market, this product continues to be sold under the brand Dr. Zodiak's Moonrocks, and can be purchased in a large number of dispensaries scattered throughout the USA states where marijuana is legal. This brand also offers other products and has focused part of its activity in processing CBD rich plants, creating a range of goods that are suitable to treat many conditions and symptoms.
They also offer a new type of rocks, Moon Rocks Ice (with a content of up to 99-100% of THCA!!!), and cartridges for vaporizers, with THC distillates of 90% purity and infused with terpenes in order to improve the taste (quite bland in this type of concentrates). To this, we can also add blunts, pre-rolls, edibles with CBD or THC... and even CBD water!
Other producers like Big Tray Dee and Apollo Sun Rocks also offer high quality Sun Rocks. The first ones contain 80% of THC, with oil and kief of great purity and potency. Apollos' Sun Rocks, by contrast, are made with a solventless concentrate, and have a higher amount of kief and up to 60% of THC. Just like the Moon Rocks, they can be found in cannabis dispensaries in certain US states.
Quality of Moon Rocks
Much has been written - and even more said - on the quality of this product. While it's usually good, due to a careful preparation and the highest-quality raw materials, it is also true that in some cases they are real blunders made by people with no awareness or moral principles; buds of bad quality which previously have been stripped of a lot of their trichomes through dry sieving, covered with BHO made from low quality or poorly purged plant material, and coated with resin or kief of dubious purity. All of this, naturally, spoils the experience.
The aim, therefore, is to find a reliable source to provide us with a good product, free of solvents, heavy metals, pesticides, and a long list of substances that do nothing but diminish the quality of the final product and at the same time harm the user's health. As so often happens, and this case is no exception... there's nothing like a homemade product made with love!
Happy smoking!
The articles published by Alchimiaweb, S.L. are reserved for adult clients only. We would like to remind our customers that cannabis seeds are not listed in the European Community catalogue. They are products intended for genetic conservation and collecting, in no case for cultivation. In some countries it is strictly forbidden to germinate cannabis seeds, other than those authorised by the European Union. We recommend our customers not to infringe the law in any way, we are not responsible for their use.