Tatandi, handmade and high quality Psilocybe kits
Tatandi is the new brand of hallucinogenic mushrooms that has entered the Alchimia catalog, and we have thought it'd be nice to dedicate them a post, both because of the peculiar way this company works and because of the extensive catalog they offer to their customers, all of which are available at our online store.
This company based in Spain began to make its way in 2014 based on research and studies on mycology, a tough work that slowly turned into products from which to make a profit: hallucinogenic mushroom kits. Today we present them to you in this article.
Tatandi, their own work philosophy
All this adventure was started by just two people, a mycologist who specialized in the Psilocybe species and a designer of materials and supplies dedicated to the field of mycology.
From the very beginning, they directed the basic principles of the company towards the total satisfaction of the clients, working in the most personal and traditional way possible in order to adapt to the characteristics and needs of each one of them. In these last 8 years, they have not stopped trying to improve every day, being one of the few Spanish companies that have their own bioreactor specially dedicated to growing mushrooms, created by themselves.
They are proud to say that the kits they make are in vitro (also called 100% mycelium). They are made from completely natural and organic substrates, such as manure. All this is part of the process to ensure that the mushrooms obtain everything they need for optimum growth and development, with more than proven results.
[product tipus="fitxa" ids="17496,17459,17507"]
Tatandi's Mushroom Kits Catalog
Despite all the positives mentioned so far, we have not yet reached the sweet spot within Tatandi. This is because the greatest incentive that this company has is the catalog. They have a catalog of Psilocybes that is unique in Europe, always looking for the most exotic varieties on the market (and abroad), but grown in their own way, with great respect and love for mushrooms. That is why we present some of the varieties that we have found most spectacular in Tatandi's catalog:
Koh Samui Classic
This strain is one of the most distinctive, both in the way they grow and in the amount of psilocybin they produce. It was discovered by the famous endomycologist John Allen on the east coast of Thailand: Koh Samui. Specifically in the city of Hua Thanon.
Without a doubt, it is a variety that attracts attention due to the way it grows. The shrooms themselves are large, with a low foot in height but really wide, even exceeding the width of the cap. Once the growing medium is filled with Koh Samui Classic mushrooms it becomes a great sight to behold, as the stems grow until they come together and step on each other, creating an amalgamation of mycelium, feet, and hats.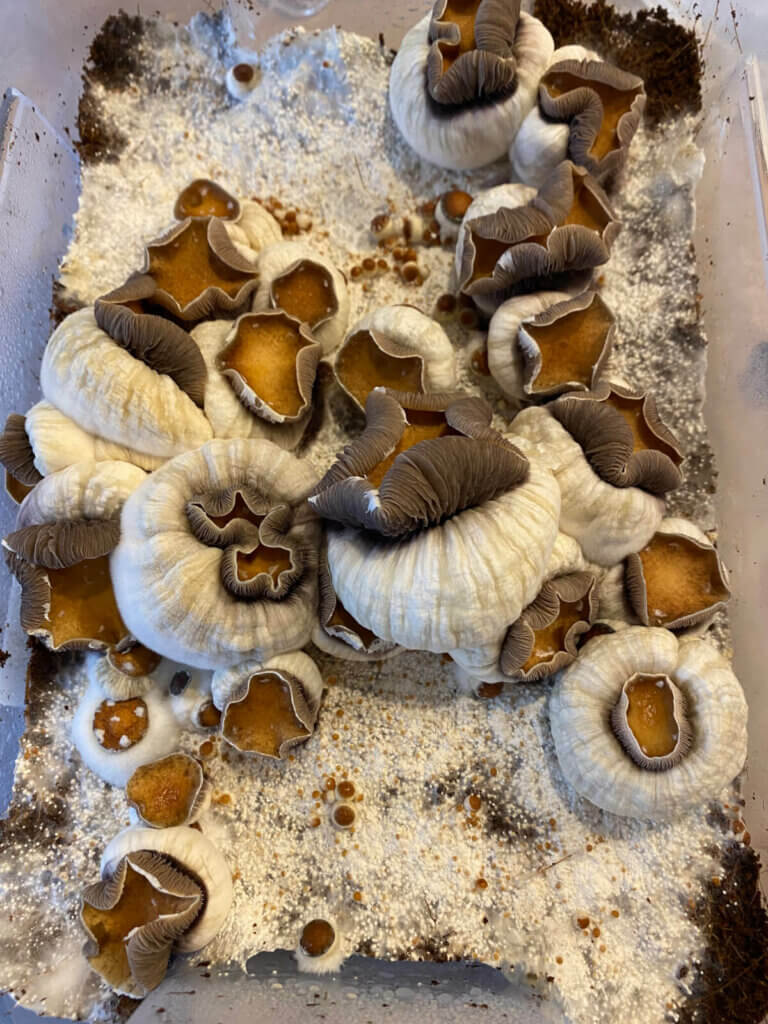 Tatandi Leucistic
This was the first variety isolated by Tatandi through genetic isolation, and it has undoubtedly become one of the most sought-after in its catalog.
And it is that the popularity of Tatandi Leucistic has grown exponentially due to two simple but essential factors. It is an easy variety to grow, which will produce a large amount of magic mushrooms which generate an equally large amount of psilocybin.
Yeti
There are certain varieties that cannot be missing in a catalog of hallucinogenic mushrooms, and among them is Yeti. It is a powerful variant of True Albino Teacher, currently one of the varieties with the highest psilocybin content on the market.
It produces large and corpulent specimens, with wide feet and a hat that takes on dark tones as it matures. As mentioned, it is one of the varieties with the highest psilocybin per gram ratio, so you'd better make responsible use of them!
Treasure Coast Albino
Variety of great power, especially in its visual effects. Isolated and crossed by the same mycologist who discovered the B+ variety, mr. G, it is the result of a hybridization between the original Treasure Coast with an albino variety. Treasure Coast genetics is generally a variety of slow cultivation, a characteristic that provides a higher density, and consequently a higher amount of psilocybin per mushroom.
One of the reasons why it is so rewarding to grow Treasure Coast Albino is because of its beautiful cultivation, full of contrasts. Its beautiful discoloration generates a beautiful festival of negatives when it comes together with its completely black spores.
But Tatandi's extensive collection does not end here...Far from it! In addition to the varieties that we have highlighted, in our store you can also find the following:
Alcabenzi
Mexican
Golden Teacher
White Rabbit
Moby Dick
McKennai
Thai Pink Buffalo
Ecuador
Brazil
B+
Red boy
Rusty White
Blue Meanie
As always, we will be delighted if you share with us your growing tips, experiences and, of course, any doubts you may have about growing magic mushrooms or Tatandi varieties.
Happy growing!
The articles published by Alchimiaweb, S.L. are reserved for adult clients only. We would like to remind our customers that cannabis seeds are not listed in the European Community catalogue. They are products intended for genetic conservation and collecting, in no case for cultivation. In some countries it is strictly forbidden to germinate cannabis seeds, other than those authorised by the European Union. We recommend our customers not to infringe the law in any way, we are not responsible for their use.