Cannabis trends in the USA (2017)
Marijuana trends in American dispensaries
Without a doubt, the USA have been a point of reference in the development of new and amazing cannabis strains ever since the decade of the 70's, which normally take only a few years to become popular in Europe. Thus, and if we want to know which strains will be increasingly demanded in the near future in the Old Continent, we must definitely take a look at the current scene in the US.
Moreover, the legalisation in some States has led to a much more bearable situation for breeders and growers, who can now focus on developing new varieties without the worry of being caught by the Authorities. In this way, massive selections and large-scale breeding projects are being done today in the USA, which will doubtless led to a new generation of top grade marihuana genetics.
The first hybrids ever developed in the USA and exported into Europe were normally kept in Holland, where they were bred and crossed to develop both seed versions of the American clones and new hybrids. European growers should wait for a few years in order to grow these new and exciting genetics from the USA, which were actually being reproduced in Europe.
But today things have changed a lot. Communication between growers and breeders is far better now than 30 years ago, mainly thanks to the Internet. Although still illegal in most cases, exchange of genetics between both continents is the order of the day, with many collaborations between American and European companies. Furthermore, cannabis events like High Times Cannabis Cup and many others are also excellent opportunities to meet new people and - if you're lucky - taste new genetics, and American dispensaries allow us to see what's going on across the pond.
We'll take a look now at some of the most popular, sought-after cannabis varieties in the best American dispensaries today.
Gorilla Glue (GG) marijuana
Different phenotypes of this strain - also know as GG - are known, being Gorilla Glue #1 and Gorilla Glue #4 the most popular ones. It is a very potent hybrid between Chem Sister, Sour Dubb and Chocolate Diesel, highly appreciated among enthusiasts of resin extracts for the amazing amount of trichomes produced.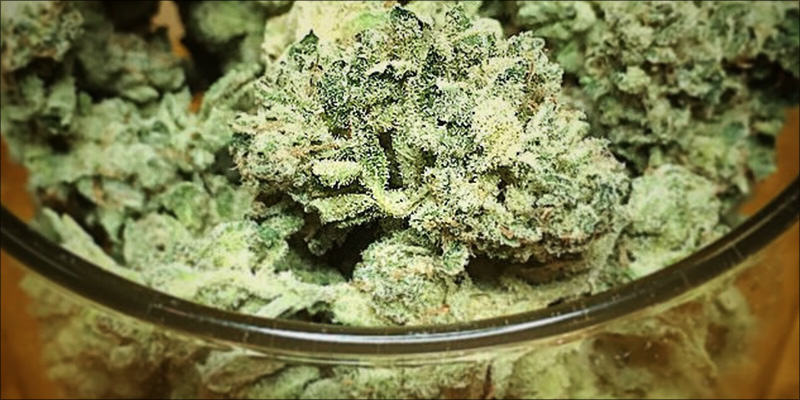 Of course, it has also been used by different breeders and seed banks as parent to develop new hybrids, becoming one of the most popular genetics around the world. Considered one of the strains with highest THC content, its unique, sour and earthy flavour are a true delight for connoisseurs, who also enjoy its powerful and relaxing effect.
Hybrids developed with Gorilla Glue genetics:
Girl Scout Cookies (GSC) marijuana
Without a doubt, Girl Scout Cookies has been one of the most sought-after genetics over the past years. It is a cross between (South Florida) OG Kush and F1 Durban with excellent bag appeal and characteristic aroma, which varies depending on the phenotype. The most popular phenos are Forum, Thin Mint and Platinum Cookies, with slight variations in terms of flavour and yield. All of them need around 9-10 weeks to complete the bloom cycle.
The flavour is creamy, sweet and earthy, with astounding resin production and very high THC content, around 25%. The effect can be euphoric at first, although it becomes more relaxing after a while, extremely pleasant. GSC has also been awarded in many cannabis events and cups in both America and Europe.
Hybrids developed with Girl Scout Cookies genetics:
OG Kush genetics
As you may already know, one of the most diverse and largest families of cannabis genetics comes from the OG Kush. According to the tale, it comes from a selection of plants grown near the west coast of the United States; thus, OG would stand for the term "Ocean Grown", while "Kush" comes from one of the parents used, a plant from the Hindu Kush mountains in Pakistan.
Indeed, it is said that OG Kush genetics come directly from the acclaimed Chemdawg, an unknown Indica that would have been crossed with a Lemon Thai x Hindu Kush (Pakistan) hybrid. Thus , it is a variety developed from genetics collected all over the world, from Pakistan to Thailand.
Today, it is one of the most renowned and widely grown marijuana genetics in the world, with thousands of fans who constantly find new and amazing phenotypes from the tens of the already developed OG Kush hybrids. Its flavour is complex, often blending earthy, lemony, piney and floral notes, a true delight for your senses.
Hybrids developed with OG Kush genetics:
Sour Diesel marijuana
Sour Diesel is another cannabis legend from across the pond, although many people in Europe have not known about her until recently. It comes from an Original Diesel x DNL [(RFK Skunk x Hawaian) x Northern Lights] hybrid after a hermaphrodite DNL plant accidentally pollinated an Original Diesel grow room, a very popular strain back in the 90's. Doubtless, one of the most appreciated traits of this strain is its uplifting and stimulating effect, which improves your mood and puts a smile on your face instantly.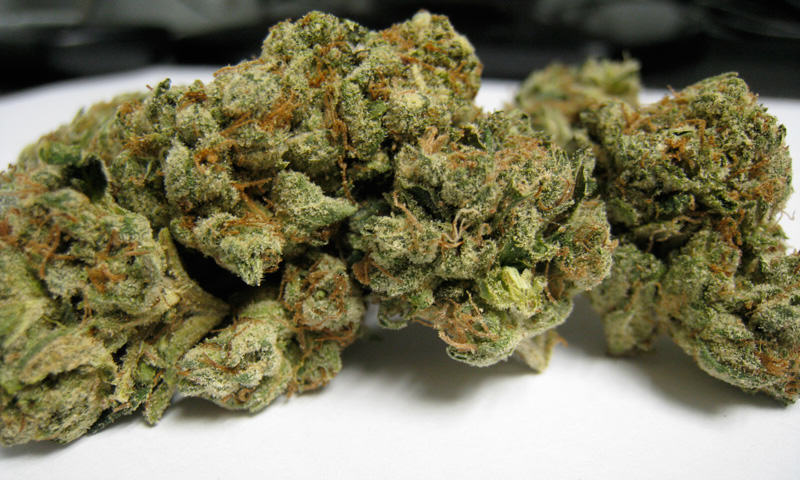 Its vigorous growth is also outstanding, developing a prominent main stem with few lateral branches. Still, it is suitable for SCROG setups due to its vegetative vigour, needing less time than other strains to fill the available growing space. Yields are excellent if supercropping or similar techniques are used, and it is one of the most easy to trim genetics available on the market.
Sour Diesel is normally ready to harvest after 10 weeks of bloom, developing huge calyxes and very few leaves. Its flavour is very intense, sour, with lemon, diesel and lavender notes. A must for any cannabis connoisseur!
Hybrids developed with Sour Diesel genetics:
Do-Si-Dos marijuana
Do-Si-Dos is a cannabis strain developed by Archive Seeds by crossing the Girl Scout Cookies with a very popular OG Kush clone, the Face Off OG (actually, they used a Face Off OG BX1 to make the cross). As often happens, several elite cuts have been selected and kept, which are already being used to develop new varieties.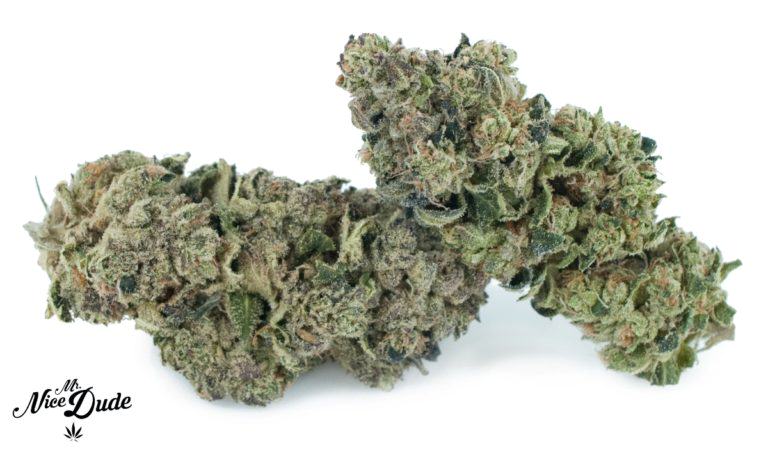 It represents an excellent mix of traits from both parents, with a flavour reminiscent of the GSC but with new and amazing floral and grape notes.
Hybrids developed with Do-Si-Dos genetics:
Vetitum (Do-Si-Dos x Starkiller)
Raspberry Dosido (Do-Si-Dos x Pink Champagne)
Next Level Dosidos (Do-Si-Dos x Hell Face on Fire)
Peanut Butter Breath (Do-Si-Dos x Mendo Breath F2)
Smiley Face (Do-Si-Dos x Legend Orange Apricot)
Cherry Pie (Cherry Kush) marijuana
Cherry Pie, also known as Cherry Kush, is one of the most demanded strains in American dispensaries. Indeed, you just have to try it once to fall in love with its delicious taste, obviously reminiscent of sunday afternoon cherry pies. While not 100% sure, its lineage is supposed to come from a ybrid between another popular variety - Grand Daddy Purple - and Durban, a plant coming from South Africa.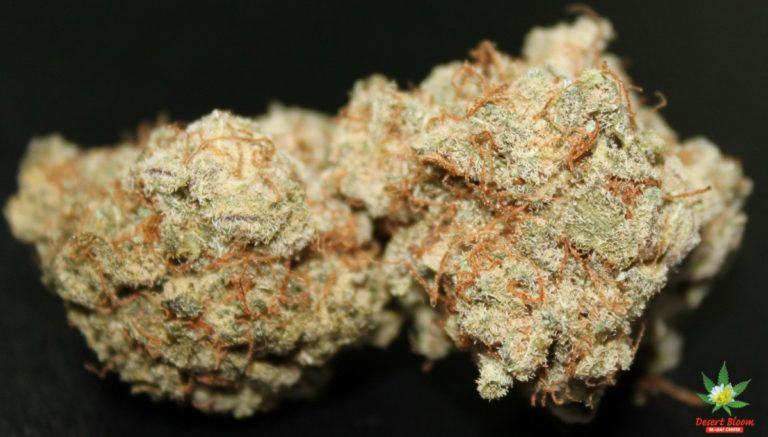 Its purple hues and awesome amount of resin make the buds look gorgeous, which release an unforgettable sweet, creamy and earthy smell. Its effect is body relaxing, although suitable to perform a large number of activities since it is not narcotic. It is widely used to treat anxiety, stress, sleep disorders, eating disorders and muscle spasms or contractures.
Hybrids developed with Cherry Pie genetics:
Pink Champagne (Cherry Pie x Grand Daddy Purple)
Pink Cookies (a.k.a. Wedding Cake)
Pie Face (Cherry Pie x Face Off OG BX1)
Phantom Cookies (Cherry Pie x GDP)
Neverland (Candyland x Cherry Pie)
Cherry Puff (Cherry Pie x Joseph)
We hope you found this article interesting and helpful to choose your next strain to grow. Please do not hesitate to leave a comment and share your recommendations with us!
Best!