How to get rid of Thrips in cannabis plants
What are Thrips?
Thrips are one of the most common pests in cannabis crops, especially in indoor growing spaces and greenhouses. These are one of the smallest winged insects, measuring 1.2mm (females) and 0.9mm (males) when adults. Eggs measure around 200 microns and are withish in colour, being layed in the plant tissues. Normally, thrips are found on the underside of the leaves.
There are many varieties of Thrips, being the Frankliniella Occidentalis - also known as western flower thrips - the most commonly found in cannabis plants.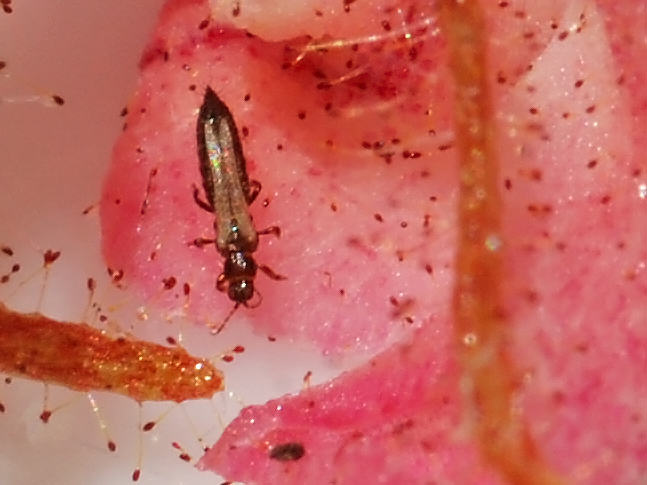 The western flowers thrip is originary from California and was introduced in La Península (Almería) in 1986 from Holland, causing considerable damage to cotton crops. Today, it is one of the most common pests worlwide, since it can damage a large number of plant species.
Thrips in indoor cannabis crops
While not being extremely agressive with plants, thrip pests are common in indoor growing tents or rooms. As happens with red spider mites, thrips need high temperatures to appear and can be persistent if not treated properly. The first signs are small silver dots/stains on the surface of the leaves, which are the places were thrips have bit or layed their eggs.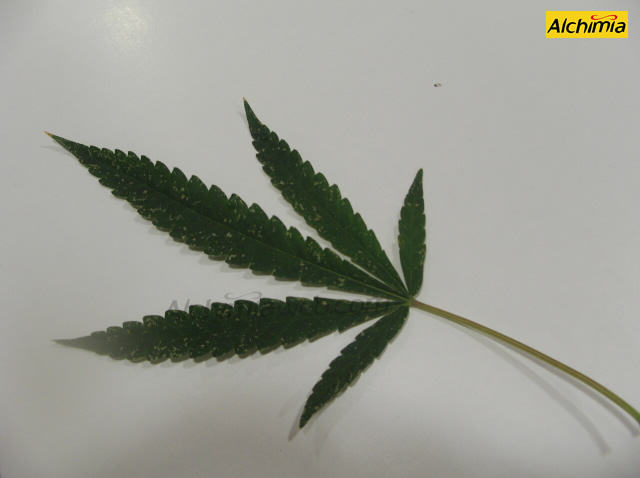 As we mentioned, thrip pests don't usually kill cannabis plants, but if the pest is not treated it can significally reduce yields and affect the overall health status of the plant. As the pest progresses, we can notice very small black dots on the leaves, which are thrip feces.
Thrips in outdoor cannabis crops
Thrips do not represent a serious threat to outdoor cannabis plants. We can find few leaves with some thrips on their underside, especially at the beginning of summer, although they usually don't compromise our harvest.
Prevention and control of thrips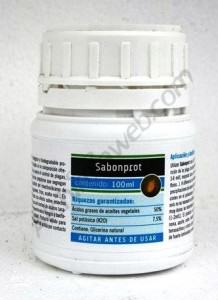 As usual, we recommend you to have your growing space and its surroundings clean and free from dead plant material, etc. Using blue adhesive strips for thrips allows us to kill most adults, being also usefull to check if we actually have thrips in our crop, since they'll get "glued" to these strips.
Using potassium soap or natural pyrethrins regularly will help us to prevent the appearance of thrips, also to erradicate them if we don't want to use chemicals. Expelex works great for this pupose.
We can also use natural predators such as Ambliselius cucumeris or Ambliselius degenerans, also the bedbug called Orius laeviatae.
As last option, and always taking caution and carefully reading the instructions, we can use chemical products to erradicate thrips. Confidor from Bayer is extremely effective. Always remember to protect your environment from toxic substances and to use protective gloves and facemask when handling them.
The articles published by Alchimiaweb, S.L. are reserved for adult clients only. In France, the age of majority is set at 18 years old. Consult your country's legislation and obey it. Alchimiaweb, SL is a Spanish company governed by Spanish law and can not, in any case, be held responsible for any misuse or non-compliance with the laws and regulations specific to each country, in relation to the articles published on its Blog. We remind you that the cultivation of cannabis seeds on French territory is strongly prohibited by law. We do not encourage our customers to break the law in any way and are not responsible for their use.