LEC Sunburst CMH 315W grow lights
What are LEC or CMH grow lights?
CMH or LEC lights represent a step forward with regard to lighting systems for indoor gardening. CMH stands for Ceramic Metal-Halide, although these lamps are also called CDM (Ceramic Discharge Metal-Halide) or simply LEC systems (Light Emitting Ceramic). Thanks to their innovative design and manufacturing materials, the performance of these lamps is significantly higher than conventional HPS (High Pressure Sodium) and MH (Metal Halide) lights. Moreover, their color rendering index (CRI) is also higher than other discharge lamps.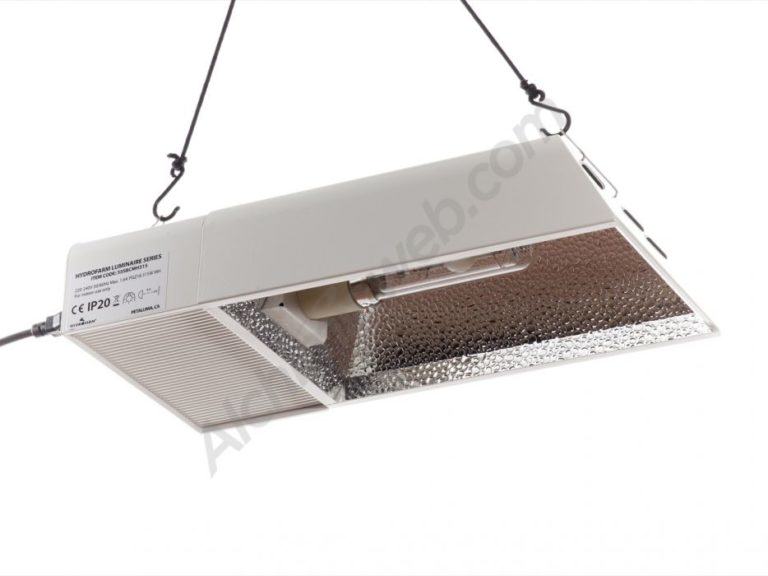 Despite CMH lights had been already presented in 1981 at the Hannover World Light Fair, it was not until 1994 that Philips introduced them into the market. As we mentioned, the main difference between CMH lamps and conventional discharge grow lights lies in their design and materials; if MH lamps represented an evolution of mercury vapour bulbs, CMH represent an evoluton of Metal-Halide lamps. The quartz present in MH lamps has been replaced by ceramic, which permits better efficiency and improved color stability and rendering. As happens with other discharge lamps, CMH systems need a ballast and a reflector to operate correctly.
LEC Sunburst CMH grow lights
Manufactured by Hydrofarm, Sunburst CMH 315W systems are ideal for a growing area of 1x1 metres but without the power consumption of conventional 600W HPS or MH lamps normally used for this area. Besides the obvious economy in power consumption, CMH lights produce much less heat than HPS lamps, so they can also be very useful to provide our plants with optimal temperature ranges if we don't have expensive air-conditioning systems. Thus, CMH lights are ideal for small spaces and grow tents.
Their compact design, with built-in ballast, is convenient and easy to use. You can choose between two types of CMH bulb (always 315W) depending on colour temperature: 3100K (warmer) and 4200K (bluish), which is perfect if we're planning on using a single system for the whole plant cycle (growth and bloom). CMH lamps also offer a wider and more efficient light spectrum than other grow lights on the market, including ultraviolet and infrared (using safety goggles is recommended to protect your eyes from ultraviolet rays). Furthermore, the lifespan of CMH lights is much longer than that of HPS/MH lamps, reaching 5-6 crops without losing much lumens (HPS bulbs are normally replaced every 2-3 crops).
Yields (weight of dried buds per watt used) with CMH lights are also higher; while reaching a 1:1 ratio (gram per watt) with HPS lights can be tricky and difficult, with CMH lights it is easy to reach 1,5 gram/watt, even 1,8 depending on genetics and growing conditions. In this way, you can get more than 400g/m2 with just 315W,  while you'd get around 500g/m2 with a 600W HPS light.
Due to their characteristics, CMH systems can be used for diverse purposes such as rooting clones, keeping mother plants or producing bud, since they can be used either for the growth or bloom stage. As we mentioned before, they're designed for covering a growing area of 1 square metre, placed at about 50cm of the tops of the plants (their light penetration index is similar to 600W HPS bulbs). A plant height of 60-80cm is recommended to increase yields and get the most out of these lights.
Characteristics of LEC Sunburst CMH 315W grow lights
The kit that we offer includes everything you need to start using the lamp immediately. The shape of the reflector has been studied to provide uniform and effective light diffusion; the interior is made of highly reflective (95%) hammertone aluminium, while the carcass is pre-galvanized and has white antistatic powder coating. Its vented desing highly increases heat dissipation, something especially useful in hot climates and small growing spaces. The dimendions of the reflector are 44.45cm x 21.9cm x 11.11cm. In short, the efficient design of the reflector offers excellent light diffusion while improving heat dissipation.
The built-in digital ballast runs all types and brands of 315W CMH bulbs, either 3100K or 4200K  (type T12 38 mm and PGZX18 base). It is a highly effective and compact ballast intended for 120-240V, 60 Hz operation, so it can buffer the impact of voltage dips. It does not include dimmer or "superlumens" function.
Last but not least, the bulb included in our kit is a Philips CMH 315W 3100K, ideal for the flowering stage but also for the growth of plants. As for replacement bulbs, Alchimia Grow Shop offers you the excellent AUVL Grow Green CMH 315W, made in Germany and available in both 3100K and 4200K. Grow Green bulbs produce 115 lumens/watt, thus being leaders - along with Philips - when compared to other brands.
Without a doubt, these new generation grow lights are more efficient than any other lamp used so far. They're ideal for growers who want to lower their electricity bill without losing quality or yield, especially for those who grow in small spaces or grow tents given the little heat produced and the area covered.
The Sunburst LEC 315W kit includes:
95% European hammertone aluminum reflector interior
Built-in digital ballast
Vented design
2x Reflector hanging hooks
Grounded power cord
Philips CMH 315W 3100K bulb
Weight: 4.33kg
Important aspects about CMH grow lights:
Runs 315W ceramic metal halide lamps (3100K and 4200K)
The lamp may require several minutes to reach its full
brightness
The lamp may require 10-30 minutes cooling time before restarting
Some variation in the color of light emitted by the lamp is not unusual, especially in the first 100 hours of operation
Use safety goggles, emits ultraviolet rays
Approximate lifespan: 24.000 hours (must be replaced every 5-6 crops)
The articles published by Alchimiaweb, S.L. are reserved for adult clients only. We would like to remind our customers that cannabis seeds are not listed in the European Community catalogue. They are products intended for genetic conservation and collecting, in no case for cultivation. In some countries it is strictly forbidden to germinate cannabis seeds, other than those authorised by the European Union. We recommend our customers not to infringe the law in any way, we are not responsible for their use.