Les Refardes, organic seeds of local production
Les Refardes is one of those projects that cannot be understood without starting from concepts such as ecological sustainability, local trade, or genetic preservation, something that becomes clear when one looks at their work and the incredible variety of vegetables they offer. And it is that thanks to their way of working, creating a network of producers throughout the territory, they manage to produce seeds of some of the most sought-after varieties by gourmets and collectors. Of course, if you are interested in growing veggies and you still do not know about this project, this article will interest you...a lot!

Les Refardes, a producer coordination project
This non-profit initiative, led from the Bages area in Catalonia, coordinates the obtaining of seeds of local varieties in a total of 18 farms, which are mainly dedicated to the production of certified organic vegetables. Passionate about growing and reproducing particularly interesting varieties, some of them really peculiar, these farms produce - also 100% organically - seeds of many of these genetics, which are finally offered to the public through Les Refardes.
However, aware that the dispersal of seeds throughout the planet is something as inevitable as it is enriching, they also reproduce foreign varieties that are especially interesting in our climate, further expanding their already extensive catalog. Thus, within its collection, you will find all types of seeds: from all kinds of pepper seeds, tomato seeds or lettuce seeds to other less common ones such as the Egyptian flat beetroot, the curious sponge gourd, the spectacular Pancalieri curly endive or Organic tobacco.
Selection, stabilization, and genetic improvement
Les Refardes is based on a clear principle: local, ancient, and traditional varieties are much better adapted to organic farming techniques than modern hybrids, created from crops with a high mineral fertilization load and selected with production as - practically - only trait that is taken into consideration. This being the case, it is not uncommon for them to focus on this type of varieties, authentic agricultural and cultural treasures of the lands where they were born.
In this way, and of course taking into account traits such as quality and production, the selection and genetic stabilization carried out by this broad group of farmers focus on the adaptation of these varieties both to the environment and to organic farming techniques, which after all are still "the ancient ones", the most sustainable and, if one stops to think about it, also the most intelligent. And all these steps only lead to one thing: the constant improvement of the genetics generation after generation, selecting exclusively for reproduction those specimens that meet their quality standard.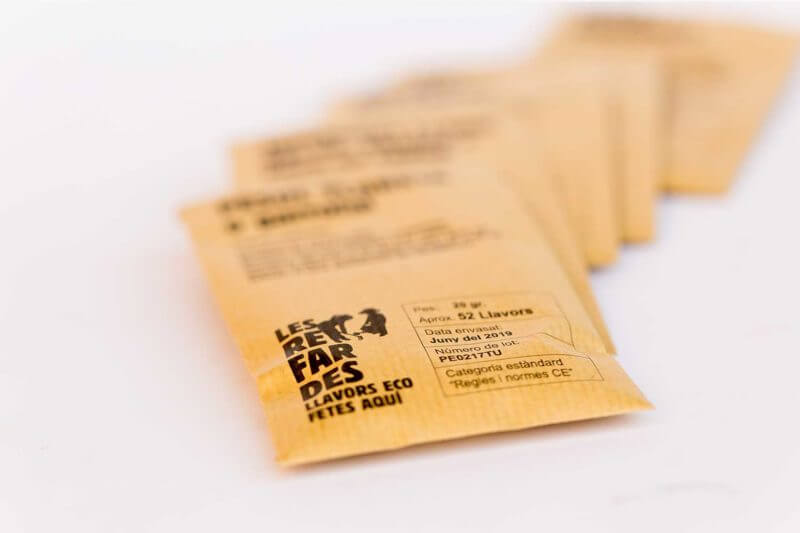 Cultural commitment and services for professionals
Les Refardes have created a network of seed producers in order to promote diversity and fight against the biological and cultural uniformity that is often imposed on us. Thanks to their work, we are able to cultivate and enjoy the unique organoleptic qualities of dozens of local varieties that would otherwise have been lost or remained silent in anonymity. The seeds that the producers donate to Les Refardes, already true agricultural and cultural treasures, are then subjected to an agronomic and organoleptic selection process before being marketed.
Furthermore, they also organize workshops aimed at educational centers, as well as conferences and seminars on very diverse aspects of cultivation, in addition to offering agricultural professionals a series of services such as seed cleaning, size classification, germination tests, or even characterization of varieties not yet classified.
Best-selling seeds of Les Refardes
With a catalog as extensive as that of Les Refardes, it is difficult to single out the most popular varieties in their collection, although tomato seeds and pepper seeds are undoubtedly two of their greatest successes. From the Mala Cara hanging tomato to the meaty Black Charcoal tomato or the productive Espalda Verde tomato, you're sure to find some new variety that you haven't grown or tasted before that catches your eye. If it helps you in your choice, the Rosa de l'Etern tomato is one of the favorites in the cooperative, as is the spectacular Yellow Bulb tomato.
And the same goes for the peppers; you can also find various types, such as the horn pepper, the 4 Morros pepper (one of Les Refardes' favorites), or the curious Bell pepper. And, of course, if you love hot flavors you will also find the tasty Republic hot pepper, which originates from Menorca.
In addition, and according to what Les Refardes tells us, seeds such as the White aubergine, the giant sunflower, the organic courgette, or the "Cuc Beans" are some of the varieties most in demand by their customers... it must be a reason for that!
However, the best thing you can do if you want to buy new seeds for your garden is to consult their catalog calmly and carefully, we are sure that you will find some curiosity or new variety that will catch your attention.
Happy growing!
The articles published by Alchimiaweb, S.L. are reserved for adult clients only. We would like to remind our customers that cannabis seeds are not listed in the European Community catalogue. They are products intended for genetic conservation and collecting, in no case for cultivation. In some countries it is strictly forbidden to germinate cannabis seeds, other than those authorised by the European Union. We recommend our customers not to infringe the law in any way, we are not responsible for their use.